Upgraded from a Polo to a Nexon EV Max: Impressions & observations
The first time you drive an EV, its a very different experience than any car you have ever been in before with its total silence and zero vibrations.
BHPian prateekchanana recently shared this with other enthusiasts.
When I was looking for my daily driver hatchback in 2014 and shortlisted the Polo, I did not consider even visiting Tata that time. But how the things have changed now, one test drive of the Nexon EV with no plans of buying one, made me book it the same day.
Summary:
Likes
143 PS & 250 Nm torque available instantly; proper SPORTS mode.
Almost Free like maintenance and running costs.
Fun and involving to drive (50-50 weight distribution / low centre of gravity).
Decently feature loaded even in XZ+ trim (Auto wipers / Auto headlamps / Wireless charger etc).
Useful Z-Connect app (Pre-cool / charging details / driving behaviour).
Multi-level Regen / Auto-Hold / Smart looking jeweled Gear Selector.
Very good sounding music system setup.
Solid built quality (Felt while opening / closing all doors / boot / bonnet).
Dislikes:
Limited color options to choose from.
Rear is still polarizing and not as smartly done as front end.
Missing Full LED tail lights / head lights / Bigger MID / fully digital instrument cluster / Faster Infotainment (Carplay is laggy).
Ergonomic blunders (Poorly located USB port / ORVM controls / Ultra thin sear backs).
Scratch prone shiny black plastics located all around dashboard, doors pads and front bumper.
Wireless charging but no wireless CarPlay.
Panel gaps / Switches / knobs and stalks still not on par in fit and finish with VWs.
Prologue:
My 2014 Polo 1.5TDi was my daily driver for almost 8 years and was running perfectly fine till last day. Never had any major problems with the car and it had just run 65k. Out of this 65k, more than 60k was done in first 5 years after which my daily commute reduced from 45-50 kms to barely 4-5 kms. Only added 5k to the ODO in those last 3 years as most of the long trips were taken care by the other cars. We also own a 2013 Honda City which is sparingly used by my wife but being a petrol can still be kept for more time than Polo in Delhi and an A4 which is my highway / long drives car. 10 year diesel rule in NCR was the primary reason of selling my perfectly running Polo as it neared the 8 years mark and would have rapidly lost its value in last year. Attaching some last parting shorts of the car below. This was the first car I could call my own. Got it on my 23rd birthday and have lots of great drives and memories with it. Almost 64k of the 65k on the ODO has been driven by me on this car.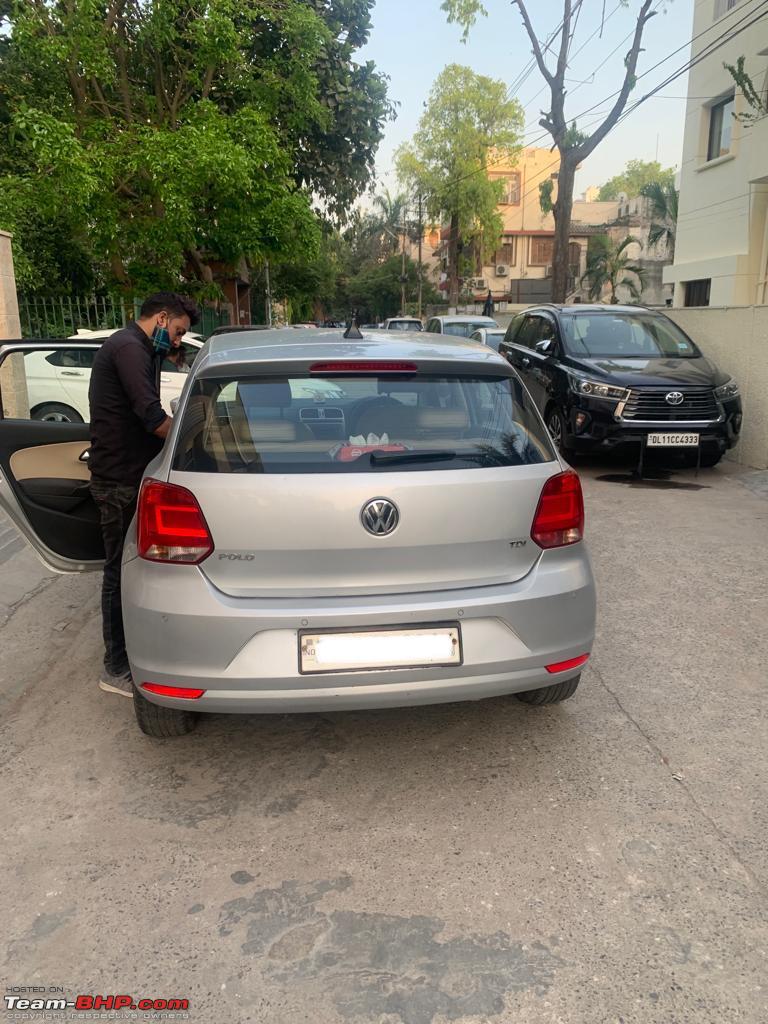 When I sold the car, I had no major interest in buying any car this soon and had decided that I will be using the City more regularly. While selling the car, I had approached multiple online platforms and one day dad casually mentioned why don't you check if VW gives any good offer on the new SUV they launched. Listened to him and had registered a request for Taigun test drive. I always used to think that only a VW can replace the Polo and no other car will come close to the driving pleasure it gave. Moreover we knew we will get a raised car whenever we buy they next car in order to get in and out more comfortably with me and my father both being 6 footers. At the same time we did not want the car to be that big that it becomes difficult to move around in Delhi traffic. Taigun ticked all the requirements and visiting the showroom would have been a quicker way to get things done but I was in no hurry. But I was so wrong that by the time they got the car for test drive to me, the Polo was already sold and gone.
Test Drive – Taigun:
When I started the process of selling my car it was end of February and I registered my interest in a test drive of the Taigun. I only chose Mondays as that's my weekly off. Received a call from the VW Dealership around 2 days after my query and I asked that if I could drive both 1.0 and 1.5 at the same time. SA refused to provide both the drives at home and asked me to visit the dealership. This call was on Friday and I asked him to just send the 1.5 GT to me on Monday afternoon around 2 then.
Received the call on Monday afternoon that its not possible to send the car but I can come at dealership for test drive. I told him that it won't be possible and I requested him to arrange it for next Monday then. He still sent me his location and requested that I make time and I am welcome to visit. I texted him back saying I know the place as I have been to service centre next to showroom multiple times for my Polo's service. Next week I get a call and he asks me sir you had enquired for a Polo's service and I shared our location, are you coming ? . Politely told him sir I had inquired for a Taigun test drive and I was supposed to get it today. He apologized and told me the car will be sent positively next week. In the meantime it was almost 3 weeks and had I finalized the deal of the Polo and the car was sold off.
Finally the SA called on next Sunday, a month after my request, that he will send the car tomorrow. Polo was already gone but I was still interested in trying the Taigun. The car finally came and it was Topline 1.0 instead of GT DSG. Called the SA that I had specifically asked for GT and not 1.0 and he said that was not available today but it's the same car, so I could drive this one. Disappointed, but took a short drive of 1.0 with AC on full blast (was already reading abut AC issues in 1.0 that time). The car felt familiar but I did not enjoy the drive that much. The SA said he will arrange the 1.5 next week positively but that never happened.
During the test drive when I inquired about any loyalty discounts (still had an Audi – VW group) / any other offers, all I got back was "No discounts, Final price applicable at time of delivery might change". Was further told there was a waiting of around 1-2 month for GT but 1.0 is available instantly. But with the replies I got either SA was not much interested in making the sale especially of GT or did not consider me a prospective customer. Moreover the poor reliability of DSG in stop-go traffic where I was planning to use the car most with OTR price of 22 lacs was not making much sense to me.
While using my Honda City on my daily 4-5km route I get an average go 5-6km/l. Polo was giving me 8-10 which was pain to watch. Previously used to get 14-15 but the lower average is fault of short route with stop-go traffic and not of the car in any way. On longer drives, both cars still return respectable figures. I knew the Taigun would also be in single digits on this route so I finally decided to let go of the Taigun and use the City for another couple of years. Did not follow up much as I had lost interest in the car even further after the response I was getting.
Moreover, I never head back from the SA for my pending 1.5 DSG test drive or if I was still looking to buy the car. The Polo was the first VW car in our family after many Marutis, Hondas and an Hyundai Accent. After I got the Polo in 2014 and my cousin was looking for a new car couple of years later. I literally forced him to buy a Vento DSG over a Honda city. Till today he loves the car much much more than the Jazz he owns, but thankfully he did take the extended warranty as gearbox issues did pop up near the end of his warranty (barely 40k kms). Was of course replaced, but after almost a month of downtime and endless follow ups. With all this and so many other reports of reliability issues, I was skeptical about buying a DSG for city use only and decided that the Taigun will not be a sensible buy for now.
Test drive – Nexon EV:
Only experience we had with TATA was with 2 Nanos my cousin had bought, first the petrol and then CNG. The car were eventually sold because of the terrible after sales and way too many niggles in them. But since then things have a changed a lot, and the customers in TATA showroom clearly show that. After a couple of days of giving up on Taigun, was randomly going though some thread about Nexon EV and I decided to book a test drive. I read some good things about it but was in no way planning to buy one this soon. Registered my interest on Tata website and got a call back within 60 mins. They confirmed they have forwarded my request to a dealer and I will hear from them soon. Got SA details next day over text and a call from him in less than 24 hours, asking when do I want the test drive. It was Sunday evening and I requested him for next day which he said he will try but its 1 EV they rotate between 2/3 showrooms and may not be possible for next day. He called me next day saying that he can get the car tomorrow but I told him to get it next Monday directly. Got a confirmation from him a day before that he will be there by 12-12.30. He reached around the same time but the car was at my place in flat 8 days vs more than 1 month VW took and still sent one with the wrong engine.
The first time you drive an EV, its a very different experience than any car you have ever been in before with its total silence and zero vibrations with only sound coming from the AC . Took the car for a semi-long test drive and thoroughly enjoyed it. The SA insisted to try the Sports mode and the wheels went crazy. The car felt very spirited and always wanting to just jump ahead, in fact a bit too much in traffic in Sports. After noticing the reaction, even though the car had a waiting period for 16-20 weeks, the SA was eager to make the sale and was even happy to offer discounts if I sit with a cheque in my hand. Infact he tried his best to get a booking amount but my parents were not there and I was not sure about the color yet but was pretty much sure I am getting this soon. Wife also liked the Nexon better than Taigun for some reason best known to her. Told the SA to call me back after a couple of hours. Thought some more and I decided to make the booking of dark edition as I was not liking teal and white much but wanted to see it in flesh once. Meanwhile SA called and I conveyed the same to him, luckily they had a Dark Edition XZ+ parked in their yard and he requested me to come and have a look. Visited with my parents and both of them were totally against the black color, even though I loved it totally for the looks.
Dad pointed out the car will heat very badly during summers with all black roof inside and out. I agreed with that and there was no way I could defy that logic. Finally decided to book the Teal color XZ+ with some hesitation as I was not sure about the white colour roof combination with Teal color which was parked inside the showroom in the LUX trim. By this time I was already hoping may be Max offers better color options and will make a switch else I would get the roof wrapped.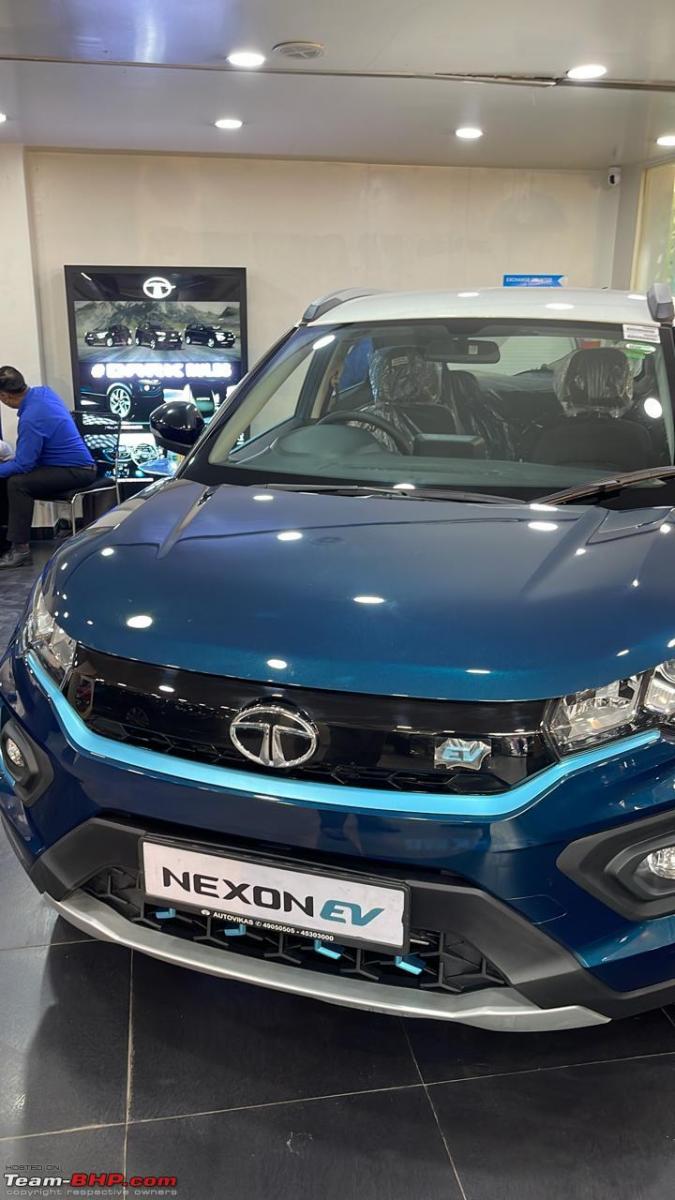 Mom and dad quite liked the color though and SA offered a discount of around 25k after consulting his Team Leader and we paid the 21k advance amount. During all this I was reading further about the Max and kind of knew I will be switching to Max as long as it doesn't cross 20 lac mark OTR. Conveyed this to SA and he clearly stated the discount will not be applicable which was understandable. Followed up a couple of times with SA if he had an update regarding Max but he was absolutely mum about it till launch day.
Switching to the Nexon EV Max:
SA called me in the morning launch day that they have been called for a brief and he will get back post the meeting. I had been following the teasers and more than the range the new features was what I liked more. As my daily beater, a range of even 150 was acceptable as I never planned to take this car on longer drives. Came the launch day and I found the prices to be very VFM considering the additional features it came with. Within hours of price reveal, the SA shared the brochure and price list and I immediately switched to XZ+ Max 3.3kW Intensi Teal. I liked both the Intensi Teal and Daytona grey better than previous color options. Received a confirmation email stating my model details 2 days later and the wait started. Did not consider the 7.2 variant as I plan to charge the car overnight and the faster charging speed is irrelevant for me. Though I still feel there are some misses which could have been added to the Max version to differentiate it more like full LED front and rear lights / fully digital instrument cluster / a bigger infotainment screen or at least a faster one / Wireless Carplay (having a wireless charger and not having wireless CarPlay is a very weird option to have). But adding more features would have also increased the prices even further.
In the coming days Followed up the SA quite a few times for test drive and finally after 2 weeks he confirmed the car is coming the next day which was a Saturday. He requested me to visit the dealership for the same as sending the car home was not possible. Visited him on Monday and took a short test drive. The car felt good to drive in city mode and the regen levels made it even more better. The changes to the central tunnel gave the car a much more upmarket look.
Change of colour – Intensi Teal to Daytona Grey:
On day of test drive, though I liked the Intensi Teal much more than the old Teal, I noticed it looked way too similar to my A4 and was wondering should I switch the colour? Shared the same concern with my SA casually when we went to check out the XZ+ Max at their yard as I wanted to see the new seat covers. Dad pointed at the yard that it looked like black covered with dust like my A4. I was also requesting the SA for faster delivery as I made the switch on launch day itself. He confirmed that they will get some cars allotted as it was end of month and he will give me an update soon.
This was 30th of May and I got a call from the SA in the evening that I had been allotted a Daytona Grey XZ+ Max 3.3kW and asked if I am willing to switch the colour. Now I had not seen the Nexon in this color, but there was a Tigor parked in same color and it looked nice. From the pictures though I felt the blue highlights stand out a lot and I would have to get them wrapped in black post delivery if I absolutely hate them. Asked the SA if he could arrange some real pictures of the car from the plant, but he could not do that. The Tata booking 3D page was the only place where I could find full images of Nexon EV Max in Daytona Grey and its looked quite dark but in a good way.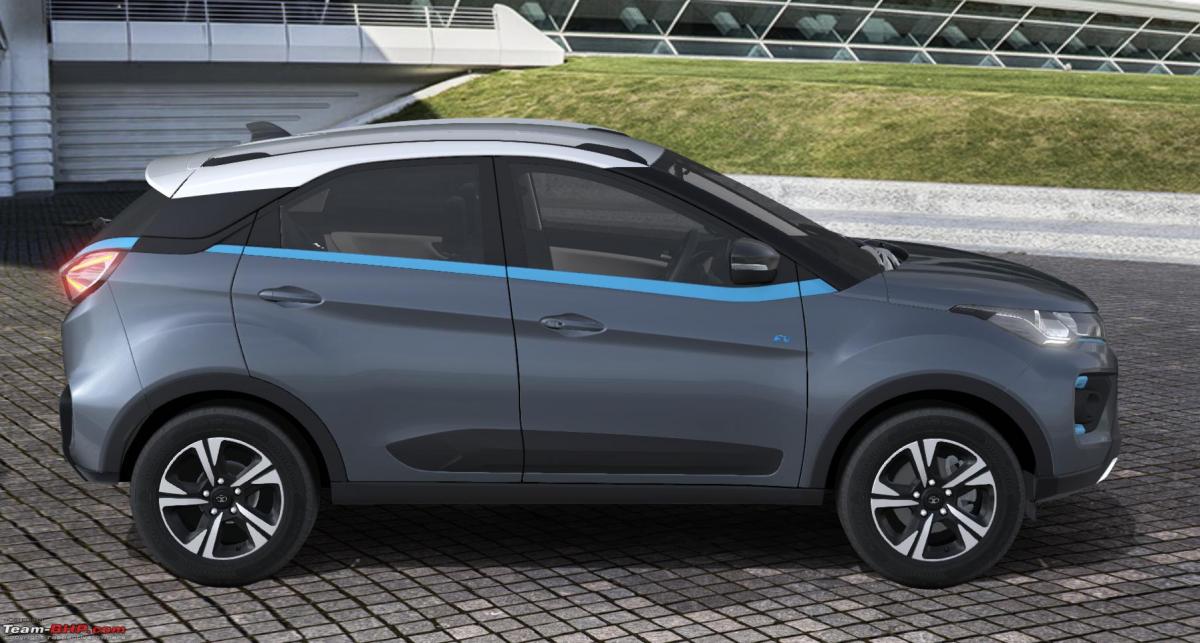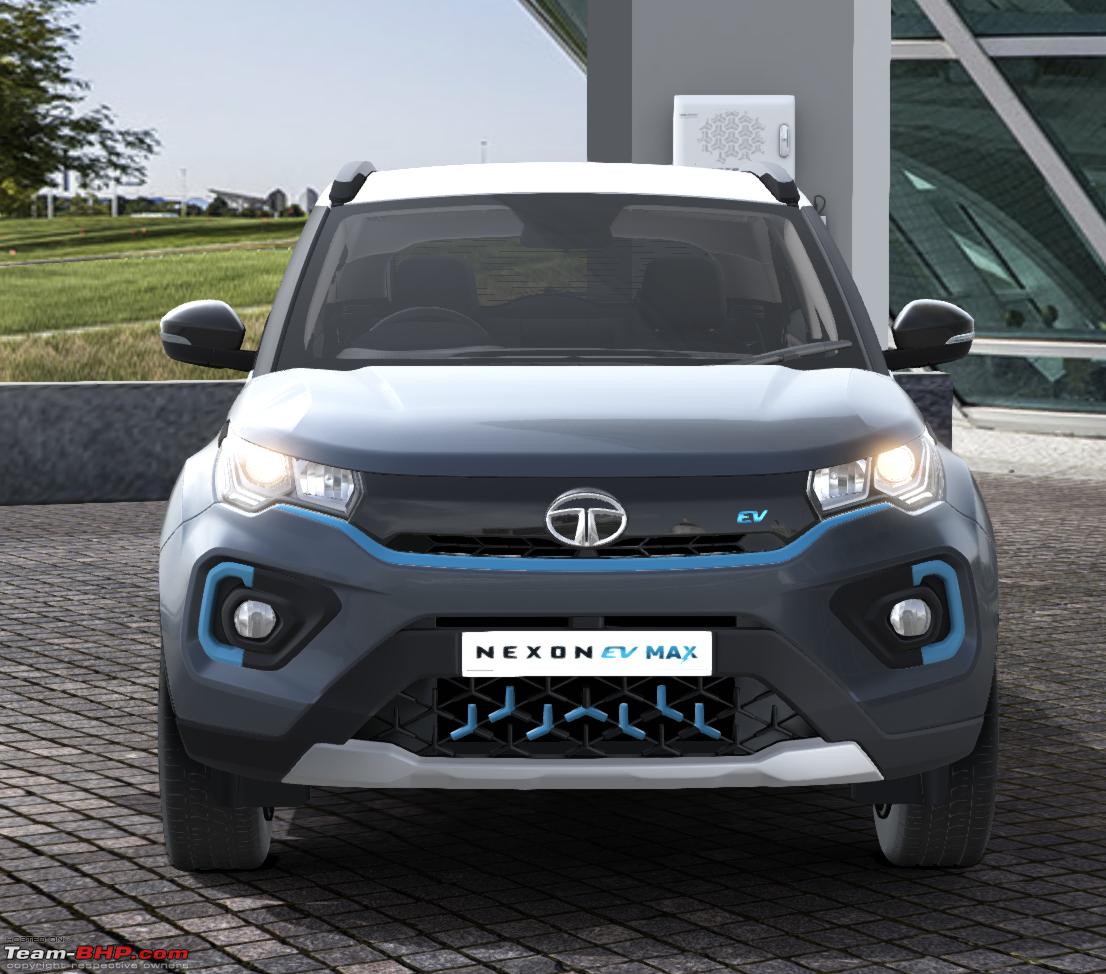 But with Intensi Teal ruled out and no intention to buy a white car, there was not much of an option I had. I confirmed the grey colour to him after an hour and transferred the downpayment to him and he got the car invoiced in my name. Got the invoice on 31st and the car left from Pune that day. Had clearly told him not to go for registration before I do the PDI myself.
Waiting & delivery:
The Max was launched on 11th may and when I had booked the normal EV the dealership had already started taking unofficial bookings for that around a week before launch. So when I made the switch SA told me to expect waiting of at least 8-10 weeks for delivery. But when I made the switch to Daytona Grey on 30th May, the car had already been allotted to dealer so it was invoiced on 31st may. I was told the car will take 8-10 days to reach the showroom post despatch. Meanwhile got the loan approved with the showroom guy offering the lowest ROI. The loan was approved and ready in 3 days but I requested not to disburse the amount before my approval.
The car reached the main yard of dealer which was on the outskirts on 8th of June but due to some change in hypothecation process in Delhi, registrations of all cars financed with govt banks stopped. This lead to overcrowding of the yard dealership had close to their showroom and took them 3 more days to make space for the car. Finally received the call on 11th June that the car had reached their yard and I can come for PDI. Went the same day as the bank guy was also insisting of disbursal of loan because RBI had raised the repo rate further and any more delay in disbursal could mean having all the documents processed again with new ROI. Went straight to the dealers yard and asked the SA to meet me directly there first. The car was covered with dust parked in an open area. Matched the VIN no with invoice and followed other steps of the PDI.
Attached some pictures I took that day: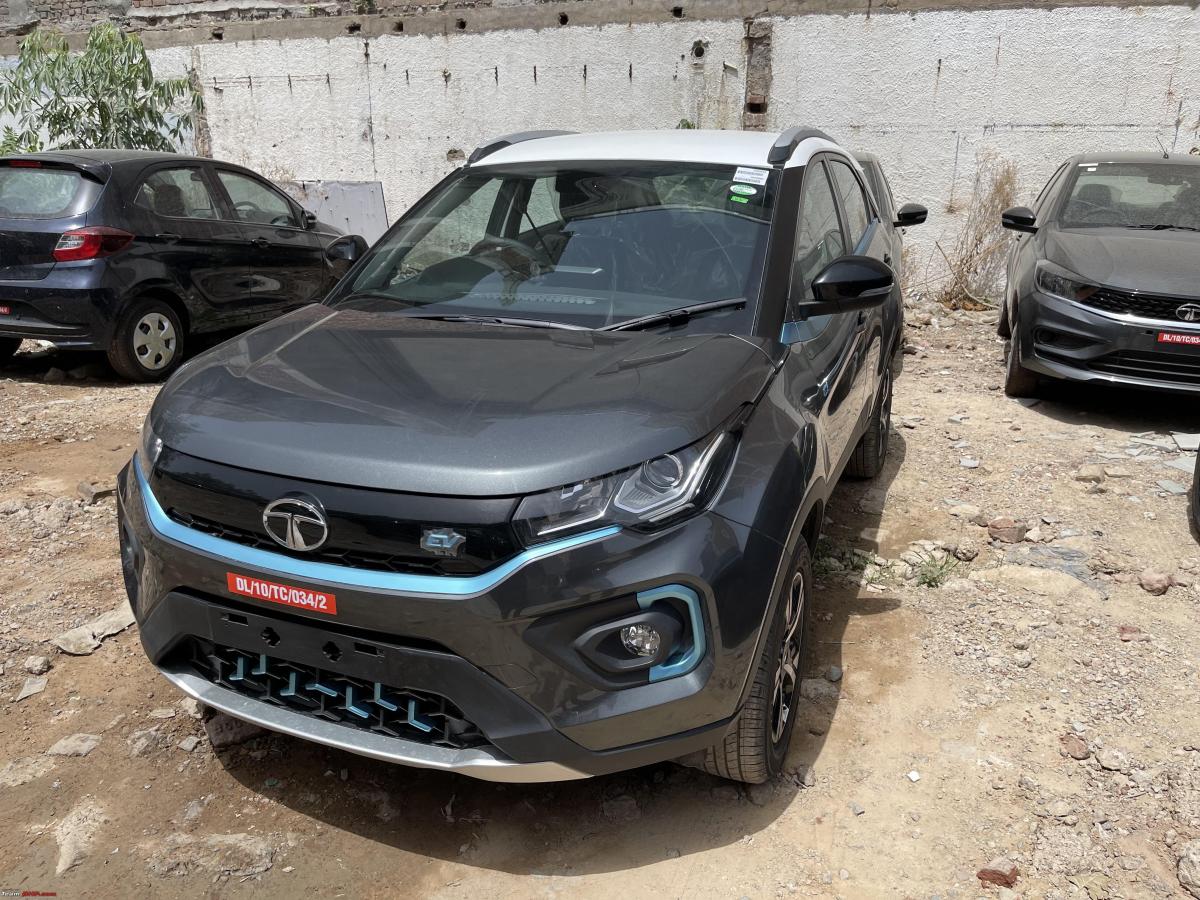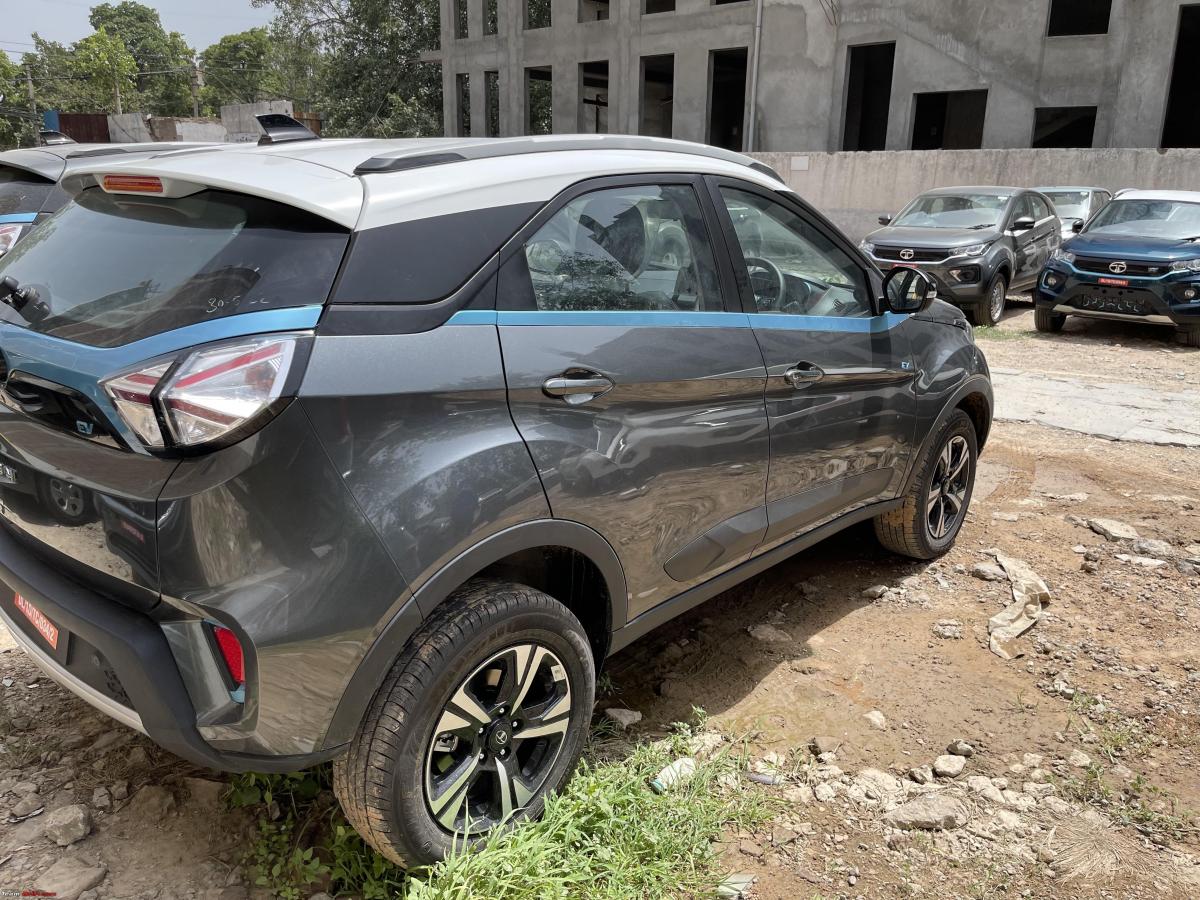 I was happy to note that the blue trims did not seem that odd in person. I was also handed over the home charger during PDI and appointment for installation was scheduled the same day. The SA can be seeing getting the charger in the below picture to hand it over. He clicked a picture while giving it to me and also took my signatures to avoid any sort of disputes further: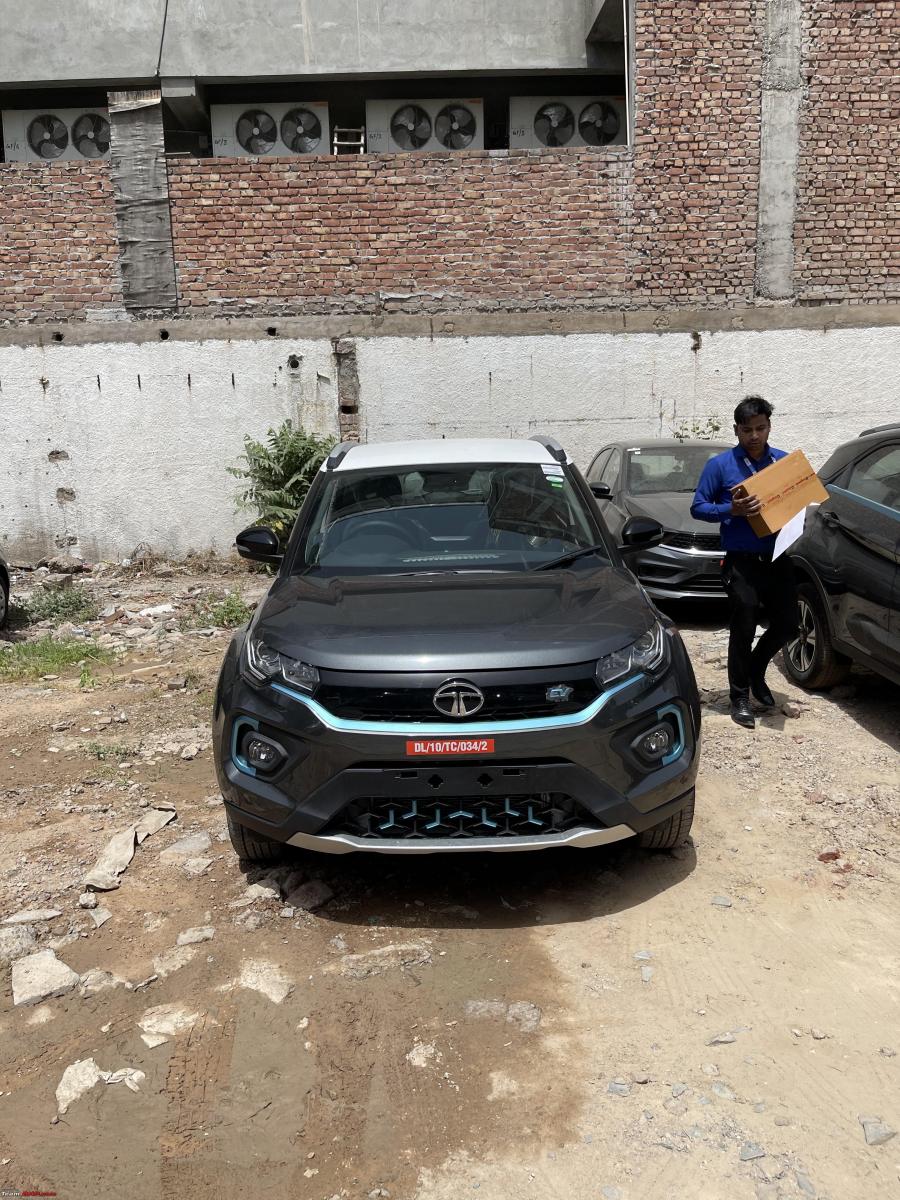 The car had done 50kms. After being satisfied called the bank guy to disburse the loan amount: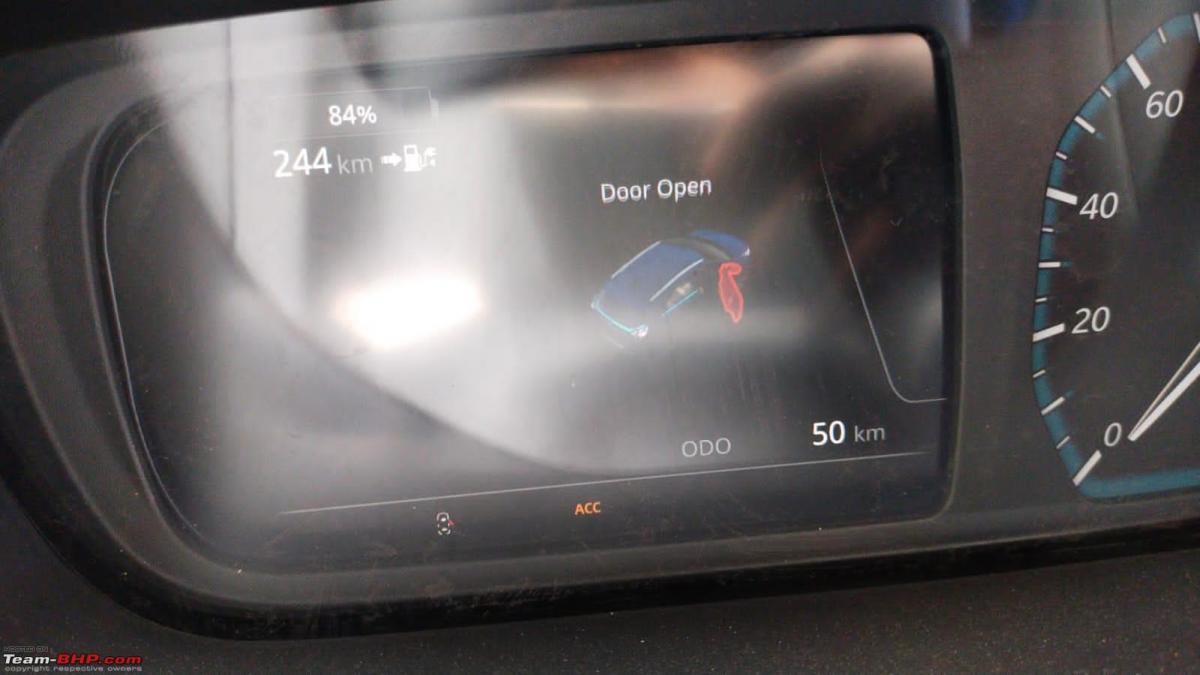 The seat covers have a very good looking blue stitching with a new tri-arrow pattern. Found the seats to be smart looking, but the interiors were full of dirt, the car being parked in a open dusty space did not make things better. The piano black plastics all around are a magnet for dust, scratches, and marks:
Went to the showroom after PDI to select some accessories and make the balance payment left after disbursal of loan. The final amount paid by me was ₹1876469/- without any accessories. Below is the breakup of the same:
Ex-showroom (including TCS) – 1791740/-
Insurance (including RTI, Zero-Dep, Consumables) – 53500/-
Registration / Fast Tag / HSRP – 6230/-
Extended warranty (3+2) – 24999/-
Selected the following accessories that day:
Trunk 3d Mats.
Car 3d Mats.
Door Visor.
Mud Flaps.
The total for these 4 came to around 11k on which SA told he will try to get the best possible discounts. PDI was done on Saturday and the bank / RTO issue was still not sorted so it took another 5 days for the car to get the HSRP.
Got the call next day after PDI and the charger was installed and running in less than 24 hours post PDI. Tata Power guys were very efficient and even shared their phone numbers in case we face any issue charging the car post delivery. The cable were very neatly laid out and the charger was installed at a place where its not visible unless specifically looking for it.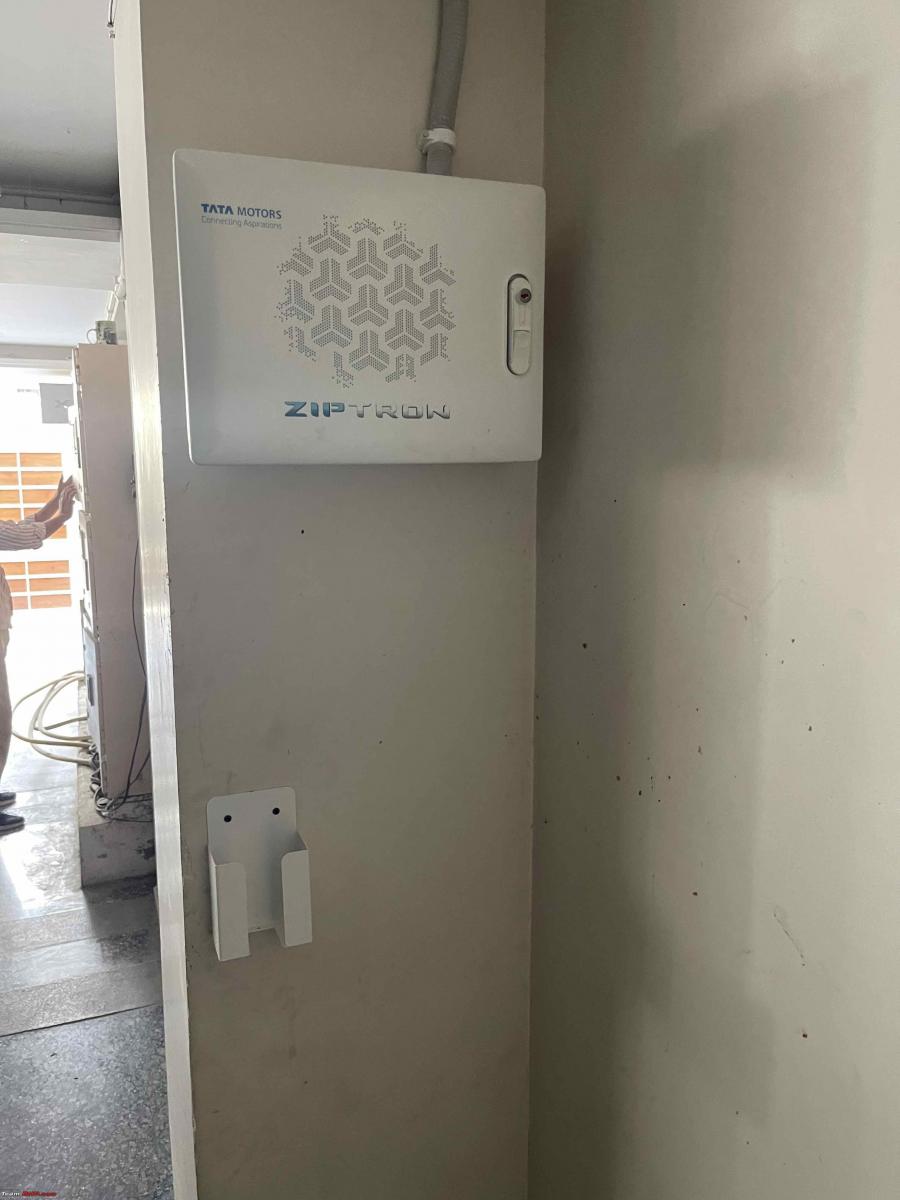 Finally the car was ready for delivery on evening of 16th June with HSRP installed and I told the SA will take delivery next day. Reached the showroom on 17th evening with my wife, daughter and mother. It kept raining throughout the day on 17th with light showers. Even after reaching the dealership they cleaned the car twice but it kept raining again and again.
Saw the car parked in delivery area near the entry gate and requested the SA to get all the plastics removed form the interiors immediately. They still left the someone which I removed as I got in. Went inside the showroom and started with the formalities. The delivery process was smooth and took around 45 minutes in total.
They did the KYC for activation of Z-Connect and told me to wait 48-72 hours for proper activation of the same. Had a cake cutting and was handed over details of service centre and senior contacts in case of any problems. SA handed over all the invoices / payment receipts / insurance and other documents followed by a cake cutting.
The accessories I had selected were already installed except the car mats. SA had told me the mats are not in stock but when I reached their accessories shop I saw them lying there in open. I enquired regarding the same, and the accessories guy told me they tried installing them, but the EV max has raised floor near the drivers seat because of which they don't fit perfectly. He then even took me to a demo Nexon EV they and showed the floor of that car and showed me the hump in my cars floor. He told me will take 7-10 days for the Max specific mats to come. I further decided to get the following accessories added on day of delivery –
Window Curtains.
Door Guards.
Ganesha Idol.
The total of all these came around 15k and I ended up paying close to 11k for these after around 25% discount. SA gave in writing about the pending delivery of mat along with extended warranty which will get activated next day after delivery. Also, due to chip shortage only one remote was given but both the keys were handed over. The spare remote will come with an empty key slot and the spare key can be put inside it when I get it. Have been asked to wait 60-90 days for the same. Got the extended warranty PDF by main within 48 hours and a call to confirm receipt of the same.
The door guards could not be installed because of non stop rain on delivery day and we finally decided to take the delivery in rain only. . Could not take proper pictures while taking delivery because of this. Attached below a picture of mandatory key handover and my little one standing all happy next to her new possession.:
The SA gave the demo going over the basic features of the car and some details about charging / removal of charger properly. I took a lightening cable with me to use CarPlay and thanks to the poorly located USB slot the SA had to plug in the cable for me. Asked me at then end if I had any other doubts and handed me over the fast tag. The car was handed over with 99% SOC showing a range of around 320 kms. Auto-wipers came in action as soon as I moved the car in rain and the smooth, soundless drive is a very peaceful experience only EVs can offer.
Installed the door protectors myself the next day after properly cleaning the car. Also installed a set of universal mats for time being till I get the 3D ones. The door protectors come with a small Tata logo and do the job pretty well, specially in tight parking spots: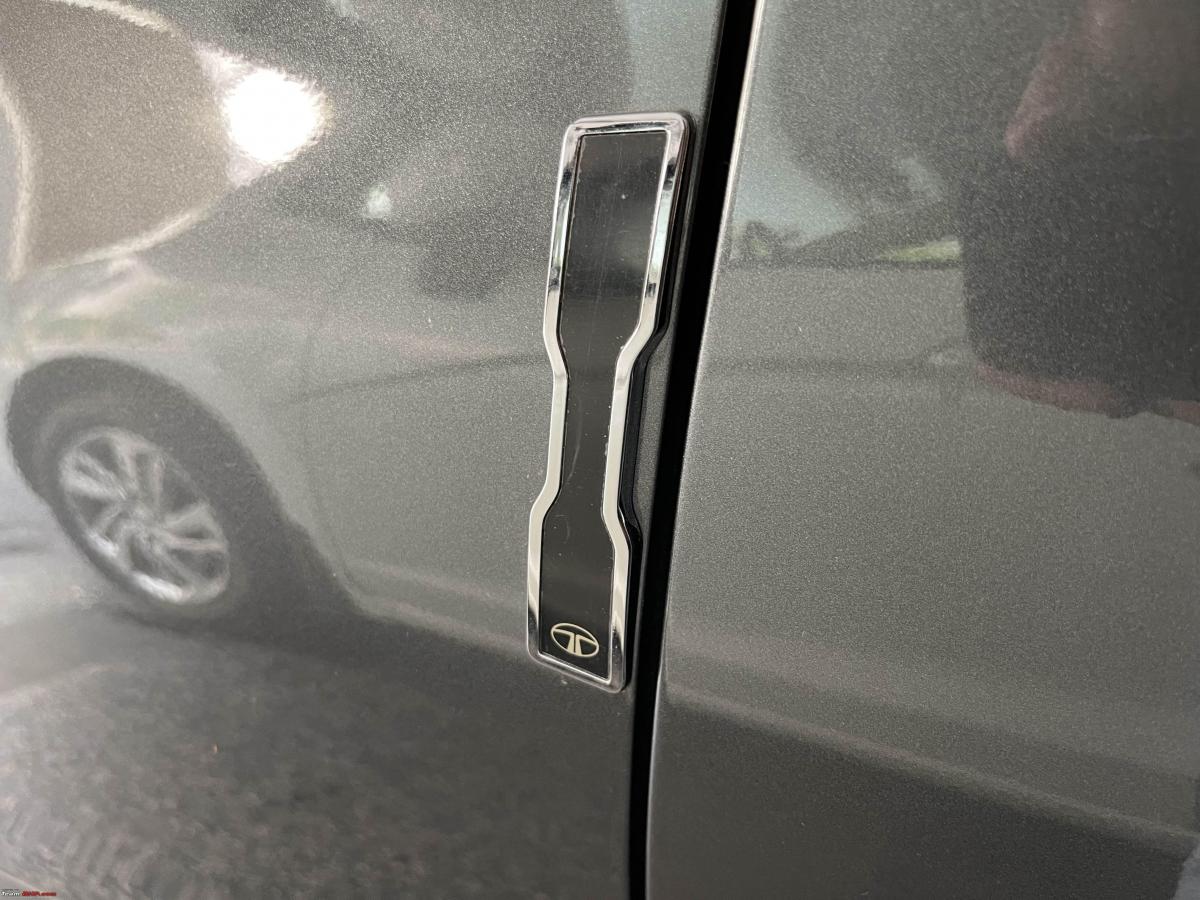 Also installed the Ganesha Idol which they left on the dashboard. It can with a 3M double sided tape pasted so was easy to install:
The car looks very smart from the front end and I think it will age well just like the Polo did: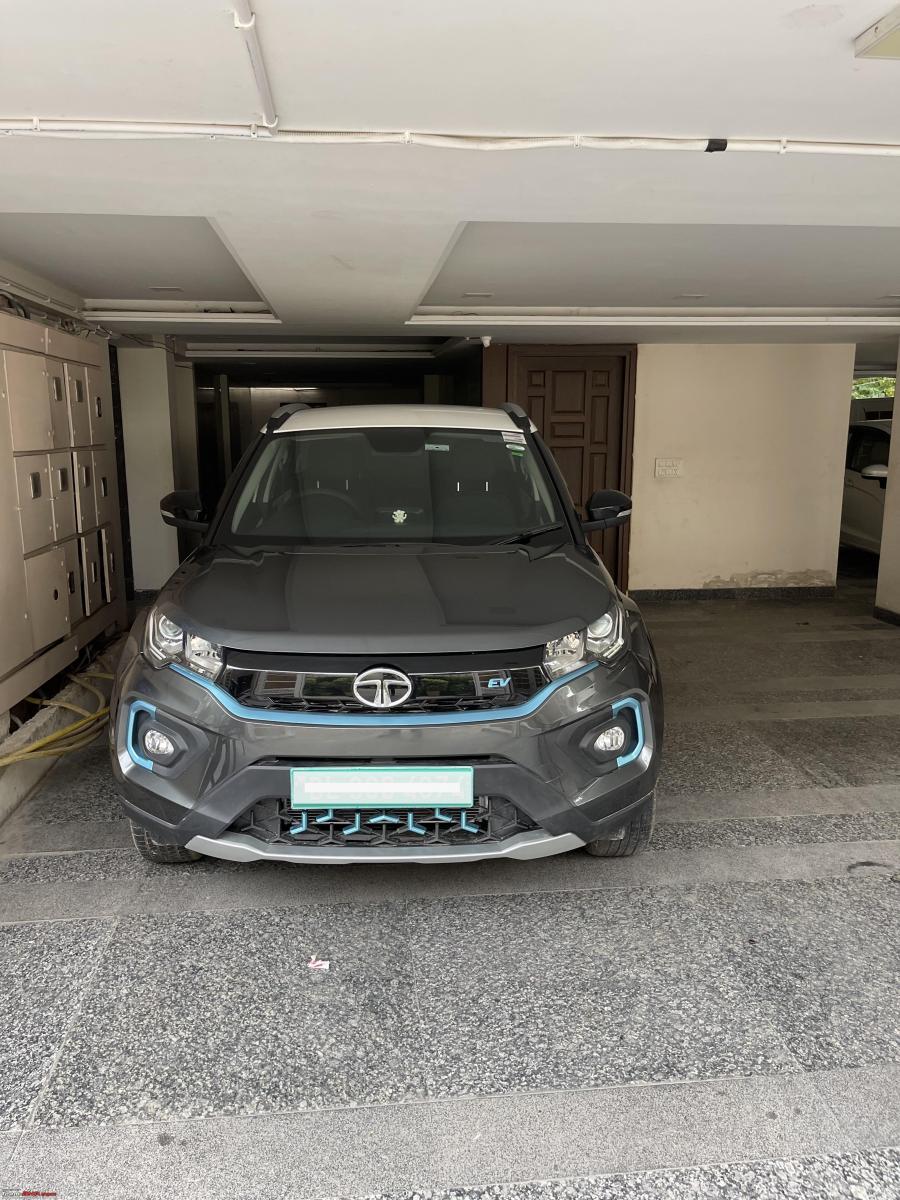 Parked at the same spot where I bid my olo good-bye a couple of weeks back. The door visors give the car a very smart look: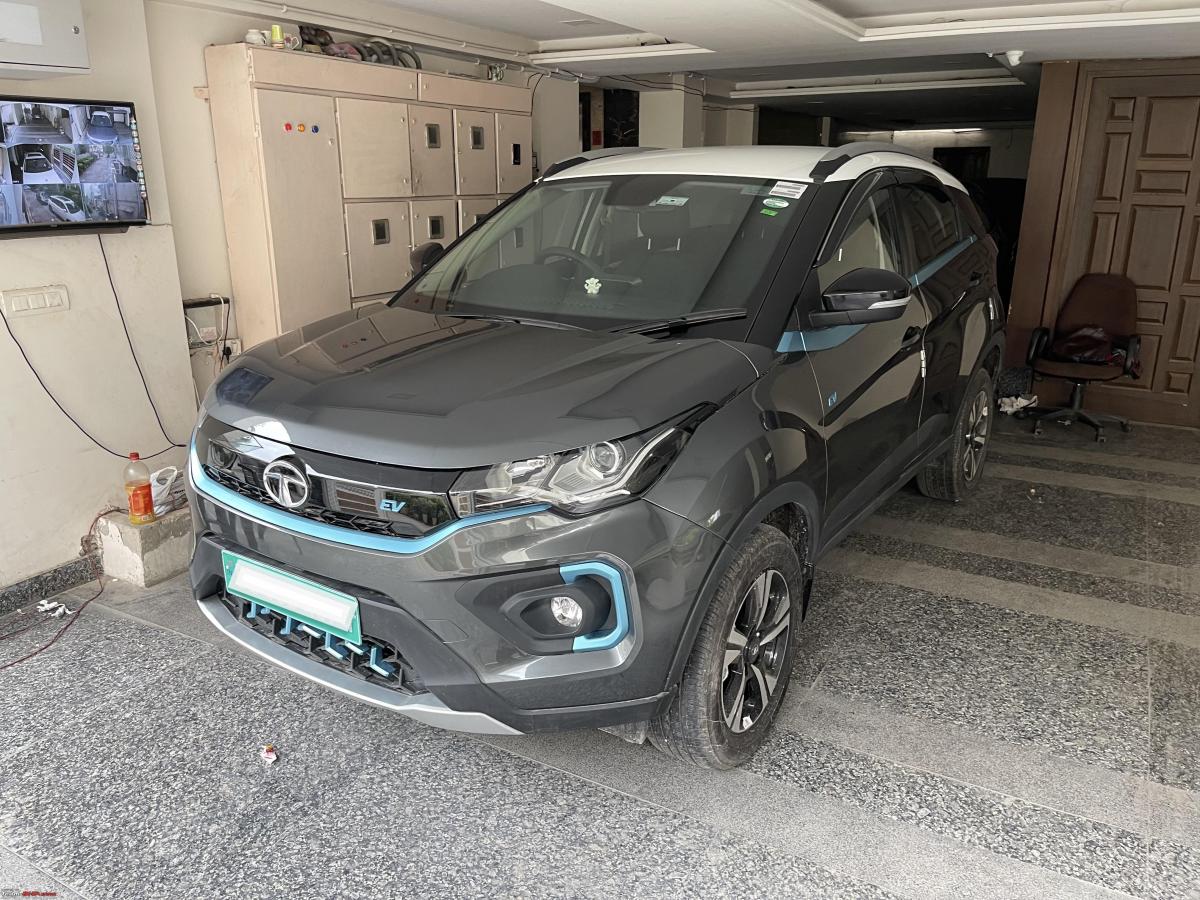 The door visors are same as the sold with the Nexon and there is nothing new about them. Would have liked them better with the chrome strip. They do come with a big Tata logo. Also notice with the curtains installed, anything inside the car is barely visible form out: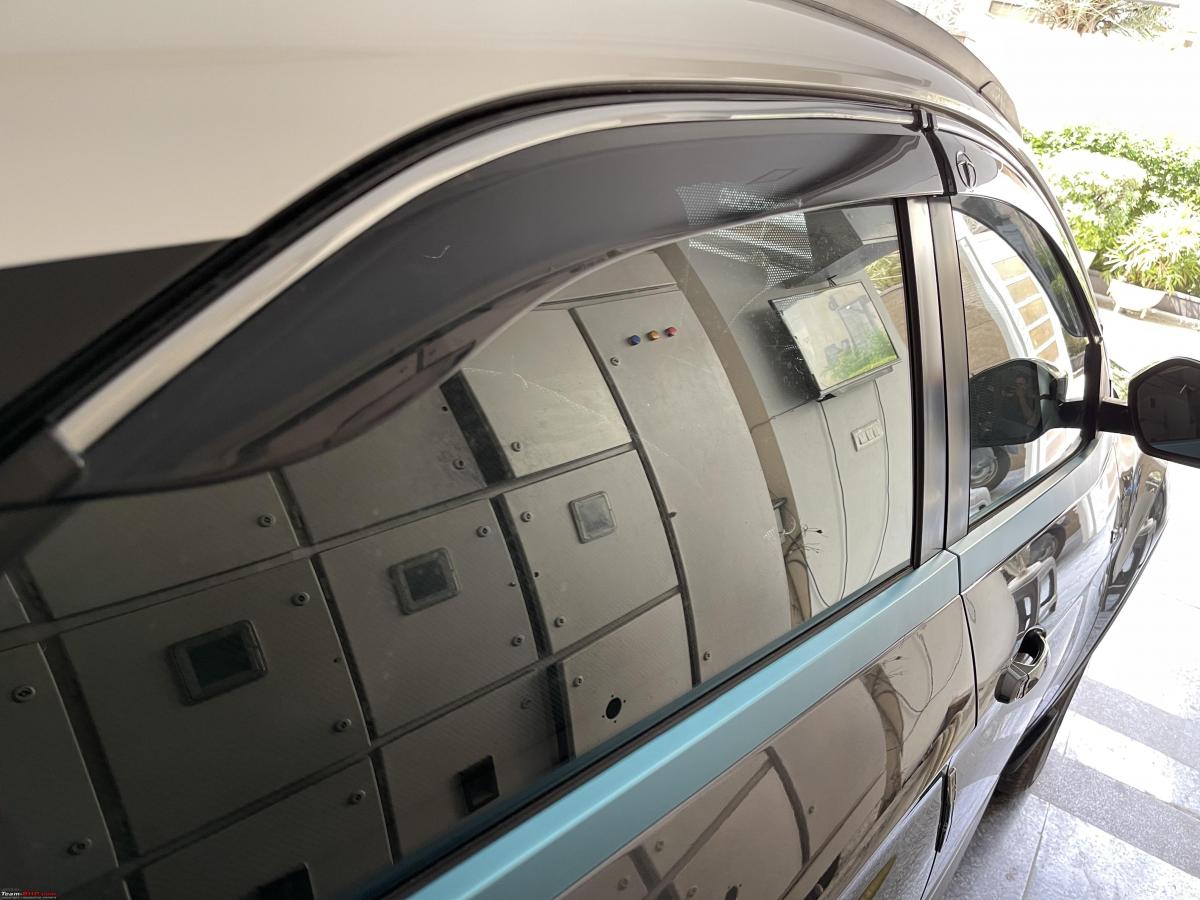 Please note the door visors make the blind spot even more worse which is already quite bad because of the thick A-pillars. There is minimal space visible between the ORVMs and door visors. Installing the windows curtains make this even more worse and you have to be very careful on turns: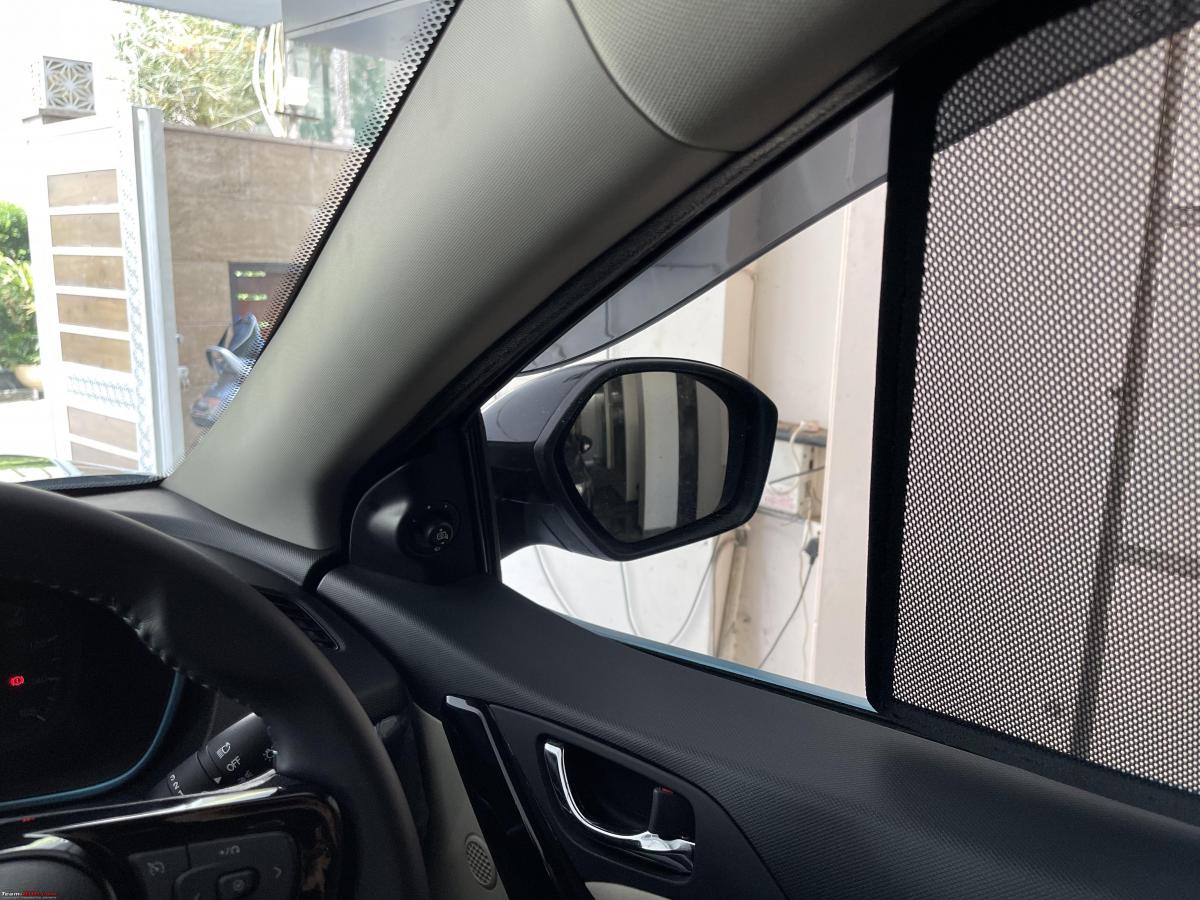 However the curtains are of very good quality compared to the aftermarket ones I bought from my Polo. They were very flimsy and at times got stuck in door and even kept falling off. Even bigger problem in them was for the from windows they came with a zipper which could be opened up to see ORVMs or handle parking tickets. This was not a very good implementation and I mostly kept the front ones in my boot. The Tata ones come with strong magnets, good quality mesh and a small Nexon branding. They have a giant cut on the front ones to view the ORVMs:
The rear ones completely cover the windows and work very well during summers. The car feels somewhat better insulated form heat with curtains installed than without them. Have paid many fines on my Polo for installing films so did not want to get them installed anymore. Also notice the Nexon branding at top in all curtains: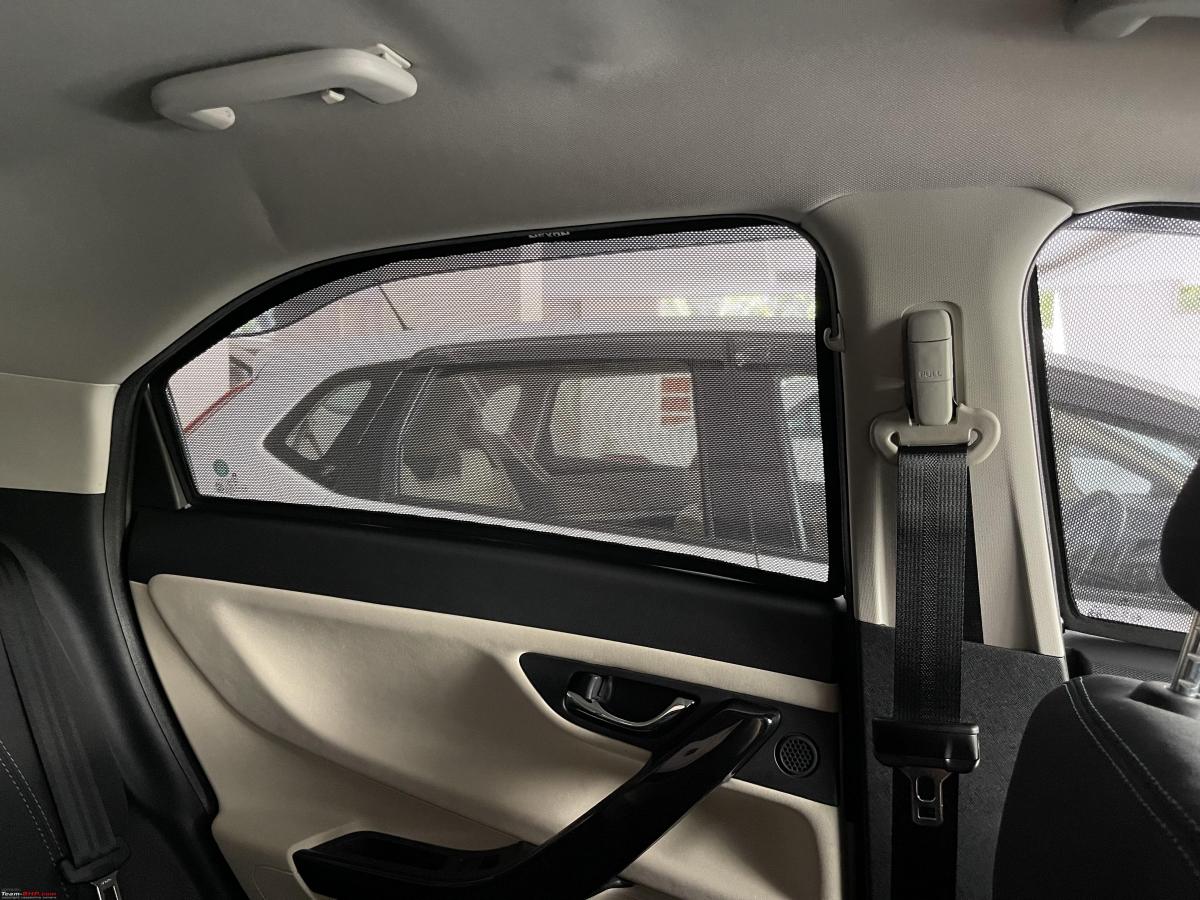 However, if its not sunny out side, with all black seats and curtains installed the car can feel a little claustrophobic and its best not use them at such times. My little one hates them while sitting in the rear as they obstruct her view and have to remove them as she gets in every time especially at night.
Went for a customary pooja at night to a nearby temple and felt the heavy weight of the bonnet while lifting it: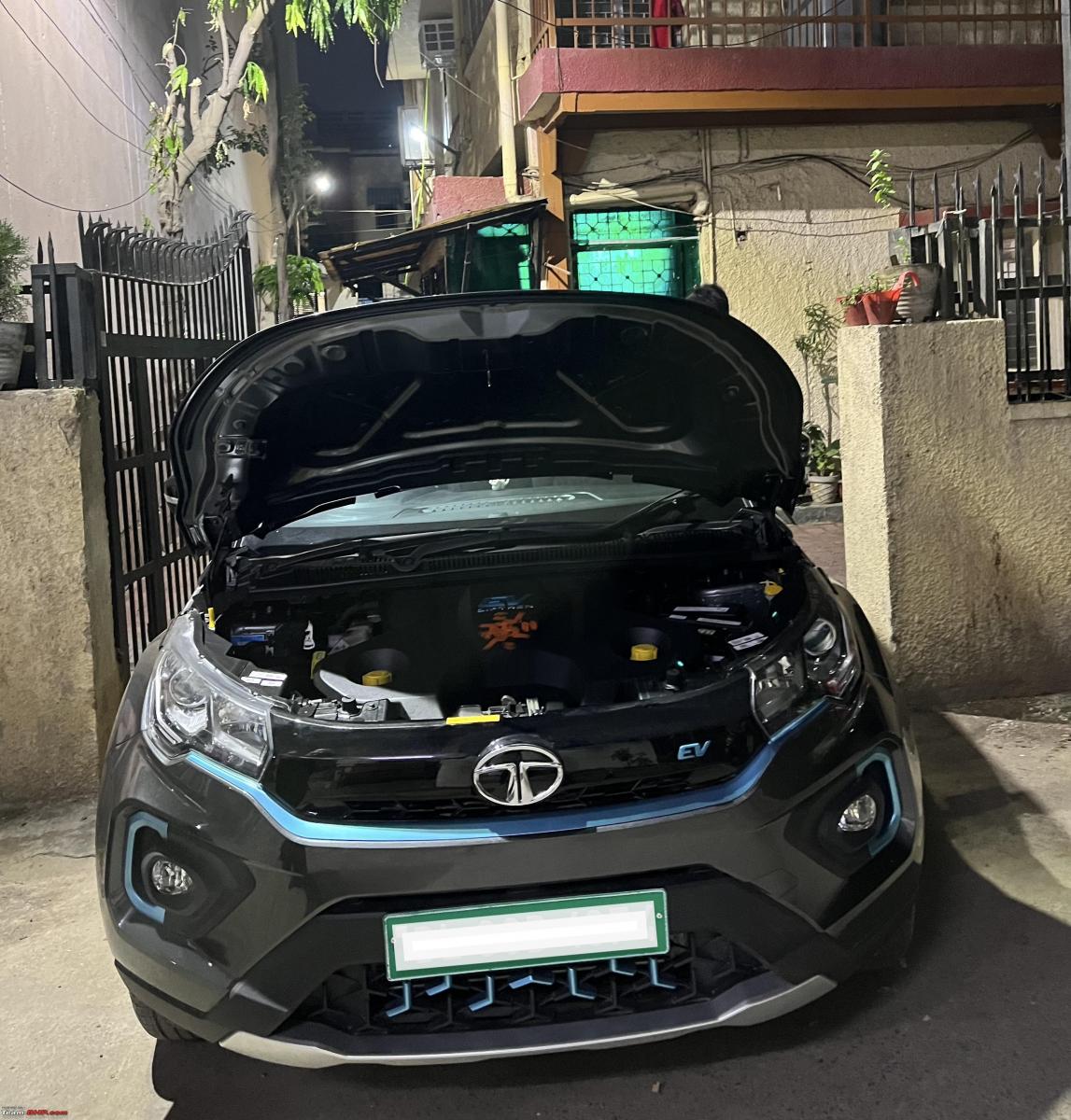 Continue reading on BHPian prateekchanana's upgrade from a Polo to a Nexon EV Max for BHPian comments, insights and more information.

link