The Gear You Absolutely Need for Car Camping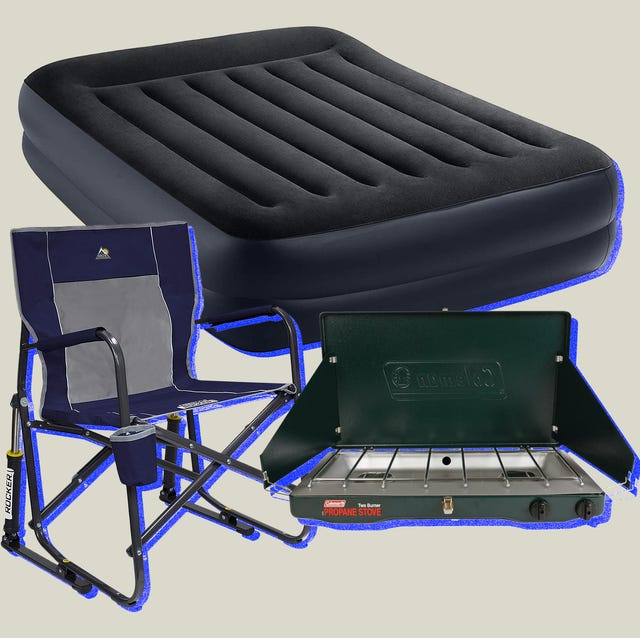 GCI Outdoor, Amazon, Walmart
Exploring the great outdoors is a popular pastime. And you can plow a lot of money into that with a custom camper van or premium off-road camping trailer. But if you're flying solo and aren't too particular about your amenities or sleeping arrangements, car camping could be a compelling option. Camping out of your vehicle is relatively easy — no towing or awkward parking required — and accessible. And hey, who wants to lug around gear in a huge pack when your Toyota Tacoma can carry it far more easily?
Things to Consider While Car Camping
Car camping comes along with the luxury of having electricity and shelter in the case of an emergency. These perks may seem extravagant for a seasoned backpacker, but I'm not sure anyone would be upset about having a few extra modern amenities while still enjoying the outdoors.
But even when setting up one of these fancier campsites, you can't get lazy and ignore some of the critical things to watch for while setting up camp.
Pick the Right Spot
Finding the right spot to park can be tricky, especially if you're not pulling up to a reserved site. If you are on a more developed campground, odds are that the ground will be relatively flat, and it will be built where a flood is not prone to happen. If you are on a backcountry site or maybe just some public BLM (Bureau of Land Management) land, you will need to consider your surroundings more closely.
Look out for established animal habitats, wash basins and large slopes. It is also nice to look for coverage from the elements, depending on your location and season. If you are camping in a tent, keep in mind that your car can be positioned to protect you from the wind and sun.
Your Car Isn't Invincible
If you are camping in your actual car, you can rely on a completely dry place to sleep and be generally pretty safe from animals. And while your vehicle is a really solid shelter, it is still not your house. It is not as insulated as your home and will be hot in the summer and cool in the winter, and while there are techniques to combat these issues (i.e. crack the windows for a breeze), you will want to keep in mind the more extreme temperatures.
Also, remember that you do not want to overuse your car battery while the vehicle is not running. There may not be anyone around to give you a jump, making it easy to end up in a sticky situation. For charging your devices and powering lights, I would suggest investing in a power station to avoid this altogether.
Clean Up After Yourself (And Your Pet)
When leaving your campsite, you want to leave it as you found it. The goal is to leave zero traces that you were ever there. The easiest way to do this is by picking up your trash and hauling it out with you. Think of how annoyed you would be if you pulled up to a campsite and it was littered with junk from the previous inhabitants. And just a reminder, while you still might be in nature, clean up after your pets!
link