Starlite Customs Truck and Auto Accessories: Prepare to be Amazed!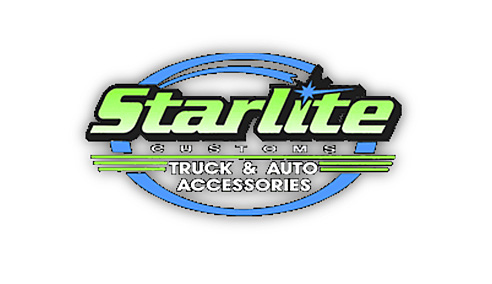 ---

---
Whether you're looking to trick out your Jeep or customize a truck with some slick new gear, do yourself a favor right now. Get off of the Internet and take a quick drive over to M-139 in Benton Harbor to see the Ingram brothers and their team at Starlite Customs Truck & Auto Accessories. Prepare to be amazed. Even if your online search has taken you to the Starlite Customs website, nothing — literally nothing — compares to walking through the door into their 2,000 square foot showroom and their 2,800 square foot installation center bursting at the seams with options you might never have dreamed of.
Justin Ingram, with his brother Adam, has been in the business for going on 19 years now and he can't even begin to recall the number of times that somebody called asking about a particular part or detail option and then completely changed their mind once basking in the glow of the incredible array that the two have assembled at 2127 M-139 for fans from all walks of life.
Justin explains, "We launched a very important part of our business in 2004 by working hard in our showroom to get robust displays, products and materials in a bid to get customers to come to the store. That's our number one approach, because it's not at all uncommon to have a customer call us on the phone in search of a specific product, but when we invite them into the store it's amazing how many times they leave with something completely different than what they'd expected." He adds, "We find that it's better to come to the store, so we can walk you through all the product options and variations, just to make sure we're giving you all the information to help you, and to make sure that when you're buying these products, you're buying the best product for you and your vehicle, long-term, and to make sure that you're getting something that's the best for you."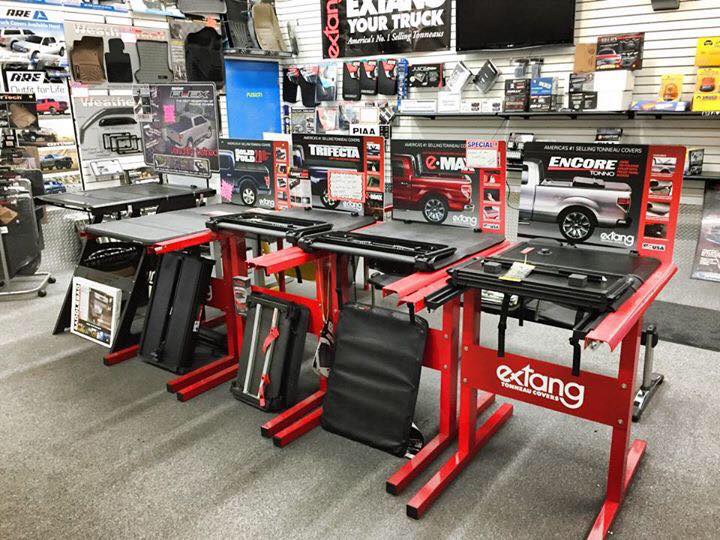 Whether you start on the Internet or even, frankly, in the Starlite Customs shop, you're going to be overwhelmed and they're in the house to help point you in the correct direction, to make sure that it's a fun process instead of an overwhelming process.
Justin and Adam Ingram represent a local family. A local business. A couple of small-town guys who were born and raised here, grew up here, and continue the tradition of a family engaged in the automotive industry in Michigan's Great Southwest for more than 40 years. Their father preceded them dating back to 1978 in the business, and their combined sterling reputation for first rate quality products and service have become legendary.
While the showroom is filled to capacity with seemingly everything for in or on your car, truck, SUV and even for farm and fleet operators, Justin will be the first to tell you, "We're not necessarily in parts… we're in service. We want people to know that what we're providing the community is a service that you can't get anywhere else, and I think a lot of people would be amazed at the sheer volume of what it is that we do."
What Starlite Customs does, in fact do, is deal with the largest distribution companies in the automotive industry. They actually sell more than two-million SKUs essentially. That's inventory jargon for "Stock Keeping Units," and basically means the Starlite team provides a plethora of options from work-related accessories to pleasure accessories, to farm accessories and beyond.
Justin, who did most of the talking with me while Adam was dealing with clients, notes, "A lot of times the assumption is that we do big lifts & fancy wheels and all those other things, but we provide so many other products that not everybody really knows that we do. Like a lot of the utilitarian things. For example, we handle fleet management companies and sell and install everything from ladder racks to product tool management systems, all sorts of gear for vans and a little bit of everything including a lot of work for plow trucks, from lighting accessories to the smallest details."
Essentially, they've grown their inventory access capabilities to the point where they find themselves telling customers to give them a call, promising, "If we can't provide the service you want or need, we will send you in the direction of someone who can. We're a great resource to either say, 'Look we can do it, or we know who will because we've been in the automotive industry so long that we know a lot of the local companies to be able to help you with the same things."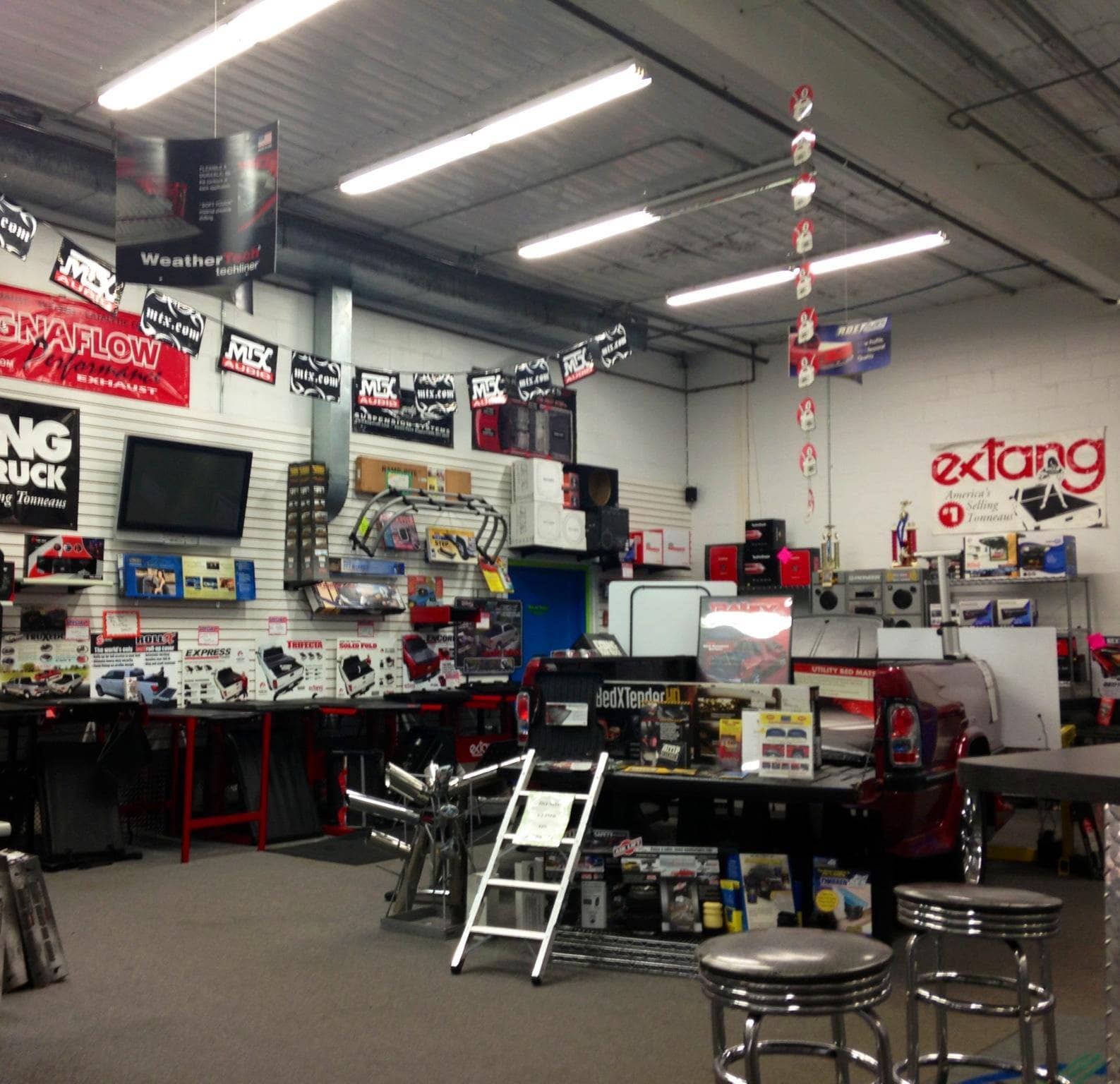 By providing such a wide range of services, the Starlite Customs team handles a lot, but finds one of the quirkiest desires stems from people who want them to do a suspension lift on cars, which they find somewhat odd. Justin says, "We do get those types of questions. 'Can you lift my car?' They almost want to make their car into a truck, which doesn't necessarily make sense, but we do get those types of questions. Beyond that, most, everything is pretty straightforward. We do get questions regarding things that we don't do, but for the most part, that's probably the most wild thing that we've been asked to do."
Nevertheless, they do end up with a lot of suspension work, which can present challenges of their own when dealing mainly with older vehicles. But, they assure you, "There's really not a project that we've been unable to overcome once we start," as Justin adds, "It's a pride thing, but maybe it's also a stubborn thing. Once we start something we want to finish it and make sure the job's done right." He shares the example of the time they took in a 1990 Ford Bronco where everything was just worn out from the years of use, pointing out, "That took us quite some time, about a two to three week process on what should have been about a week's process. It turned into basically replacing all the stuff that they wanted and pretty much rebuilt the entire suspension on the truck. Absolutely amazing."
So when it when it comes to the things that Starlite does, the most often requested areas fall into two major categories:
The Jeep Wrangler
Truck accessories
Justin explains, "The Jeep Wrangler's kind of its own category, from the way we view it, because the Wrangler is the number-one accessorized vehicle that we see in our shop. We kind of specialize in Jeeps, whether it be bumpers, winches, lifts, soft tops, hardtops…you name it. That's kind of like its own entire category in our business."
The number one category, however, is by far just truck accessories, whether it be tonneau covers, floor mats, mud flaps, and what they term "Bed Management Products." Bed management includes everything from their popular spray-on bed-liners to vehicle protection products. "Whether it's our primary house brand that we use for mud flaps, rain guards, bug shield, and all of the products that will really protect the vehicle," Justin tells us, "The fact is now that the cost of vehicles is running so high, people really want to protect their vehicle. Those are usually the first things that we see when someone buys a new vehicle, they come to see us and we get their vehicle protected in order to protect their investment."
One of the things that Starlite Customs has always prided themselves on is using primarily American manufactured products. Justin reports, "That's one of the benefits that we've had through the Covid-era, and times of tight inventory, inflation, and supply chain issues. Because we use American manufacturers, we've not really had too many issues getting products. It has slowed in some cases, but right now we've not had too many issues, and it's actually been just fine. With most products, if we don't have the item in-house, we can usually track it in short order. It's one of the great services that we can provide. If we don't have it here today, we can typically get it within a day or two in most cases."
While currently Starlite Customs can be accessed from 9am to 5pm Monday, through Fridays, they can be accessed 24 hours a day on all social media. So if you do need to get in touch with them and they're not in the house beyond business hours, you can go to Facebook, Instagram, Twitter, Google…pretty much any of the social media channels where you will find them to be very responsive. Justin notes, "If you have questions and we're not here, we're usually pretty quick to respond. So if we can't help you during business hours, you're always welcome to hit us up on those resources, as well."
The Starlite staff, consists of five full time and one part time, including Adam and Justin. Their employees have been there or in the automotive industry for years. Their installation technicians have been doing automotive-type work for — between the three of them — close to 65 years of total experience in the industry. As Justin puts it, "That's kind of the other side of our story, is it's not just that Adam and I have been doing this for almost 20 plus years overall, but our techs have also been doing this for quite some time, too."
The bottom line is, you can buy products just about anywhere. The Internet is a vast marketplace to buy products, but the Starlite Customs team takes great pride in making sure that they give customers all the information they have vetted through the years with a wide array of manufacturers, with Justin noting, "We're basically the best source that you can use. We're not just here to sell you products, we're here to sell you the best product for you. We don't want to just sell you a product and walk away, because we know on the back end, it'll always come back around. So we have vetted these companies. You can look at reviews online but we have had our hands on the actual products every day, and can offer you the best review source that you could potentially use. We make sure that when you leave, you're getting not only the best service but also the best quality product for your vehicle."
The Ingram passion for excellence comes through as we wrap up our discussion, as Justin admits, "Honestly, every time I come in myself I'm like 'This is so much, and we've had customers that maybe haven't been in the store since 2004 or 2005 and our early years and they'll come in and they say the same thing.' Even those who have been in just a few years ago find that everything is constantly changing, and products are evolving, so that's where we really pride ourselves to stay at the forefront of the newest products, to make sure that we're getting in the best products for your vehicle, no matter what your specific need or desire might entail."
Here's a partial list of what you will find at Starlite Customs Truck & Auto Accessories on M-139 in Benton Harbor:
Truck accessories
Tonneau Covers
Bedliners
Bed Rails
Bed Caps
Wheels & Tires for Street, Track & Off Road
Suspensions for Performance Handling, Leveling, Lifting & Load Support
Exterior Accessories
Side Steps
Grille Guards
Fender Flares
Jeep Accessories
Hood Shields
Window Vents
Towing & Recovery
Receivers
Hitch Accessories
Brake Controls
Weight Distribution
Goosenecks
Lighting & Electronics
Lamp Kits
Headlights
Taillights
Bulbs
Lighted Accessories
Visual
Remote Starters
Security
Learn More
Visit at 2127 M-139 in Benton Harbor, by phone at 269-925-6494, or online at:
---

---

link