Products Chosen and Put to Work by Hearst Autos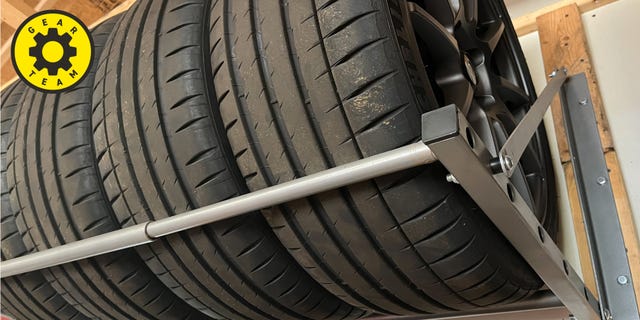 Scott OlmanCar and Driver
At Hearst Autos, we're constantly trying out new gear for cars, trucks, and motorcycles and the people who love them. The staffs of Car and Driver, Road & Track, and Autoweek are in the trenches week after week to bring you the best in automotive news and information. In the process, we use a lot of stuff.
That includes tools for working on vehicles, aftermarket products for improving them, and the gadgets, tech, cleaners, and accessories that make them more user-friendly.
There's a ton of automotive gear and products out there—and plenty of places to buy it all. But if you haven't tried something yourself, how can you know whether it's worth spending your hard-earned money on? That's why we're sharing our personal recommendations for the car gear and automotive accessories we use and trust.
Here are our picks for the best car gear of the week.
---
Adjustable Wall-Mount Tire Rack
For me, the key to garage organization is getting things off the floor and using vacant wall or overhead space. Shelving units, bike hooks, and slat-type wall systems are great for keeping things tidy, and the same goes for wall-mounted tire racks. This MaxxHaul Folding Adjustable Tire Rack does the trick.
These are great for storing winter tires out of the way during the warmer months—while you're at it, toss your seasonal floor mats and ice scraper on top—as well as performance tires for track or competition use. These racks must be mounted to wall studs, so do some planning before you start drilling holes. And watch that garage door! Make sure your new rack isn't in its way when it opens.
Pro tip: Keep your tire and wheel accessories together. Sometimes wheels use different lugs or bolts, center caps, or spacers. Bag all the goodies together and tuck them inside the appropriate wheel or tire. —Scott Olman, marketing manager, Hearst Autos
---
Trickle Charger
Having grown up in L.A., I'm accustomed to putting a couple hundred miles on my car in a weekend driving up the PCH, exploring canyons, and attending Sunday-morning Cars and Coffee events around the city. Obviously, those habits only intensified when I got my 2003 Porsche 911.
When March 2020 came around, I was not ready for how significantly my mileage would drop. We used my wife's car as the grocery getter, and so my baby sat and sat and sat. After my battery died once, I vowed I'd never let it happen again. Why? Because the switch to open the frunk is electronic, and with a dead battery . . . you get the idea. So, to access the battery, I have to take the front driver's-side wheel off, remove the wheel-well liner, reach in there, and pull a cable to pop the frunk. It's more than a pain.
Instead, I picked up a cheap Foval Automatic Trickle Charger on Amazon. This little investment doesn't pack enough punch to jump my car if it's already dead, but I leave it hooked up overnight, and it starts up every morning as if yesterday's neglect never happened. This trickle charger is a product unicorn: reliable, easy to use, and super affordable. You don't have to pick just two. —Lewis Collins, account manager, Hearst Autos
---
Thread Restorer Kit
Fasteners. Fasteners are always the worst part of a project. Corroded or damaged threads can turn a simple task into a nightmare. If you can't easily replace the hardware, it becomes an even bigger nightmare.
The quickest and most affordable solution is to repair whatever threads you can and keep your workflow intact. This Lang Thread Restorer Kit has just about everything you need to help get yourself out of trouble.
Sure, you can break out a set of taps and dies to fix threads, which was my general path, too. Though, these thread restorers aren't as risky as using a tap or die, because they're less likely to damage the fastener or threaded hole. While this is a newer part of my arsenal, it's been a welcome addition to save time, make my life easier, and keep my taps and dies stored until I need to cut new threads. —Wesley Wren, associate editor, Autoweek
This content is created and maintained by a third party, and imported onto this page to help users provide their email addresses. You may be able to find more information about this and similar content at piano.io
link