O'Reilly Automotive: Bet On This Aftermarket Auto Parts Stock (NASDAQ:ORLY)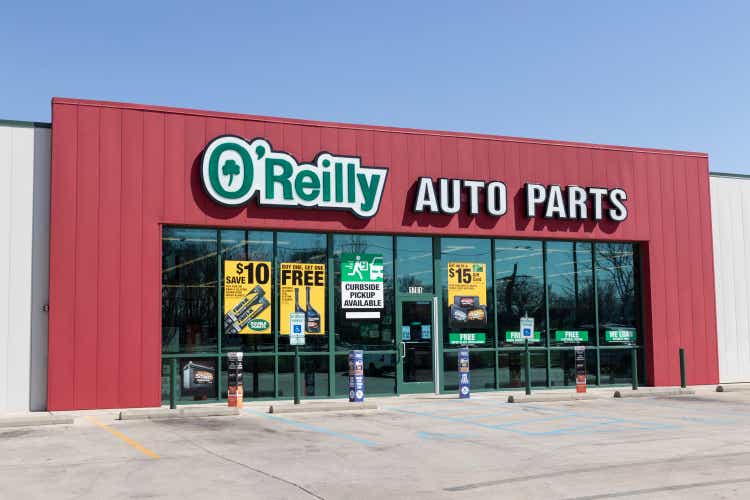 Investment Thesis
O'Reilly is growing its business and expanding its market reach. The company has shown consistent sales growth and robust operating profitability. Despite the pandemic, the company's performance was strong. The company's effective market strategy, increasing customer reach, strong distribution network, and experienced team makes its stock a buy.
An Overview of the company
Missouri based O'Reilly Automotive, Inc. (NASDAQ:ORLY) is one of the nation's leading specialty retailers of automotive aftermarket parts, tools, supplies, equipment, and accessories, catering to both professional and do-it-yourself customers. The O'Reilly family founded the company in 1957, and as of December 31, 2021, it had 5,784 outlets in 47 states in the U.S. and 25 stores in Mexico.
Product and Distribution
O'Reilly Automotive outlets offer a diverse range of products, including:
• alternators, batteries, brake system components, belts, chassis parts, driveline parts, engine parts, fuel pumps, starters, antifreeze, appearance products, engine additives, filters, fluids, lighting, oil, wiper blades, etc.
• accessories, such as floor mats, seat covers, truck accessories, etc.
The company's stores offer varieties of upgraded services and programs to the customers, such as battery diagnostic testing, battery, wiper and bulb replacement, check engine light code extraction, custom hydraulic hoses, drum and rotor resurfacing, electrical and module testing, loaner tool program, professional paint shop mixing and used oil, oil filter, and battery recycling.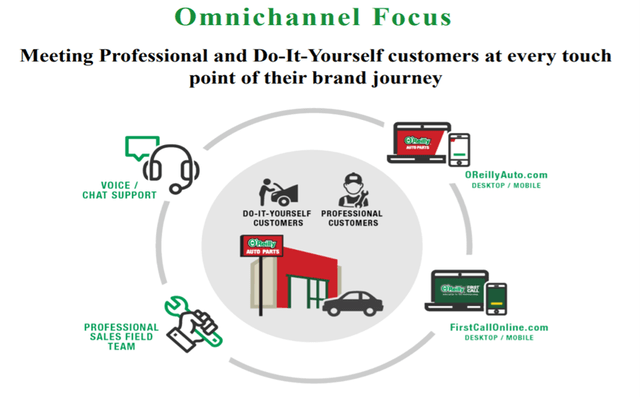 Customers research options before buying a part or a product. Customers' purchase decisions are influenced by a variety of experiences, whether in-person, over the phone, or through a variety of digital channels. O'Reilly's omnichannel goal is to provide customers with a better and more seamless research and buying experience across all these channels.
The company provides a regional distribution network which allows it to optimize product availability and inventory levels across its store network. The company's inventory management and distribution systems connect each of its stores to one or more distribution centers, working for effective inventory control and administration.
Industry Factors
The number of miles driven, the number of registered vehicles, new light vehicle registrations, and average vehicle age, are the major drivers of present and future demand for items offered in the automotive aftermarket.
Number of Miles Driven: The demand for repair and maintenance items offered in the automobile aftermarket is influenced by the total number of miles travelled. Cars in the U.S. are driven over three trillion miles per year, resulting in continuing wear and tear and a corresponding demand for repair and maintenance goods to keep these vehicles running.
Size and age of the vehicle fleet: The demand for items offered in the automotive aftermarket industry is highly influenced by the total number of vehicles (car park) and the average age of the vehicle population. As the average age of vehicles on the road rises, more miles are driven by vehicles that are no longer covered by the manufacturer's warranty. Older automobiles that are out of warranty produce a lot of demand for automotive aftermarket products since they go through more routine maintenance cycles, have more mechanical problems, and require more care in general than newer vehicles. For the year ended December 31, 2020, the average age of the U.S. vehicle population is 11.9 years, and the sale of light vehicle was approximately 16.3 million.
Competitive Environment
Customer service, product availability, store location, brand awareness, and price are major competitive factors in the sale of automobile aftermarket components. O'Reilly is a leading specialized retailer in the automobile aftermarket, competing in both the DIY and professional service provider segments. O'Reilly competes primarily with:
• national retail and wholesale automotive parts distributors (such as AutoZone, Inc. (AZO), Advance Auto Parts, Inc. (AAP), CARQUEST, NAPA, and Pep Boys – Manny, Moe, and Jack, Inc.)
• wholesalers or jobber stores (some affiliated with national automotive parts distributors or associations such as NAPA, CARQUEST, Bumper to Bumper, and Auto Value)
• Wal-Mart Stores, Inc. (WMT) and Amazon.com, Inc. (AMZN) are examples of mass merchandisers and online retailers that sell automotive replacement parts, maintenance items, and accessories.
Advance Auto Parts, Inc.: It is a leading automotive aftermarket parts provider in North America, providing services to both professional installers and do-it-yourself customers. Advance Auto Parts has 4,706 stores and 266 Worldpac branches in the United States, Canada, Puerto Rico, and the US Virgin Islands.
AutoZone, Inc.: It is the leading retailer and distributor of automobile replacement parts and accessories. Its product portfolio includes new and remanufactured automotive hard parts, maintenance items, accessories, and non-automotive products for cars, sport utility vehicles, vans, and light trucks. The Company had 6,066 locations in the United States, 666 in Mexico, and 53 in Brazil as of November 20, 2021, for a total of 6,785.
Competitive Advantages
The management believes that O'Reilly Automotive's important competitive advantages are its effective dual market strategy, customer service, technically adept store personnel, distribution network, and experienced team.
The use of modern technologies in auto parts fabrication, an increase in consumer and passenger vehicle production, and the digitization of automotive repair and maintenance services will provide significant growth potential to the company. The auto parts market is highly fragmented, and continued consolidation due to digitalization may create more growth opportunities for the company.
Financial Performance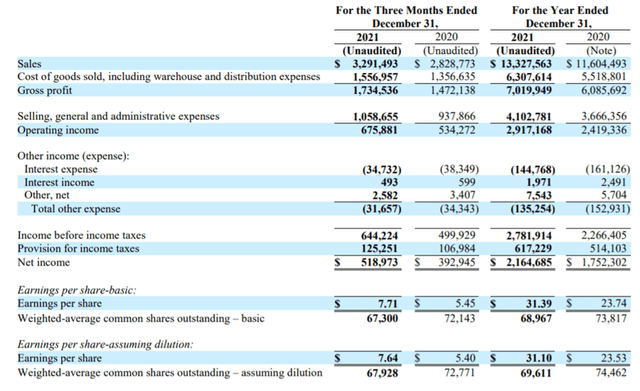 O'Reilly's sales soared by 16%, to $3.29 billion in Q4 2021, compared to $2.83 billion in the previous year. Gross profit surged 18% to $1.73 billion in Q4, compared to $1.47 billion a year before. Net income increased 32% to $519 million for Q4 2021, compared to $393 million for the same period a year ago. For the fourth quarter, diluted earnings per common share increased 41% to $7.64 on 68 million shares, compared to $5.40 on 73 million shares a year ago.
For the year ended on December 31, 2021, the sales increased by 15% to $13.33 billion from $11.60 billion from the previous year. Net income increased by 24% to $2.16 billion from $1.75 billion from the previous year. For the year ended December 31, 2021, the diluted earnings per common share, increased by 32% to $31.10 on 70 million shares against $23.53 on 74 million shares for the same period a year ago.
The company reported long-term debt of $3.83 billion and cash and cash equivalents of $362.11 million as on December 31, 2021.
The company is also repurchasing shares under its share repurchase program on a periodic basis. In 2021, the company repurchased 4.5 million shares at an average price of $545.78 for a total expenditure of $2.5 billion. Since the beginning of 2022, the company has repurchased 0.3 million shares at an average price of $660.23 per share.
Growth Prospects

Source: Author's compilation
The company's performance is consistent, and it is reporting continued sales growth from $8.98 billion in 2017 to $13.33 billion in 2021. Diluted earnings per share increased from $12.67 in 2017 to $31.10 in 2021. For 2022, the company has issued below expectations:
– The company expects opening of 175 to 185 new stores
– Incurring capital expenditures of $650 million to $750 million
– The total revenue is expected to be in the range of $14.2 billion to $14.5 billion, increasing by 6.53% to 8.78% from $13.33 billion during the year 2021.
– Diluted earnings per share in the range of $32.35 to $32.85 from $31.10 for the year 2021.
Valuation
O'Reilly has been growing its earnings faster than its top competitors.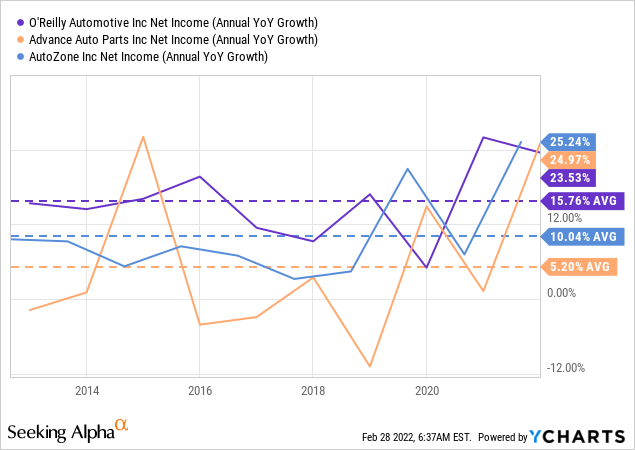 As the above graph shows, the company's average net income growth over the last ten years was higher than that of Advance Auto Parts as well as AutoZone.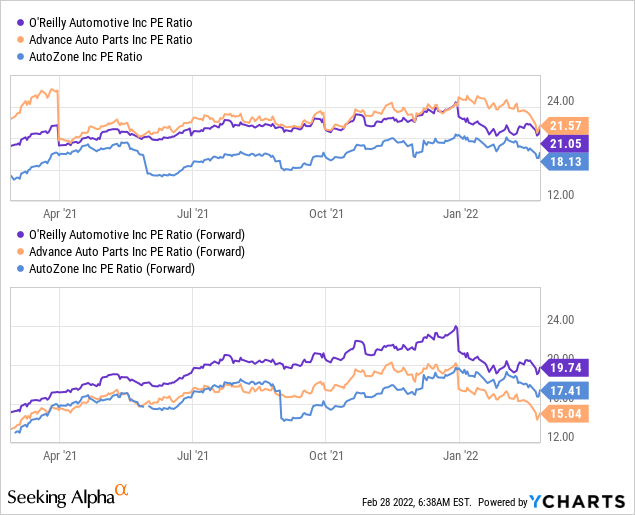 Considering the higher growth, O'Reilly's PE and forward PE ratios look modest compared to that of its peers. Moreover, the stock's ratio is close to its 5-year average.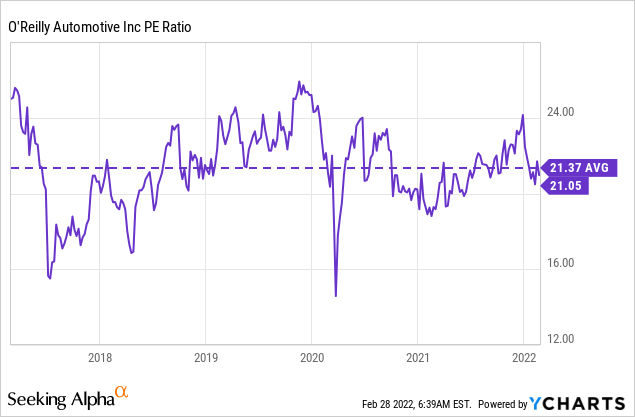 Risk Factors
• The rise of electric mobility may have a negative impact on the automobile aftermarket. The decreasing share of mechanical and moving parts, longer repair intervals, immature battery technology, less wear & tear of parts in an electric engine, fewer additional units, and limited self-service capability may adversely affect the growth of the aftermarket.
• Customers are migrating from brick-and-mortar stores to online platforms since the latter offer a wider selection of products, as well as convenient transactions and quick delivery, as desired by the customer. The buyers are turning to e-commerce enterprises in the automotive aftermarket because e-platforms allow them to browse a wide selection of products without being influenced by the sales tricks that must be avoided during an offline transaction, making the stores less attractive.
• O'Reilly's DIY and professional service provider segments of the industry are very competitive, especially in the more densely populated locations it serves. Some of the competitors are larger and have more financial resources than O'Reilly has. Furthermore, some of the competitors are smaller than the company is but have a stronger presence in some markets than it does. Customers may be able to swiftly compare prices and product offerings between the company and a variety of competitors using online and mobile platforms, putting pricing pressure on the company.
Conclusion
Number of kilometers driven, average vehicle age, and the total number of vehicles are important drivers of current and future long-term demand for automotive aftermarket. The growth of these drivers will further aid the performance of O'Reilly. However, the company must work more on innovative technology, increasing market share, and ease of customers' reach to ensure consistent growth, as the adoption of e-mobility and e-commerce rises.
O'Reilly's growth strategy, effective distribution channel, experienced team, strong performance, and great customer service set it apart from competitors. The stock's valuation looks in-line with its historical average, as well as its peers. Overall, O'Reilly stock provides an opportunity to generate steady returns in the long term.
link