My VW Virtus GT: 11 accessories & 2 issues after completing ~3000 km
I bought pillows for my car that resemble the ones that we have in our BMW 6 Series GT.
BHPian vividhavasthi recently shared this with other enthusiasts.
Virtus GT @ 2850 KM
Quality of Life Updates
Hello all, here is another update on my Virtus GT (VGT from now). Now that I've driven the car ~2000km, here are a few things I noticed and tried to rectify using some things I bought online along with talking about some issues that are quality related that I can't really fix myself at this point.
Cup Holders
They are really small, a normal-sized can doesn't fit perfectly (can too big) and neither does a slimmer red-bull size can (can too small)
Bought the following cup holder expander that allows for a far larger bottle etc to be placed. While it does increase the height considerably, it is manageable. It's a bit noisy when it is not empty (this was solved with a rubber band that goes around the 3 adjustable holders).
Photo of Cup Holder in Car
Air Purifier
Recently Delhi NCR pollution became bad, and my old air purifier which ran via a 12V cig socket was not practical to fit in the VGT, so I bought this Reffair AX70. Bought it because it looked cool and the fact that it has a PM2.5 sensor display along with a USB C power input – handy when the car has 4 USB C Ports.
Trying to figure out how to install it, thinking of adding some velcro strips and placing it on the side of the front seats – I need to figure this out so it doesn't come in the way and I can still read the display.
Here is the current placement, which I am not too happy with. I wanted this model despite knowing that the cup holders on this car won't fit it. I will find a way!
Maybach/BMW 6GT Series Style Pillows
I like a comfortable ride and wanted this style of pillows – finally found something that resembles what is already there in our BMW 6GT. They are SUPER comfortable and look nice. Bought them from Pharaoh Automotive (you can google them) and they shipped them from Bangalore, 2.5K for 2, also available in packs of 4 in various colors. Whoever has sat in the front seat has instantly said, wow this is comfy!
Photo of Pillows in Car
Metal Valve Caps
Noticed that after the first 1000km inspection two of my valve caps were missing, so I looked around on Amazon for some smart valve caps, and here they are. Black to match the wheels with a white VW logo. A buddy mentioned that they would be heavy and may disbalance the wheel, so I weighed them – 2.3 grams. I didn't think that was significant. Went to a decent speed and felt no random vibrations. So they look fine and don't disturb the wheel balance.
Photo of valve caps on the table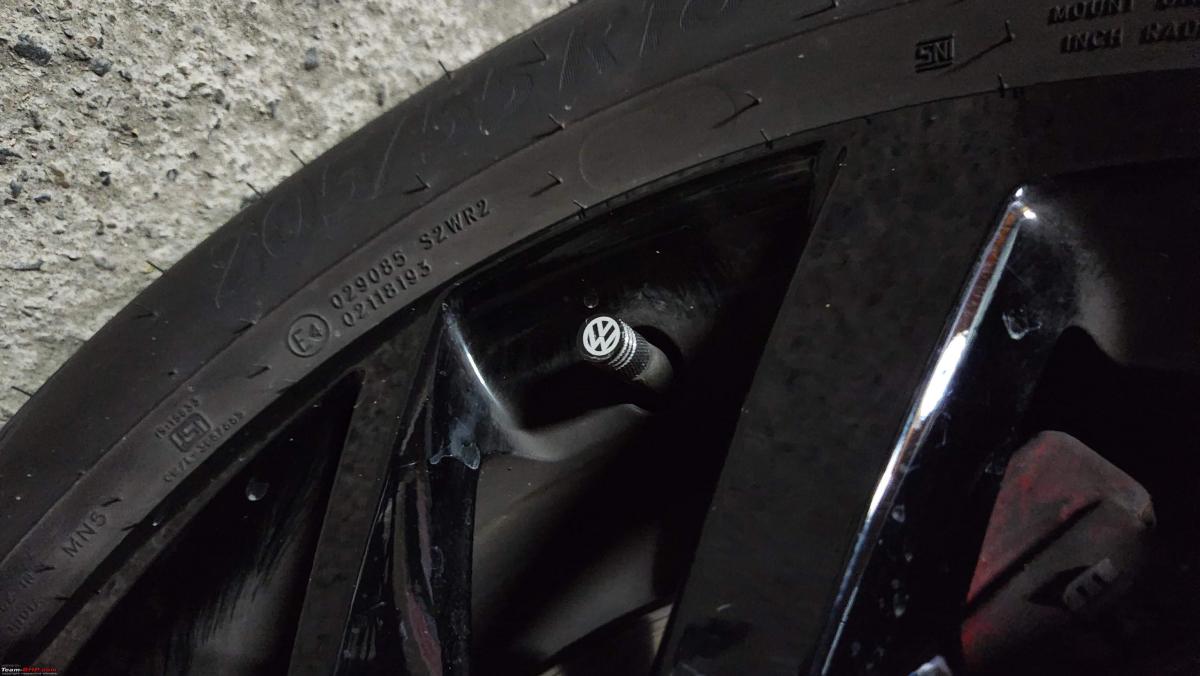 Photo of valve caps on the wheel
Paddle Shift Extension
I would forget that my car had paddle shifters – coming from a Polo GT that didn't have them. Bought a pair from Amazon, but they were of terrible quality and finally didn't even fit the existing pedals, so I just returned them right away. Didn't bother with a picture as it wouldn't add any value. I did however find a really good website dedicated to this.
A bit expensive at 55 USD + shipping. I will be going to the states the next month, so will get these shipped to my hotel and bring them home.
Sun Glasses Holder
Why VW? Why can't we have a sunglass holder in a 21L car? In a country like India where it is VERY SUNNY! Amazon to the rescue. Bought the following option from Amazon. They are easy to mount and have no squeaks. They even have a specific section for metal frame aviators.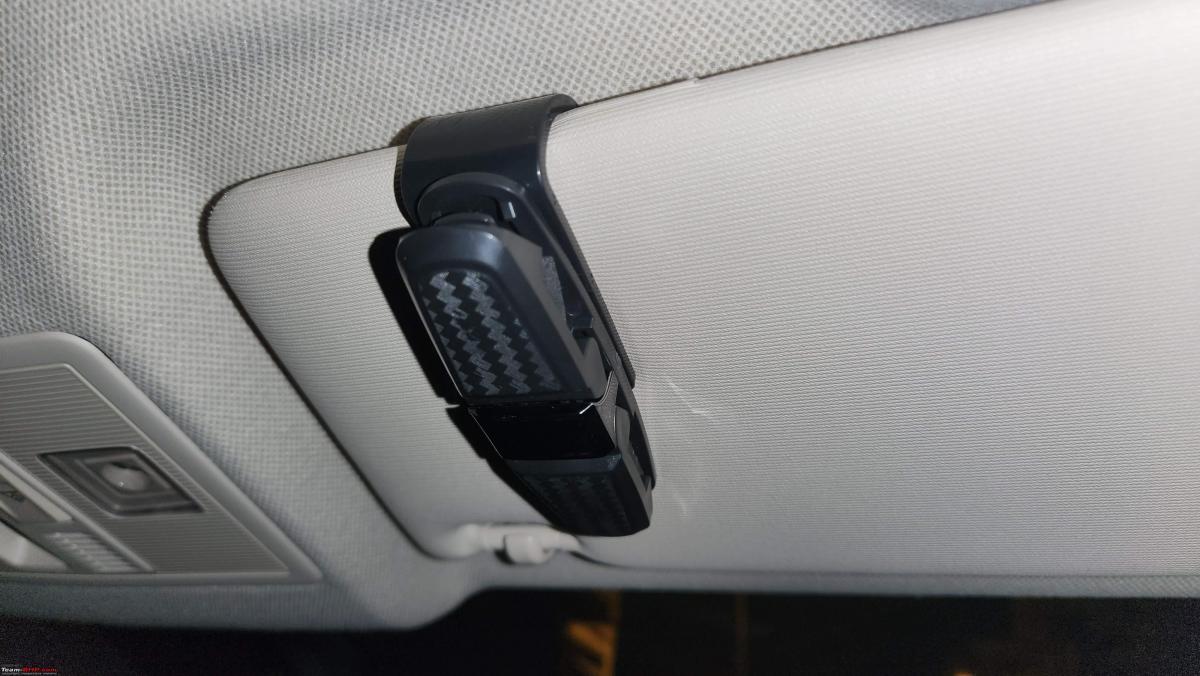 As is
Holding a pair of glasses
Air Vent Phone Mount + Charger for Foldables
This is a specific one for those with the galaxy fold series or a huge phone like a Pro Max or something. For me, I was unable to find something decent that could hold my Fold 4 in unfolded and folded mode. Found many chargers/holders on Amazon, but they were expensive 9-12K, and I was not willing to spend so much to hold my phone in the car.
Was randomly browsing the CRED store, like really really browsing (scrolling on and on for 10-15 mins in the electronics section), and found the exact charger and mount that I had wish-listed on Amazon for HALF the price. Its called the SEVENAIRE S1. Note: Using the USB C from the car doesn't give you full power, you need to use an adapter – which I got via the accessories package, looks cool and works well when I am in traffic and want to use my phone in the large unfolded state.
As Mounted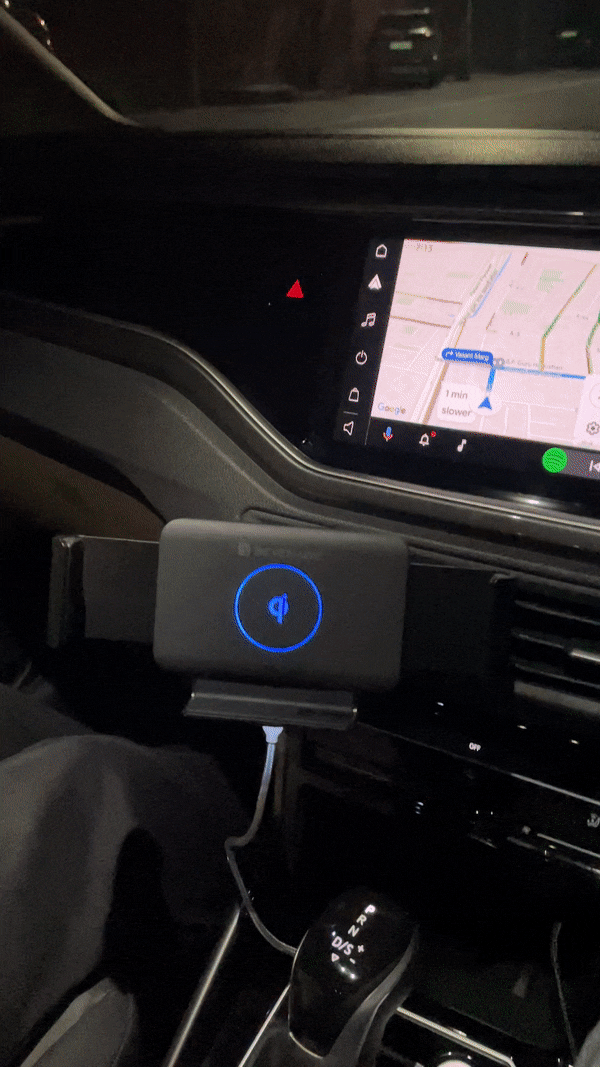 Hope this GIF works!
USB C to A adapters
Bought some adapters for the USB C ports at the back, needed one to connect my air purifier, went with the metal ones to keep the interior looking clean also most people don't have USB c to c or lighting, USB a to whatever is most common – so this takes care of the requirement
LED T10 Bulb
All the lights on the Virtus are LED, except one, the light in the boot is a regular T10, this was bothering me, so I ordered this cheap pair of T10 LED lights to replace the light in the boot. I had thought this was very straightforward, but the bulb holder puts up a fight to come off – in the end, my screwdriver won.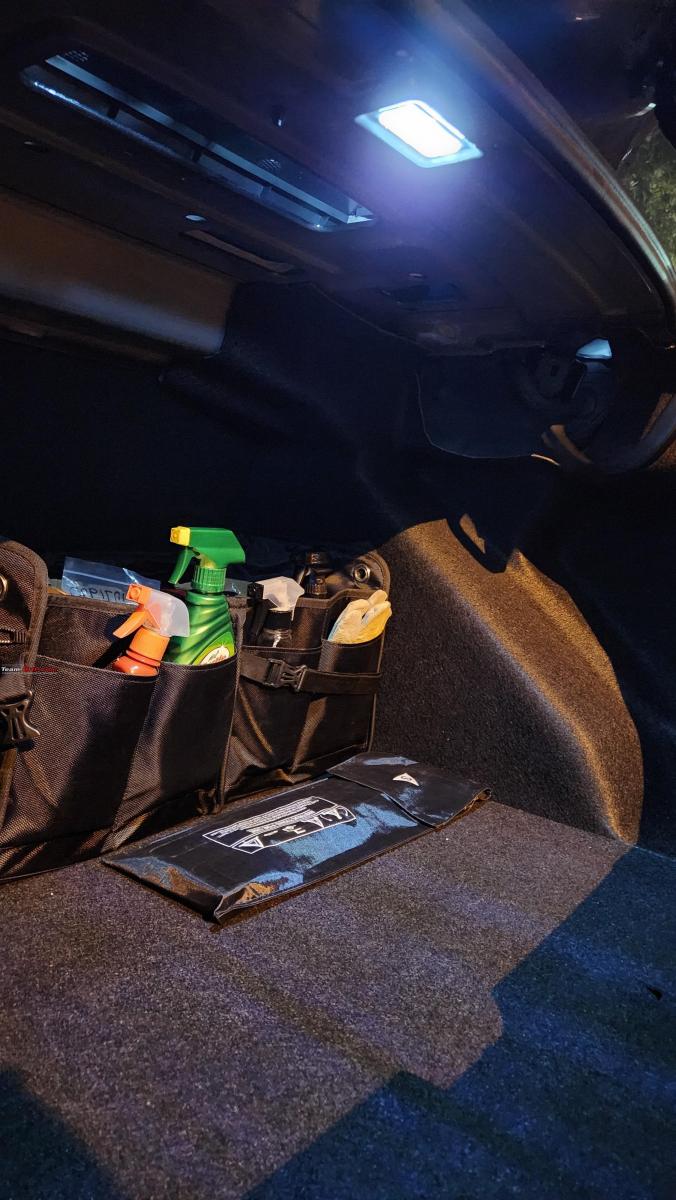 Photo of Boot LED
Blind Spot Mirrors
Felt the current set of ORVMs were a bit small, so added these – which I do on most of my vehicles
VW Original Coat Hanger + Base
When buying the car, the dealer gave me the coat hanger attachment for a very good price, however, little did I know after I paid for it that there is a base holder that is also required to make this work. So after a few weeks of not being able to use my hanger, I asked VW to let me know what it costs, and it was 4500 bucks. Hell NO. Went online to a Polish / Czech website and it was 22 euros, got it shipped and it fit as intended. No pics as I forgot to take one while writing this. Perhaps next time.
Some Issues
DSG being jerky from D2 and D3 and sometimes from D3 to D2, this is happening in really slow-moving traffic when the car just shifts to D3 and then comes to a halt, I know I should keep moving to N, but the traffic movement is such that going to N even for 1-2 seconds increases the gap and people start honking. To resolve this to some extent, I go into M1 and just change to M2 myself… I hope this doesn't result in the DSG failing early, I have a 52km daily drive and am stuck in traffic for at least 30 mins on the return journey – time will tell unless someone has a solution. This was not as pronounced in my Polo GT… not sure why as the Gbox is the same?
Weird squeaking noise from below the driver's seat – as the car twists a bit when going over a speed breaker or sharp curve or even big undulations on the road, there was a squeaking noise which I felt was from under the driver's seat. First I thought that it was because I'm a bit heavy but then I'm 80kg, and there are heavier people out there and this cannot be the reason. Spoke to the service advisor he said maybe he needs to check the seat mount and tighten things… but before I could take the car to VW, I adjusted the seat height to the lowest possible setting and this has resolved the issue, for now, it will be checked when I get time to take the car to the service center as this noise still does poke its ugly head under heavy conditions.
That's all folks! Now I am going to focus on saving some money for the Exhaust, Better Tyres, and Suspension (saw a post on Instagram that cobra suspension is available and drops the car by ~30mm, I am super interested in getting this done! but what would it cost me in terms of damage to the underbody when going to the hills etc – something I need to think about or I could just use my Hyryder).
Parting shot 1
Parting shot 2
Check out BHPian comments for more insights and information.

link