Local auto sector had historic year of announcements in 2022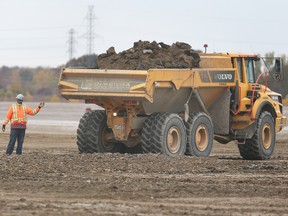 Article content
As thrill rides go, the adrenaline rushes don't often beat what the local automotive industry experienced in the past 12 months.
Article content
The year started with Ontario reverting to lockdown measures, the introduction of vaccine mandates by some automakers, border restrictions, a crippling bridge blockade in February, and a lingering parts supply shortage.
Article content
But 2022 ended with the future of the local automotive sector looking its brightest and most hopeful in decades.
"The decisions made this year by Stellantis, LG, Ford, General Motors and other companies will have profound consequences for this area for decades," said Peter Frise, the former director of the Centre for Automotive Research and Education.
"It's changed the course of the economy of this area. This is a whole different level of evolution of the industry," said Frise, who is the University of Windsor's associate dean of professional programs.
Article content
"The scale of change required right now is unprecedented in the industry in the last 125 years."
The automotive industry announced investments in Ontario of over $16 billion in the past 18 months, most of it coming in 2022 and with about half of that earmarked for Windsor.
The highlight investments are the NextStar Energy battery plant; Stellantis's retooling of the Windsor Assembly Plant; and the major expansion of the Automotive Research and Development Centre to make it the company's North American research hub for electric vehicles.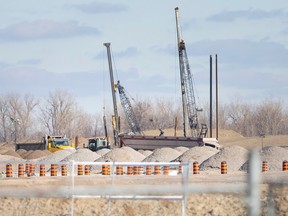 The region's large tool, mold-making and industrial automation sectors are also benefitting from billions in investments being made by Ontario's five automakers — Stellantis, Ford, General Motors, Honda, Toyota — to upgrade, expand and electrify their plants elsewhere in the province.
Article content
"These announcements are great for all our communities, but also for the Canadian automotive ecosystem," Frise said. "It shows we're back as a major automotive-making country."
The investments have produced an air of optimism about the industry's future in southern Ontario that simply didn't exist at the start of 2022. There's been a surge in demand for industrial space, new plants have begun to arrive while several local companies are expanding and investing in new technology.
"We're in a much better place in the industry than at the beginning of the year," Unifor Local 200 president John D'Agnolo said.
"We've got the new 6.8-litre engine starting production, resulting in us (Ford Motor Co.) hiring hundreds of people. Construction has begun on the LG (battery plant) site, and Windsor Assembly is getting its third shift back, and everyone is back at the Windsor Essex Engine Plant.
Article content
"I feel more secure about the industry because corporations are investing in the community," said D'Agnolo.
The biggest prize was Windsor landing Canada's first major electric vehicle battery manufacturing plant. That joint venture between LG Energy Solutions and Stellantis was announced in March as a $5-billion investment bringing with it 2,500 new jobs.
NextStar Energy CEO Danies Lee told those in attendance at the Automotive Parts Manufacturers' Association's annual conference in Windsor in October that inflation will drive that figure even higher.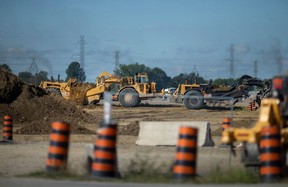 With the construction on the battery plant well underway, the focus locally has shifted to securing large chunks of the supply chain that will service the factory and LG's other facilities that are clustering around the Great Lakes basin.
Article content
Invest WindsorEssex officials and Windsor Mayor Drew Dilkens were hoping to do just that by traveling to South Korea in December to make the area's pitch to a gathering of LG's supply chain partners who are interested in locating plants in North America.
"Canada is a great destination for battery manufacturing with its supply chain," Lee said. "Canada has a great opportunity to fill the gap and emerge in the autonomous electric vehicle era."
Automate Canada chair Shelley Fellows said the local automotive supply sector will benefit from all these investments in Ontario and even the U.S.
"Hopefully, the next year we'll see orders going out and equipment being installed," Fellows said.
"Our (automation) industry will do all we can to be part of that battery plant's supply chain. I anticipate 2023 will be very busy for our automation industry in terms of the battery plant."
Article content
It wasn't just big investment announcements that changed the direction of the industry locally in 2022.
Fellows, who is also a board director with the Canadian Association of Mold Makers, said removing restrictions at the U.S. border and dumping the ArriveCAN app on Oct. 1 were also vital.
"We'd got used to the border being seamless and allowing us to develop U.S. customer bases that make the supply chain highly integrated between the two countries," she said.
"Those barriers created a number of problems. Now the border isn't something we talk about.
"Business doesn't like uncertainty and there's so much less uncertainty and anxiety than there was at the beginning of the year."
While there's been an unprecedented avalanche of good news locally, there remain some challenging problems in the industry's supply chain.
Article content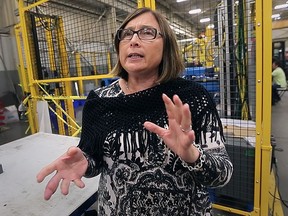 What initially started as largely a shortage of microchips has spread to even basic parts such as bolts, plastics pins, seating foam and plastic bumpers.
"Parts shortages remain the biggest challenge in the industry," D'Agnolo said. "I don't see it going away anytime soon.
"It's not just the auto industry, it's the same story across all industries. I see it at the Diageo (Crown Royal bottling in Amherstburg) plant, with shortages of glass and (bottle) caps."
The shortages have caused significant shutdowns at Stellantis's Windsor Assembly Plant, Ford's Essex and Annex Engine plants and the numerous local feeder plants.
Unifor officials confirmed the Essex Engine plant had been down 27 days through November in 2022, while the Annex plant has been idle six-and-a-half weeks through Sept. 5.
Article content
Windsor Assembly was hit even harder, with estimates the plant would lose about half the year's production due to parts shortages. Through Nov. 7, the plant has been down 22 weeks.
"It's been a struggle for a lot of people with all the layoffs because sites can't supply parts," D'Agnolo said.
"The new hires are dealing with two- or three-day paycheques. Not everyone qualifies for supplemental benefits.
"The feeder plants don't get the top-ups either. You can't survive just on unemployment."
The industry has also been impacted by inflation, and D'Agnolo said it has resulted in companies doing more in-house work to control costs.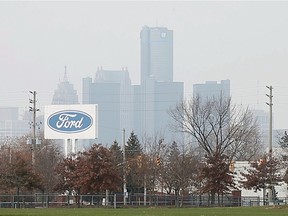 "At one point, Stellantis and Ford were looking at out-sourcing their transportation departments," D'Agnolo said. "Now, we're very competitive as costs have soared.
Article content
"Ford is investing in the department now. They're buying new trailers and we haven't seen that in a long time."
Frise added another challenge that needs addressing is what he calls "the disconnect between education and the local economy."
Both the university and St. Clair College have begun the process of revamping their curricula to produce students with the skill sets to meet the needs of a much more sophisticated manufacturing environment. He feels technical education needs to be extended throughout the education system.
Part of those efforts have seen the university applying for substantial government funding for a multi-university research initiative focused on electric and autonomous vehicle research that would be based in Windsor.
Article content
"No other city in Canada depends on technological knowledge as much as Windsor," Frise said.
"Priority No. 1 for the education system is strengthening technical education for young people. It's a serious problem, one we've had since I arrived here 25 years ago."
Frise said the importance of Stellantis making Windsor its centre for North American electric vehicle research and development gives the community another pillar to build on.
"Six hundred and fifty engineering jobs is an enormous hire," Frise said. "Those jobs will persist.
"The research and development effort in electric and autonomous vehicles in the next 50 to 60 years is going to be gigantic. We're just at the beginning of this process."
Looking ahead, 2023 will also be an interesting year on the labour front. For the first time in a couple decades Unifor and the United Auto Workers will negotiate new contracts with the Detroit 3 simultaneously.
Article content
Unifor's contracts expire Sept. 17 while the UAW's contracts run out Sept. 14.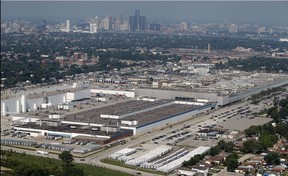 "Going at the same time gives us the opportunity to bargain for future work rather than wait a year," said D'Agnolo, who is chair of the Ford Master Bargaining Committee.
"They've (UAW) been going first and what was left over was for us."
D'Agnolo expects the two unions will hold some discussions regarding bargaining.
Aside from landing more investments and programs, D'Agnolo anticipates a couple of the main issues will be supplemental benefits given the sporadic work schedules of the past two years; wages; and the turnover of skilled trades.
"We've had a real trade turnover," D'Agnolo said. "It's a real competition for that group and there's not a lot of them out there.
"Especially in the Toronto area, they're getting paid better (elsewhere). The Detroit 3 aren't leading anymore (in wages).
"The companies have to start to realize the turnover impacts quality and productivity."
With shortened weeks due to parts shortages and new hires starting at $23 per hour, D'Agnolo said turnover in the Toronto area is also a problem for production workers.
"Twenty-three dollars per hour is difficult to live on when inflation is where it is," D'Agnolo said. "People are frustrated and they'll fight now."

link