Living with a Mahindra Bolero for 6 years & 60000 kms: The story so far
When I told my parents that we would purchase a Bolero, at first they were baffled. They are both teachers, I work in the IT sector, and I want to buy a car that is nowhere relevant for us.
BHPian Shan_Kmu recently shared this with other enthusiasts.
Have you gone insane?
Did you text Baleno? Or did I misread something?
Does your father work for the government?
Have you left IT to enter politics?
Will this vehicle be suitable for you and your family?
These are some of the questions I'm bombarded with when I told my friends/relatives that we are going to buy a Bolero. Now, 6 years and 60,000 km later, allow me to provide you with an in-depth review of my 2016 Mahindra Bolero m2DiCR. I have been waiting to write this article for a long time, and now I finally have the time and opportunity. This is my first long post in this forum. Please accept my apologies for any unintentional errors.
Pros:
7-seater SUV at a price comparable to mid-size hatchbacks and entry-level sedans.
Robust, abuse-friendly build & body-on-frame construction. A typical Mahindra UV in every way.
Love it or hate it design – Clean, simple and boxy.
Tall seating, excellent visibility and narrow footprint make driving, a bit easier.
Ample ground clearance is helpful in tackling rough roads.
m2Dicr engine offers good driveability, fuel economy and reliability. Low and mid-range performance, both are satisfactory.
AC is surprisingly powerful.
Relatively easier and cheaper to maintain than other body-on-frame UVs that are on sale.
Has strong resale value in the used car market.
It demands respect in towns and villages.
Cons:
You could get a modern, feature-rich, safe and comfortable hatch or sedan for a similar price.
Its body shell, which has not changed much in two decades.
Fit & finish is shoddy.
Subpar NVH levels.
Severely underpowered for a car this big and heavy (1615kg if I recall correctly).
Expressway performance is below par. Best to cruise at 80-90 kmph only.
Brake pedal is spongy and the braking performance above-average.
The second row's legroom is constrained in a car of size. Ignore the third row of chairs.
Ride quality is nowhere comparable with hatches, sedans or compact SUVs.
A good degree of body roll and sluggish, numb steering hinder the driving experience.
If 7 people are traveling, there is hardly any room for bags. It is best to drive this as a 5-seater car with the third row of seats folded to create more boot space.
No Airbags or ABS. No safety features, in other words (BS6 Boleros get them though).
Fog lamps and alloy wheels are accessories. Not available by default in even in the top ZLX variant.
The after-sales service experience with Mahindra is hit-or-miss. Purely depends only on your luck.
Previously owned car:
Ours is a family of 3 – Dad, mom and I. It was a long time wish for us to buy a car and finally, during my first year of college, we started looking for our first car. Eventually settled on a sandrift grey Chevrolet Beat Diesel LT. On-road price came close to 5.25L (Purchased on Aug 2011). My dad and I only started learning to drive after purchasing the car. Beat was a compact, economical, and largely dependable car that fulfilled its purpose well. The price of maintenance was likewise fair. After 5 years and 55k km under its belt, we decided to upgrade to a somewhat bigger car. We chose to sell our beat to a known individual rather than to used car dealerships because the vehicle was dear to our hearts and kept in pristine condition.
Requirements for our next vehicle:
Need a reliable vehicle that I intend to retain for at least 10 years. Features are not my top focus. Personally, I don't need them.
Should be rugged and built to take on abuse. Not going to off-road but people from the delta region knows Tanjore – Kumbakonam road is nothing short of that.
Car should come with a bigger engine – Anything greater than Beat's puny 936cc mill.
As I become accustomed to the low-end torque, diesel is favoured.
Service centre must be located in our hometown (Kumbakonam). Not aware of any FNGs at that time. Beat was fully serviced at Trichy/Tanjore A.S.S.
Budget we had was around 8 to 9L.
That's it. It can be a hatch, sedan, compact SUV or whatever it is.
Test drives and vehicle selection:
Tanjore was where we went because, at the time, it had more showrooms than our town did. We took the Brezza, i20 Active, and Duster for test drives. They were all diesel versions. We were most impressed by Duster's space, then by Brezza. Loved i20 Active's punchy engine and looks. However, the base models of these automobiles cost little more than 10–11L on the road. Slightly dejected, we were about to board the bus to our hometown. Co-incidentally Tanjore's Mahindra dealer ARN Motors was nearby to bus stand and we decided to pay a visit there. Casually checked out KUV 100, TUV300, Scorpio and XUV 500, albeit no purchase was intended. Just before stepping out, saw a white Bolero in display at the corner. I opened the driver's door, sat on it and I was sold out immediately. Took the Bolero for a test drive and it was a totally different driving experience compared to other cars I have ever driven. When inquired about the price, the top-end ZLX BS3 costed close to 9L on-road. It was the time when BS4 norms were enforced across states and I asked whether I could get a BS4 vehicle like we get in cities. The showroom manager said he could arrange one but it would cost an extra 30K. After a brief discussion, we left for our town.
When I told my parents that we would purchase a Bolero, at first they were baffled. They are both teachers, I work in the IT sector, and I want to buy a car that is nowhere relevant for us. Convinced them after multiple talks and financial planning. Finally, they said yes to proceed with my wish (perks of being the only child).
Booking and delivery experience:
The following weekend went to Tanjore ARN Motors for booking. The manager welcomed us and he asked which vehicle we want to book. He looked just as perplexed as my parents did when I said Bolero. He requested us to consider TUV 300/XUV 500 which would better suit my profession/our family to which I politely refused. Manager grinned and instructed the SA to assist us. I had considered purchasing Black, but the factory had only White, Green, and Brown. So, Java Brown was chosen. ZLX was chosen because it provided the most features. Power windows, a sound system, and a rear wiper, eh? Also, we booked a BS4 one.
Price breakdown:
Bolero ZLX m2DiCR 2WD BS4 on road price – 9.50L approx (Purchased on Sept 2016) including few accessories which we installed before delivery.
The amount we got from selling our Beat – 2.50L.
Savings from my first year's pay – 1L.
Parent's savings – 2L.
Mom's PF loan – 5L.
I forget precisely how many thousands were discounted, but few were slashed. Additionally, a complimentary under-body rust coating was applied.
We were informed that Boleros will be driven from some point, as they are too heavy to be transported. After 3 weeks, we received a call informing us that our Bolero had reached the showroom and it could be delivered along with the accessories we asked for. It had around 1500~1800 km on the odo during delivery.]
Usage:
Like our previous car, we anticipate 10,000 kilometers per year. Only interstate travel will be done, not for routine use. Out of this 60k odd km, only around 2,000 km was not driven by me. That 2,000 km includes 1,500~1,800 km in odo during delivery.
Also on April 2018, we got ourselves a doggo and on Jan 2021, I got married. So, as of now, our family consists of 5 members. If all 5 of us are traveling, one person must sit in the jump seats. Our dog takes up two-thirds of the middle-row seat.
Upgrades/modifications made:
Let me first describe the modifications I have made before getting into the specifics:
Prior to delivery, Installed 90/100W headlight bulbs and dual horns with relay, full mat, sun film and bull bar. Additionally, free under-body coating was provided. The following day, seat covers, piece mats and rear Pioneer box speakers were installed in the accessory shop.
A year later, Changed OEM body graphics to aftermarket ones. Interior lamps changed to LED. I bought a leather steering cover and hand-stitched it.
In 2020, I Removed bull bar owing to TN Govt regulations. Though unsafe it sure did give a macho look.
In 2021, the Dual tone design was changed to a single-tone OEM style. All four wheel arches, the spare wheel inner cover, and the front and rear bumpers are painted in Java brown. Gun metal grey paint was used for the spare wheel outer cover, side strips, and front grill. Silver paint was used to cover the 4 wheel covers. In addition to that, one-step detailing is also done. Did this in The Bling Detailing studio, Valasaravakkam.
The same week, at Speed freaks, Ambattur, Front OEM speakers were upgraded to Image dynamics units and rear pioneer box speakers were replaced with Focal ones. Both front and rear units are Co-axial ones and installed in OEM housing. In the Rear, this liberates a little bit of rear luggage space when jump seats are folded up. Minor soundproofing was also done wherever it was needed.
Around October of last year, I got trained in automotive detailing and I left IT to devote myself full-time to the field of detailing. Last month, I was interested in testing out ceramic coating in our Bolero before beginning doorstep services. The Ayicon ceramic coat from Artdeshine was applied to the entire car.
Exterior:
Our Bolero is 4107mm long, 1745mm wide and 1880mm high. The ground clearance is rated at 180 mm. The turning radius is 5.8m.
Front:
The front facia has a tall-butch stance and still commands good road presence:
Upright front windscreen with conventional wiper blades: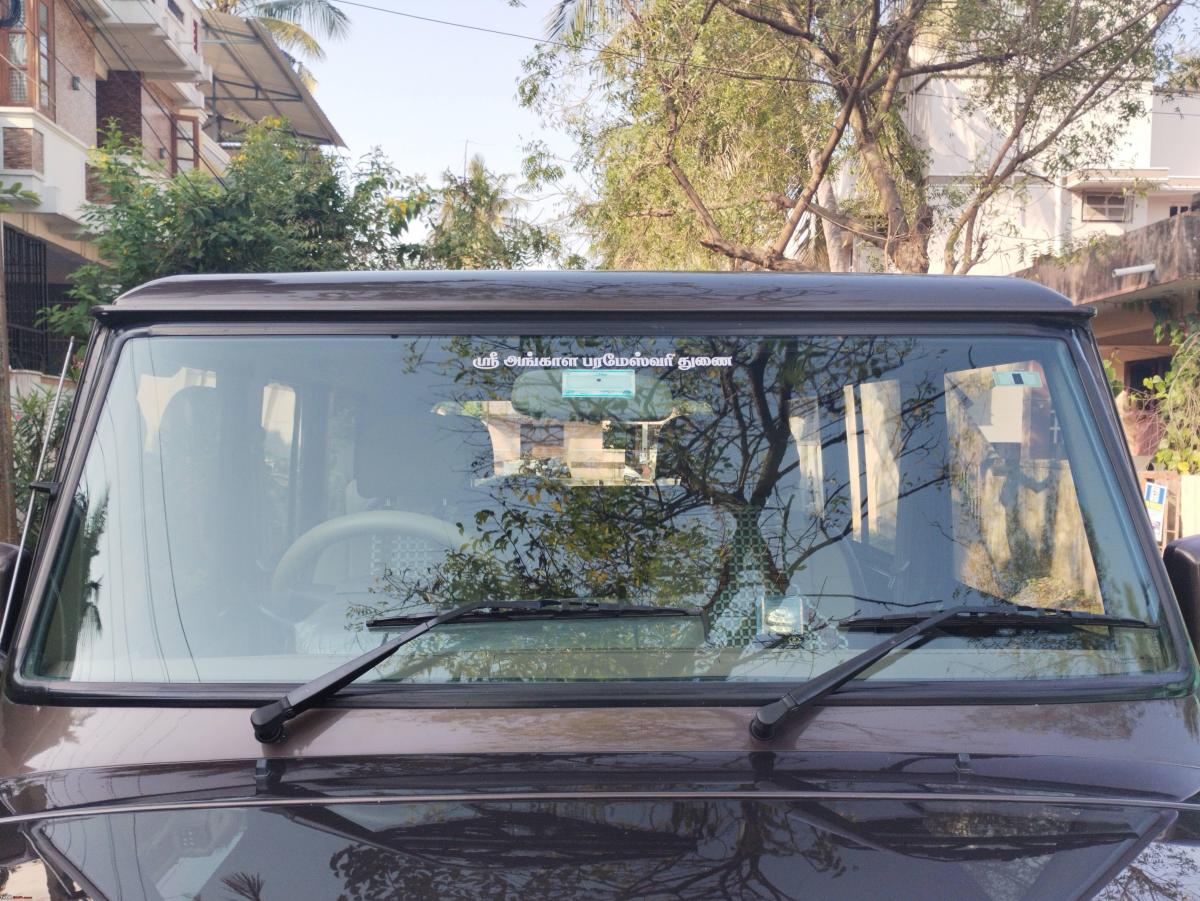 Twin windshield washers. Each unit has a single nozzle to spray water. Covers the windshield up to a certain extent when sprayed:
Notice the mild creases on the bonnet:
'Hawk Eye' headlamp design: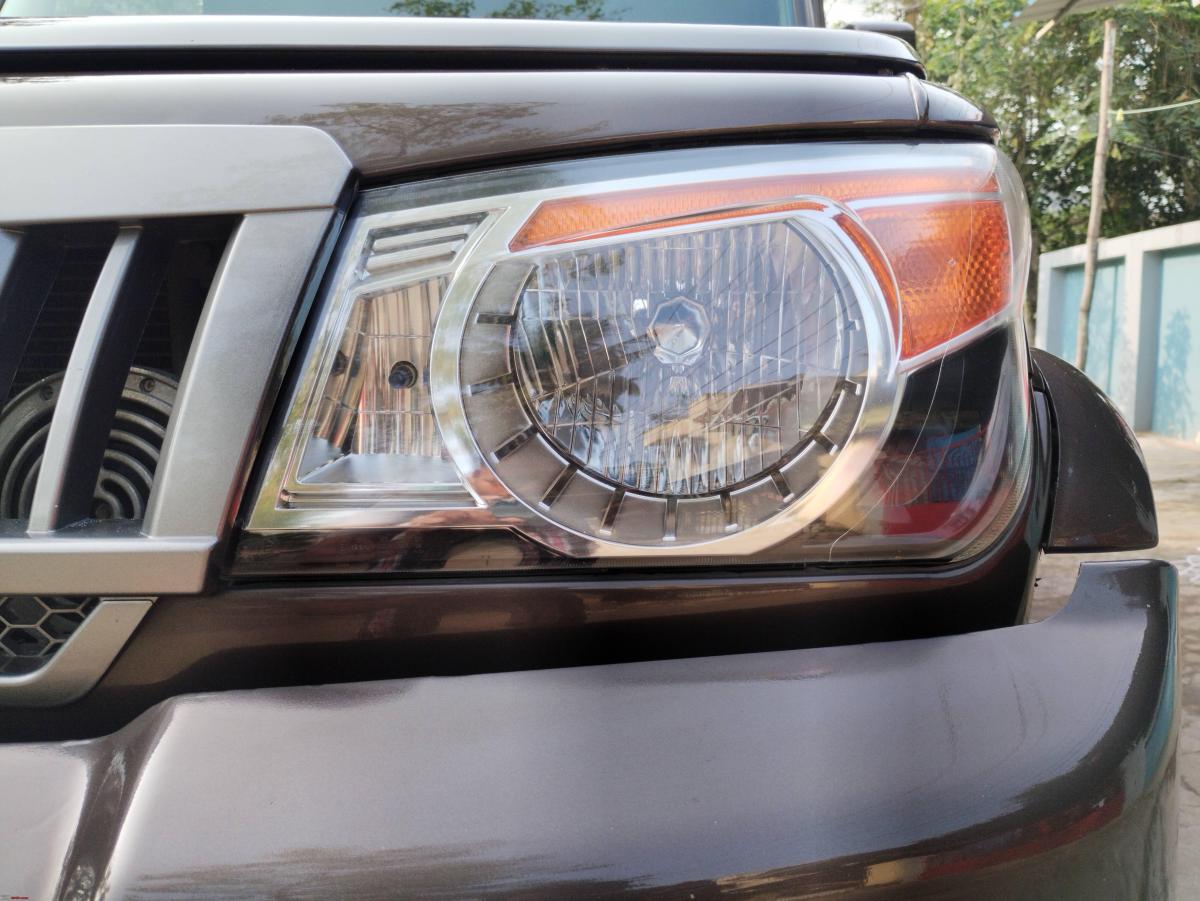 Headlamp performance is good after the upgrade (90/100W). Fog lamps throw is adequate: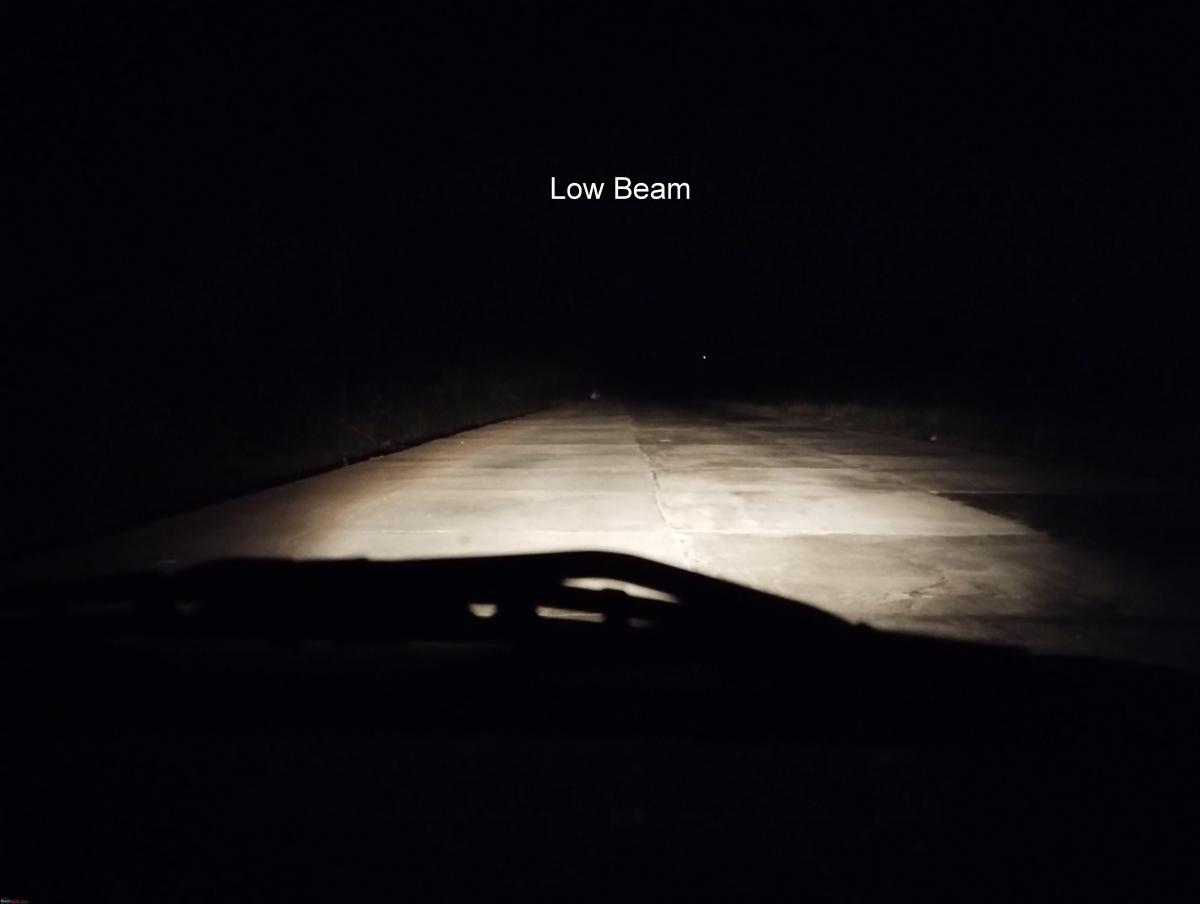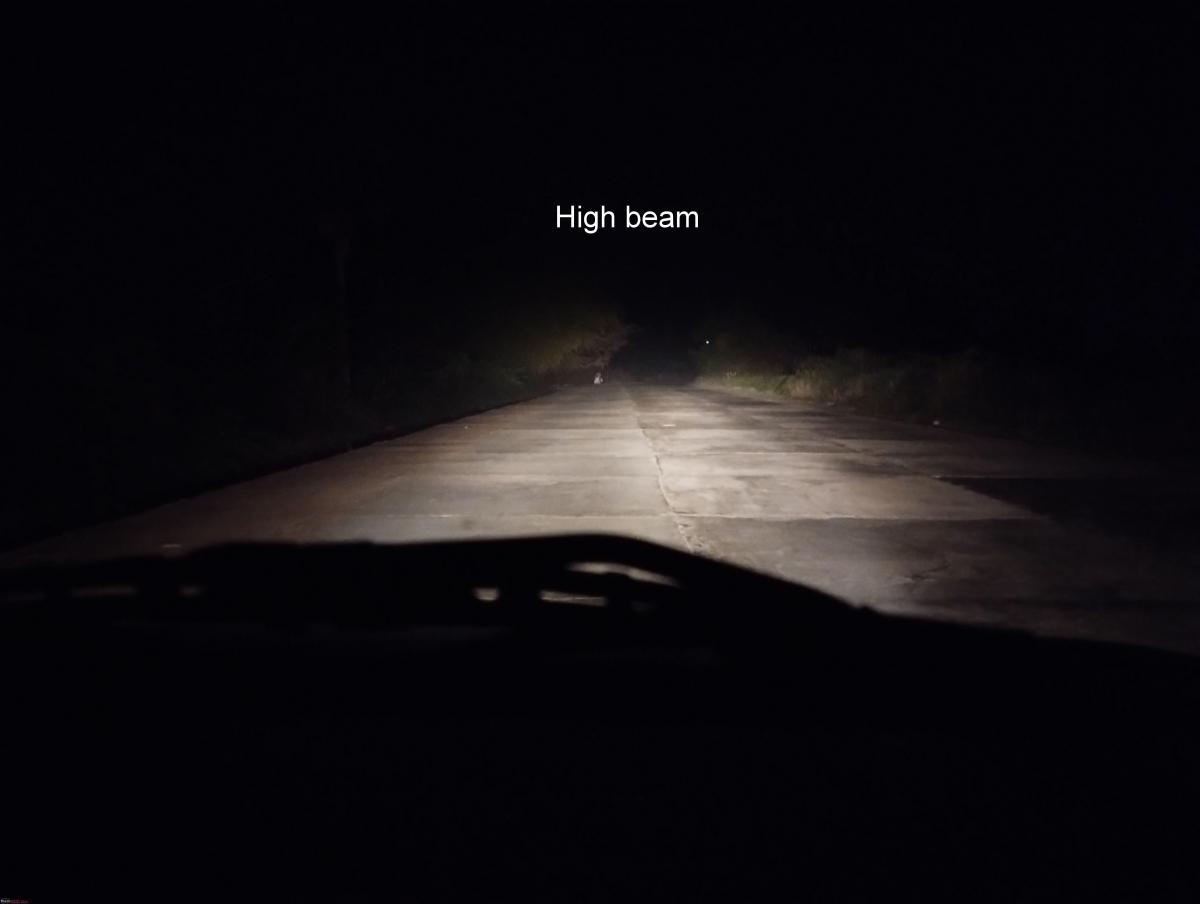 Toothed front grill with Mahindra logo in chrome. Roots dual horn and radiator rests behind it:
Hefty metal bumpers: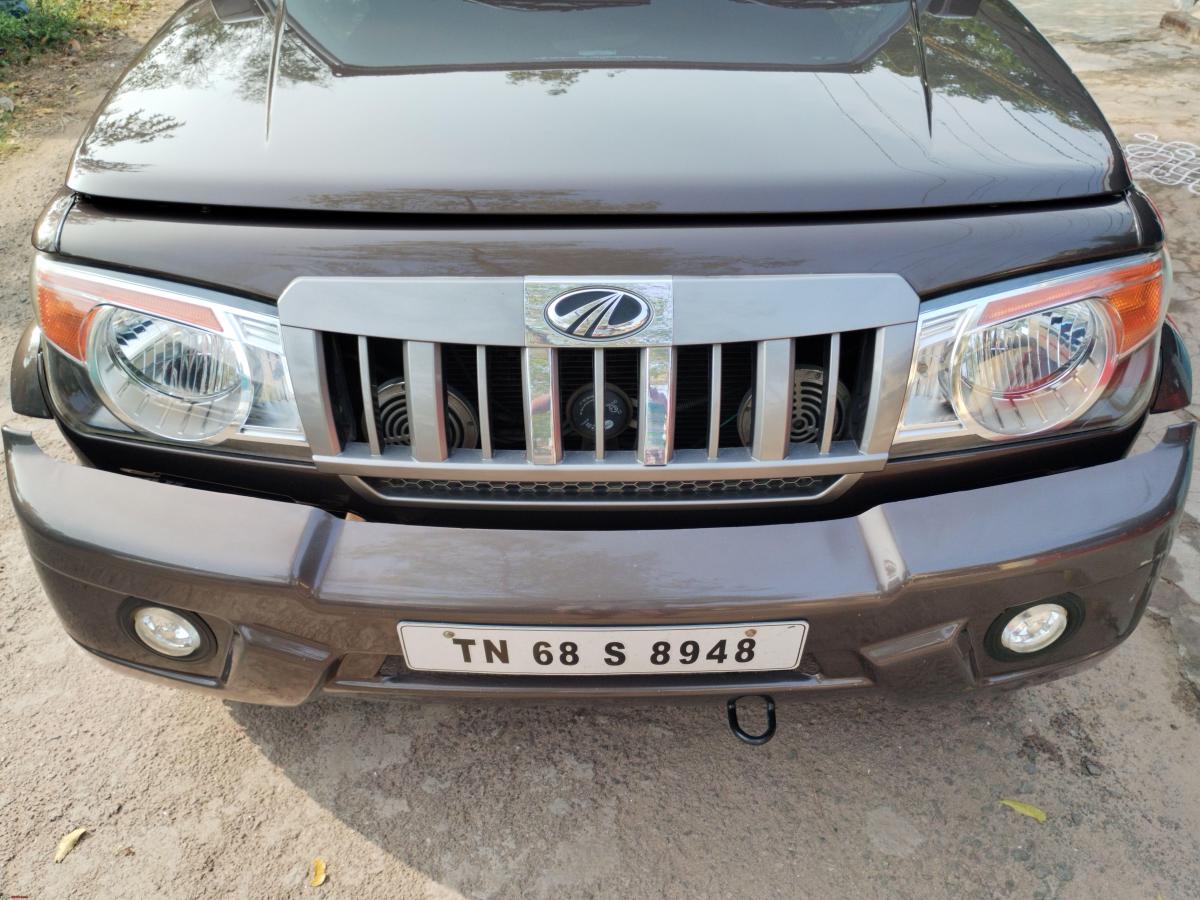 Space between the bumper and body. People who are unfamiliar with this, ask me if this is by design or car had an accident: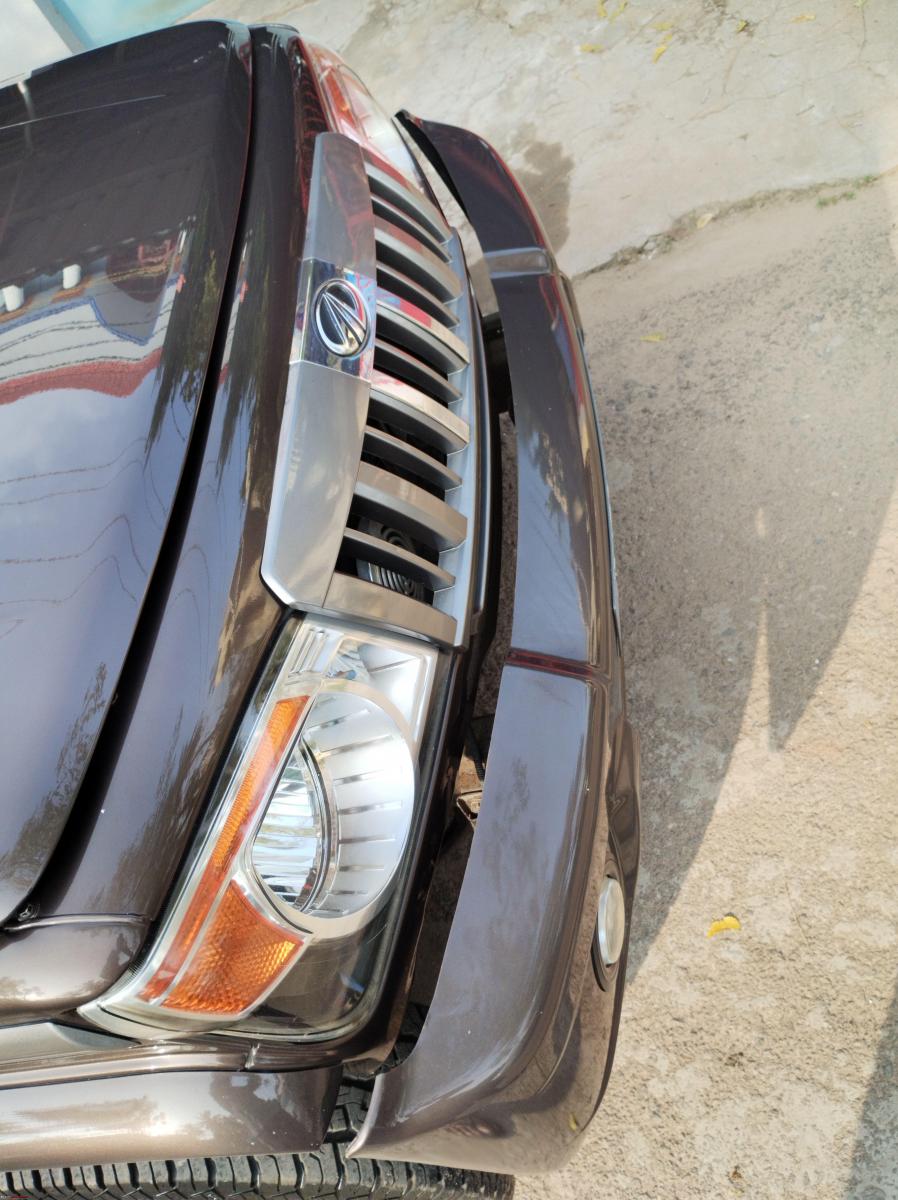 The tow hook is given below. No under-body protection was given. Not absolutely needed but kind of good to have: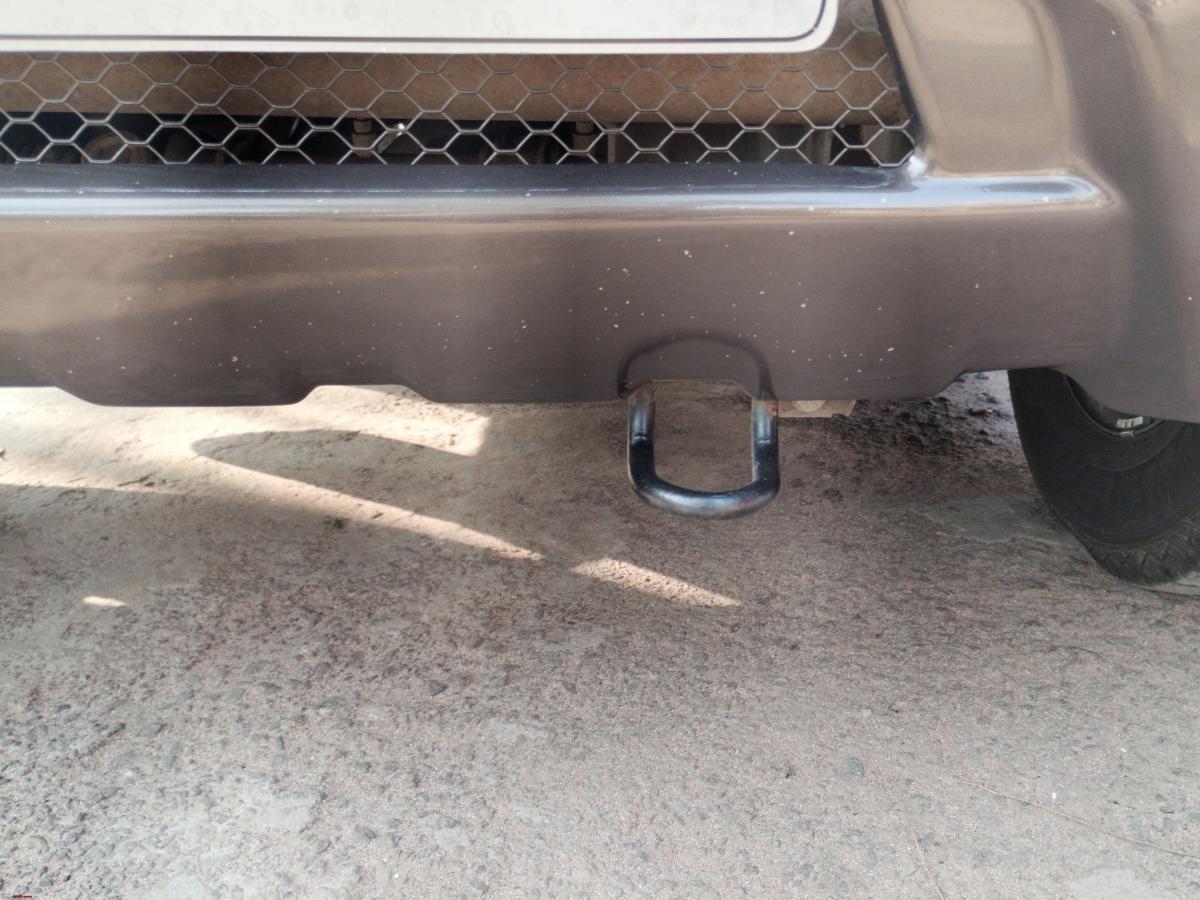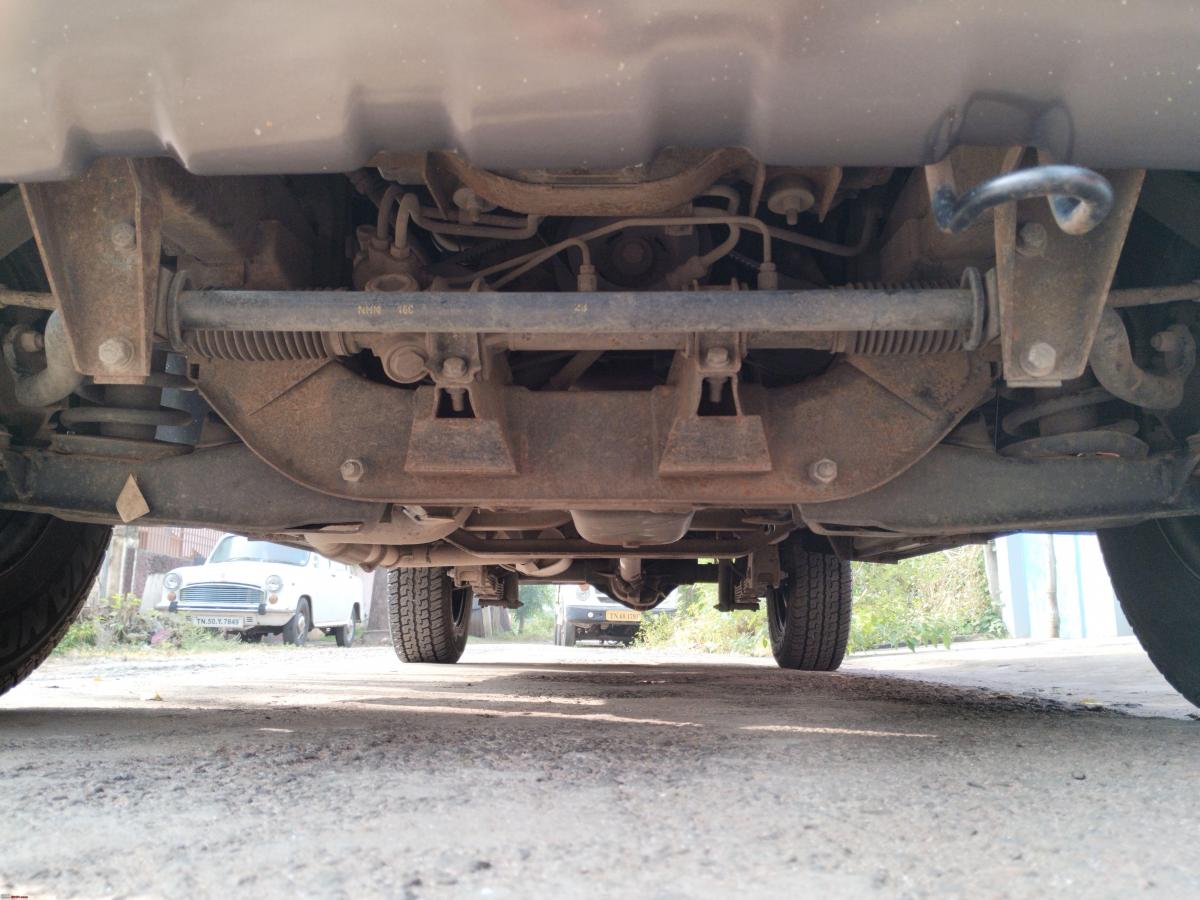 Side:
The side profile design is minimalistic. The signature side strip runs along the entire section:
215/75 R15 tubeless tyres along with wheel covers:
On either side of the fenders, the side strips have turn indicators built-in: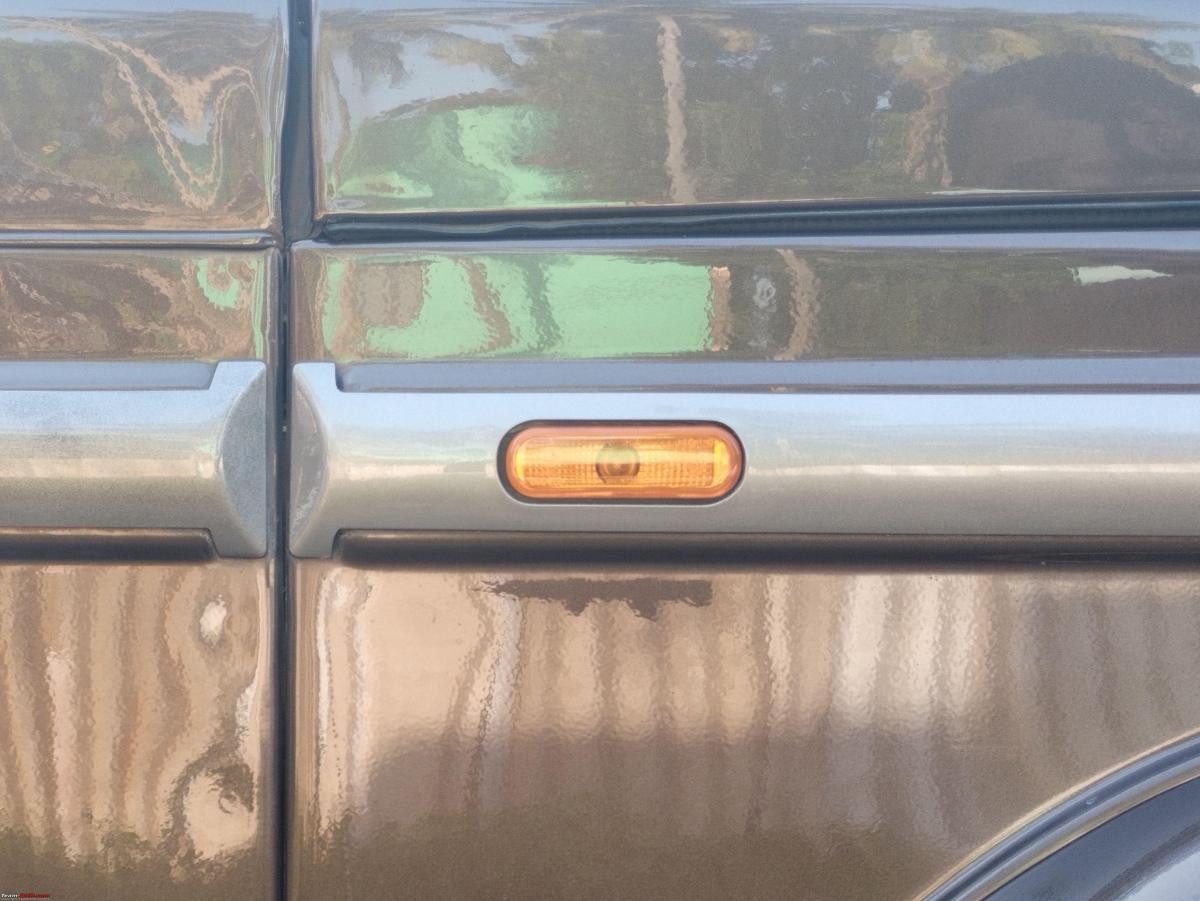 The radio antenna sits on A-pillar. Can be drawn in/out manually but never really used them though:
Manually hand-adjustable ORVMs. They should have been wide instead of tall:
Old school flap-type door handle. Keyhole provided on the driver side only: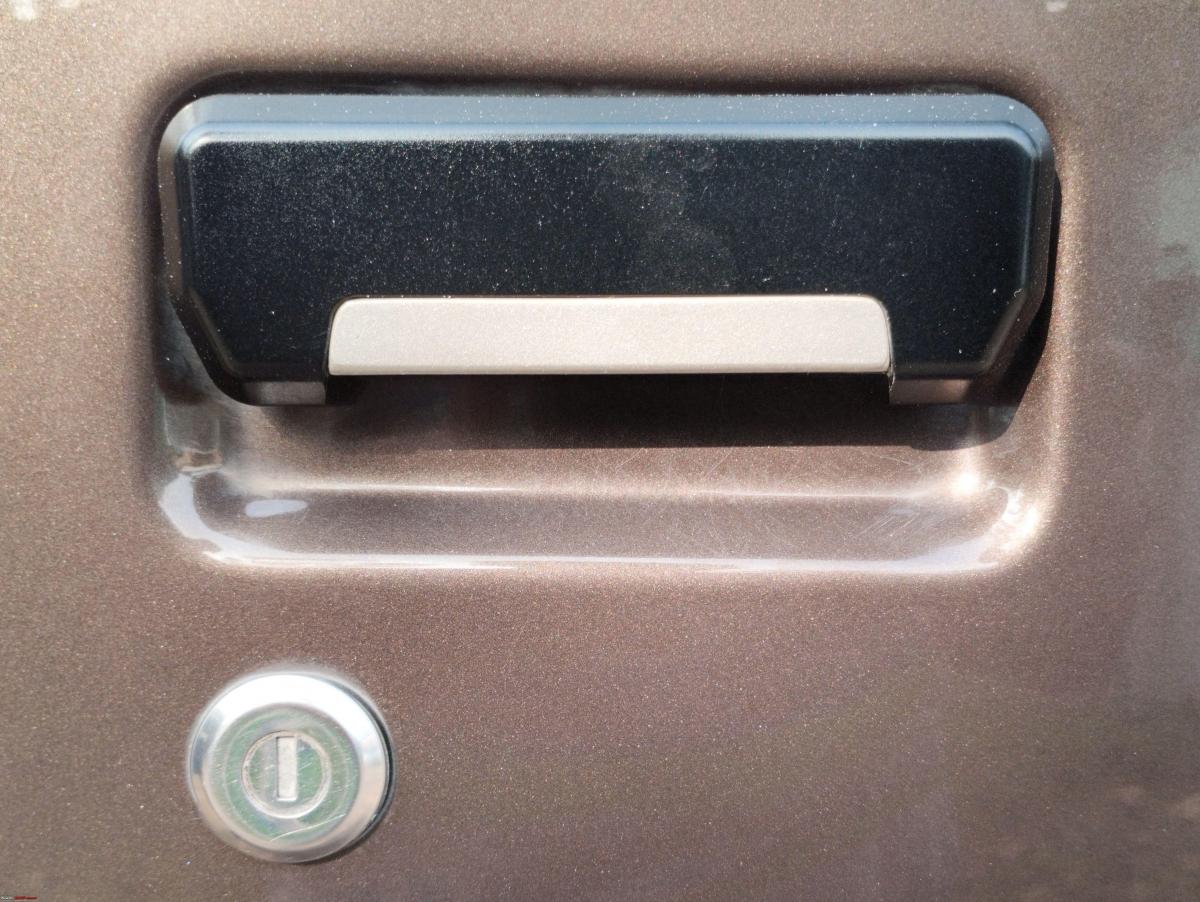 Exposed door hinges. Notice the panel gap between the door and the body. After a nice wash, the door sills and sometimes the floor nearby also have to be cleaned due to water seepage:
Fixed 3rd-row windows. Relatively thin C and D pillars don't obstruct visibility much when reversing: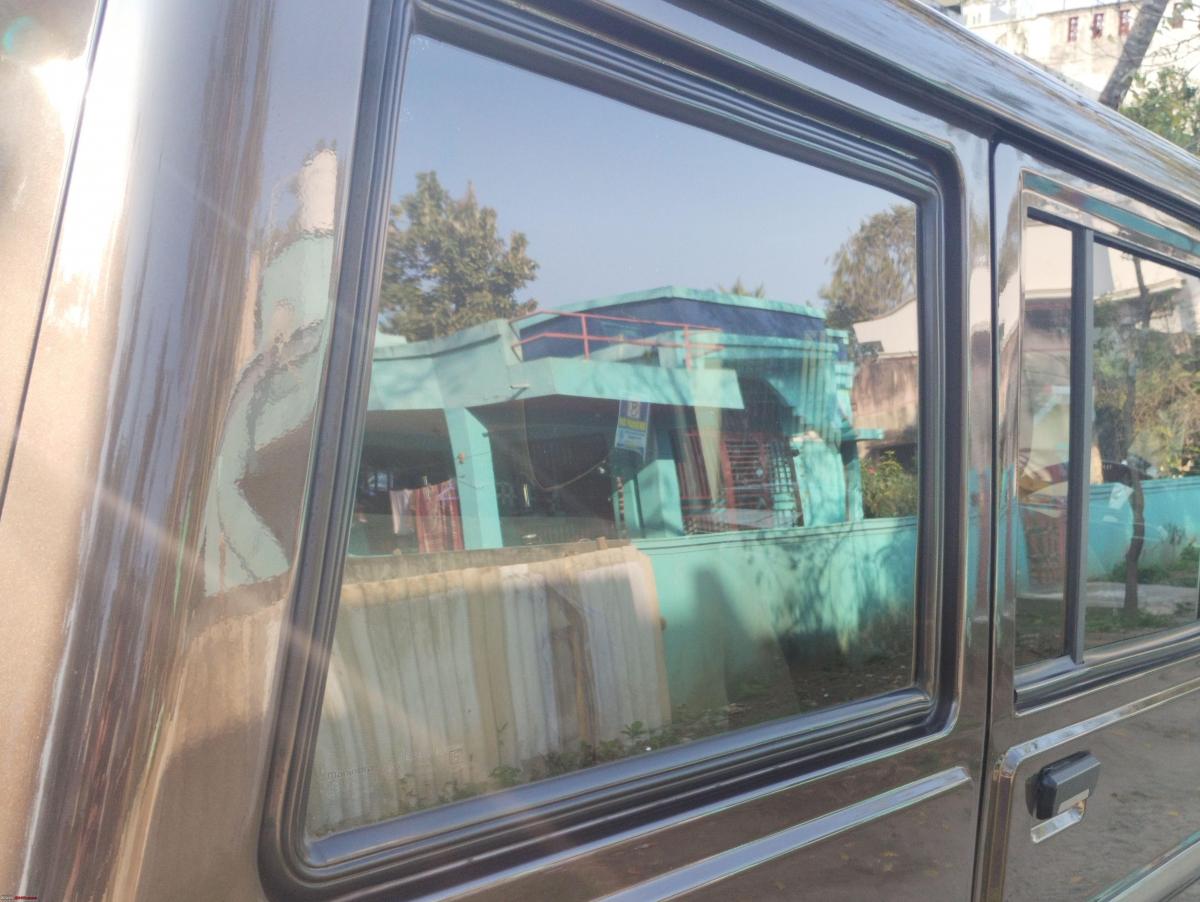 Faux vent on either side. Gets Bolero badging on the rear passenger side: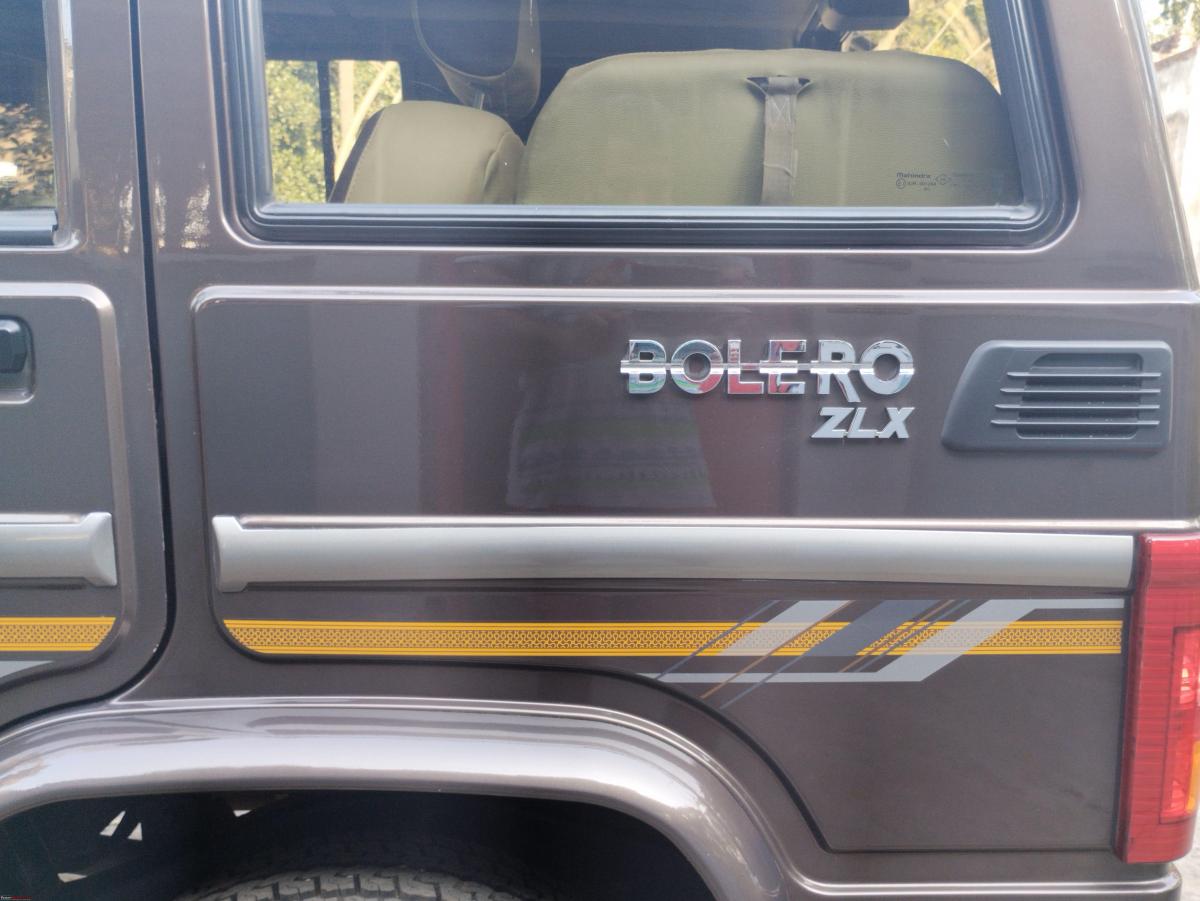 Boxy fuel cap that's cable operated:
Wheel arches. Both are hard plastic. Extends about 2 inches away from the body:
Solid footsteps protruding out well with end caps at either edge made of plastic: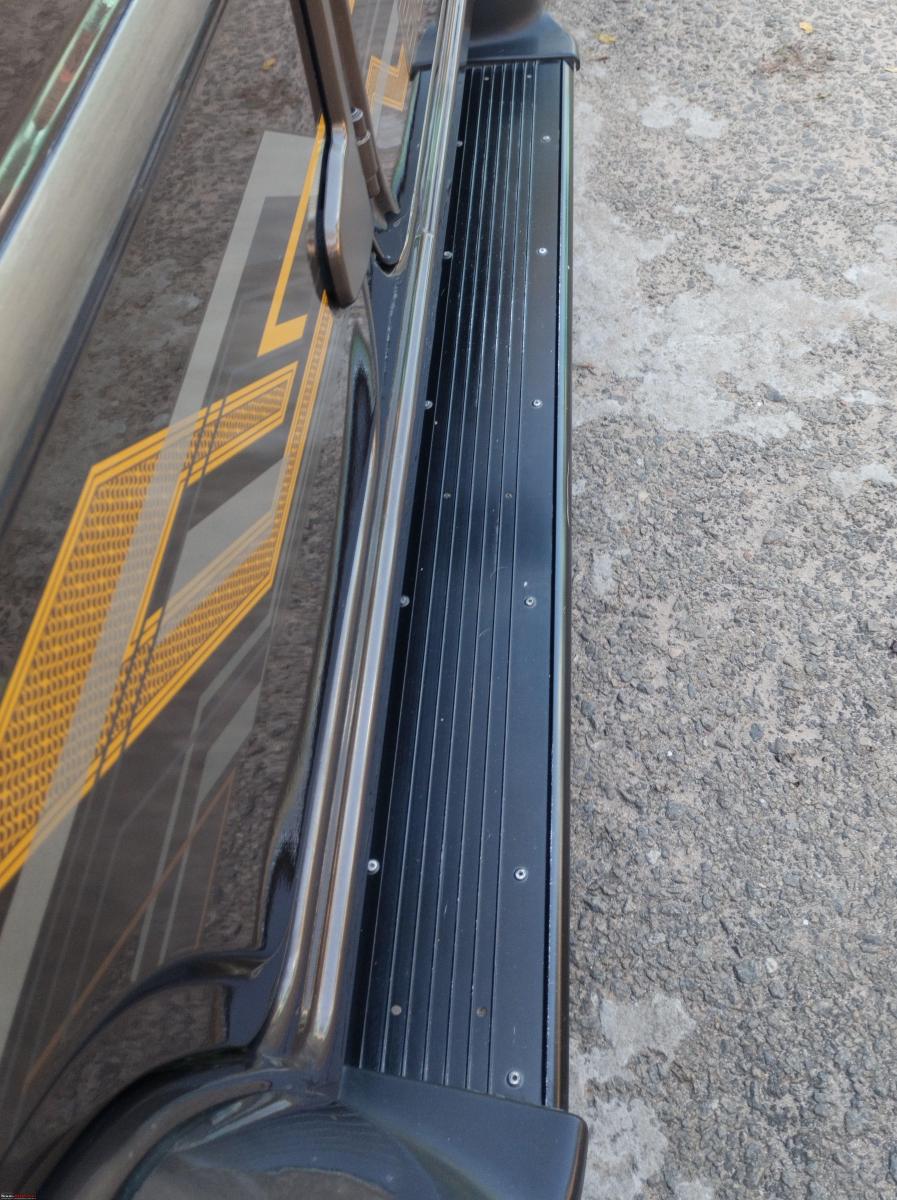 On the left rear wheel arch, the end cap's screwing hole provision itself gave up. Asked our carpenter to put extra screws on both rear arches, just for assurance. Why carpenter? Because no mechanic was bothered to fix it: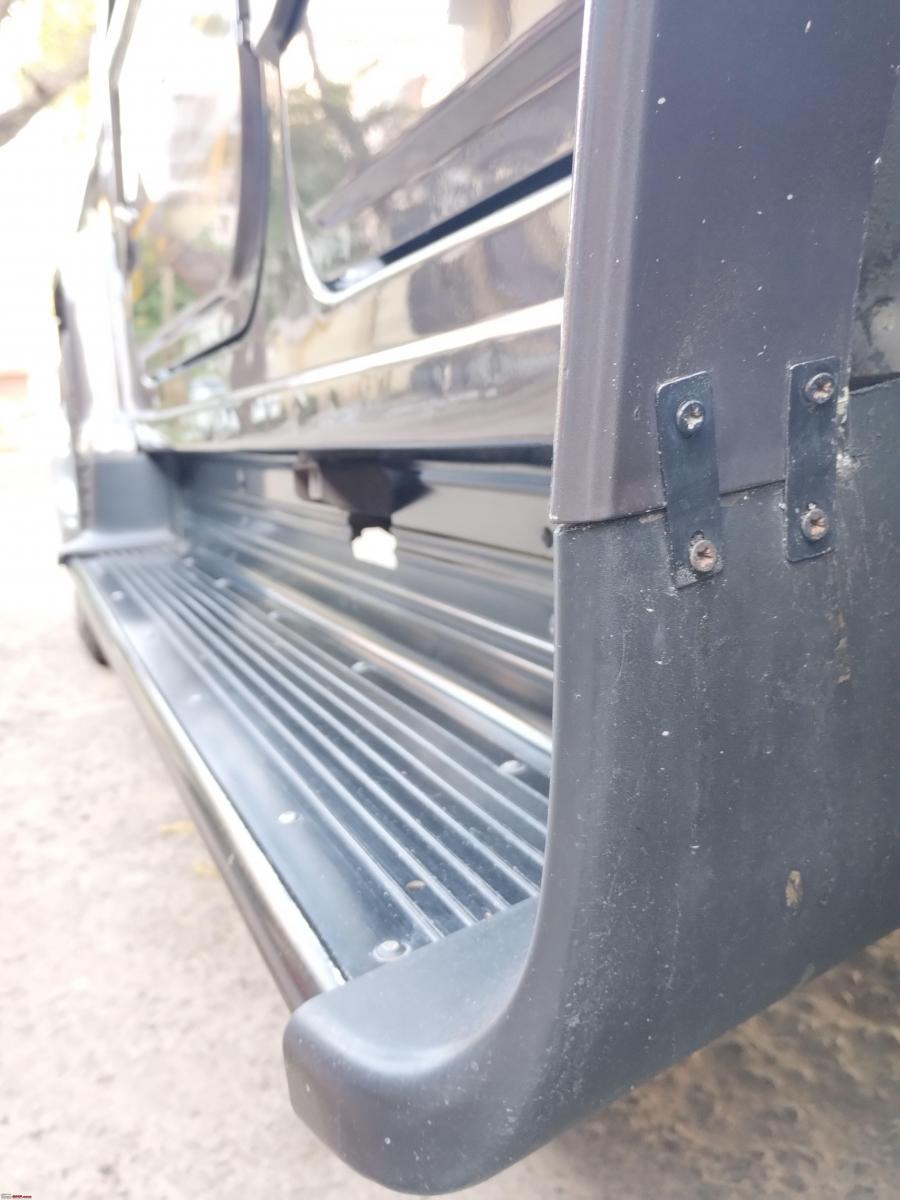 Just pray to god that you shouldn't hit your feet in this accidentally:
Continue reading BHPian Shan_Kmu's Mahindra Bolero ownership review for BHPian comments, insights and more information.

link