Fine-Tuning Automotive Parts to Boost Performance
Innovation
Fine-Tuning Automotive Parts to Boost Performance
Pratt Miller uses PolyWorks to redesign parts and reduce time and cost
Published: Monday, June 26, 2023 – 12:02
Pratt Miller was founded in 1989 by Gary Pratt and Jim Miller. Their aim was to create a world-class engineering company that could take automotive-based programs all the way from concept to reality. Since then, Pratt Miller has become a respected industry leader, providing automotive and nonautomotive clients with leading-edge engineering and low-volume manufacturing solutions.
Pratt Miller's ability to effectively manage race programs is demonstrated by the performance of its Corvette and Cadillac CTS-V teams, as well as its various customer car programs. These programs won multiple championships as well as five class wins at the 24 Hours of Le Mans, and an overall victory in the Rolex 24 at Daytona. In August 2007, Pratt Miller signed a sponsorship agreement with InnovMetric Software to use the PolyWorks software suite for reverse-engineering car components into CAD software.
The challenge
At Pratt Miller, in New Hudson, Michigan, using point cloud data in reverse-engineering applications has helped take new ideas in automotive design from concept to reality—quickly and efficiently.
Since 1989, Pratt Miller has developed a full range of sophisticated automotive design, engineering, fabrication, and race program management services. The company offers complete vehicle kinematics and compliance testing, seven-post ride analysis, full- and fractional-scale wind-tunnel development, and vehicle dynamics and evaluation testing.
Critical to the test and evaluation programs' overall efficiency and accuracy is using computer-generated models to provide engineering insight into design concepts. To create these models, it's necessary to digitize certain shapes—primarily curved body parts—and to use this dimensional information to create CAD models. In the past, Pratt Miller technicians would build a model using individual data points and create curves manually from those data.
"That was an extremely time-consuming process," says Blair Sonnen, a Pratt Miller engineer. "It didn't give us the precision and accuracy we needed. If we had to redesign a part to improve its performance, we would have to build another model the same way. In order to reduce the time spent in this process, and improve accuracy, we would sometimes hire an external company to come in and collect dimensional data using the scanning process, or to create curved surfaces from the discrete point data we collected. But that was not a cost-effective way of creating models."
The solution
Recently, the company expanded its engineering capabilities by adding PolyWorks 3D metrology software from InnovMetric Software. This full-featured metrology software automates and streamlines many of the operations associated with gathering and comparing dimensional data with design intent. At Pratt Miller, PolyWorks software is used to improve the efficiency of the company's reverse-engineering program for its GT-1 champion Corvette racing team, run in conjunction with General Motors.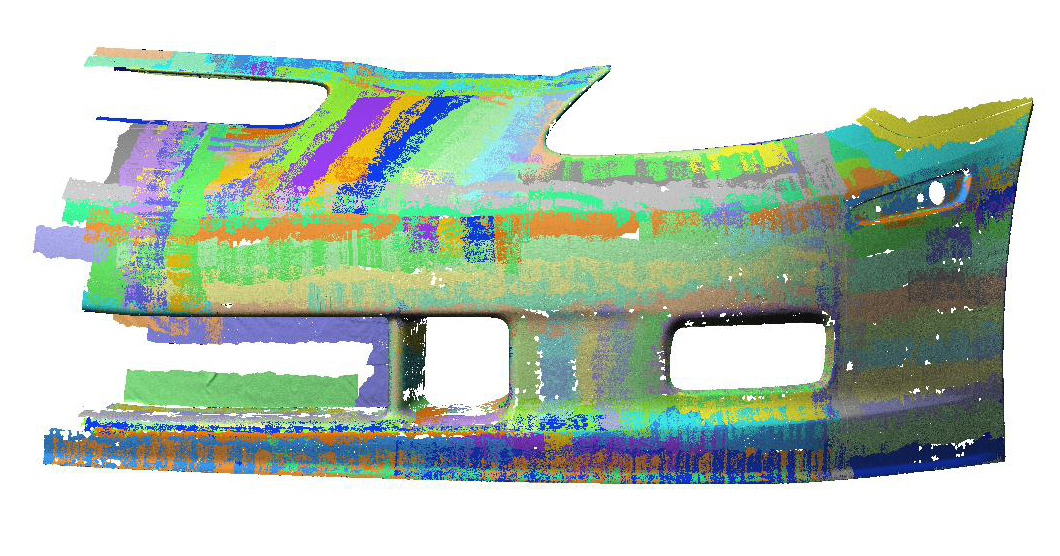 PolyWorks software is a key piece in Pratt Miller's reverse-engineering program.
"PolyWorks software is a key piece in our reverse-engineering program," says Gary Pratt, Pratt Miller vice president. "It allows us to quickly digitize models and get the design into our analysis programs much faster than in the past. That allows us to evaluate the design more quickly so we can incorporate necessary design changes immediately and go into production faster."
In practice, design engineers create a clay model of an automotive body part (such as a fascia). The model is then scanned using PolyWorks software in conjunction with a FARO Platinum Arm equipped with a FARO Laser Line Probe, which is capable of collecting dimensional data at a rate of up to 19,200 points per second.
The dimensional scan of the clay model is taken using the IMAlign module of the software. Once the data have been collected, Sonnen downloads them to his workstation, where he uses the PolyWorks|Modeler software to create a precise model of the part. This software can create Class A polygonal models for three- and five-axis milling operations and aerodynamic simulation.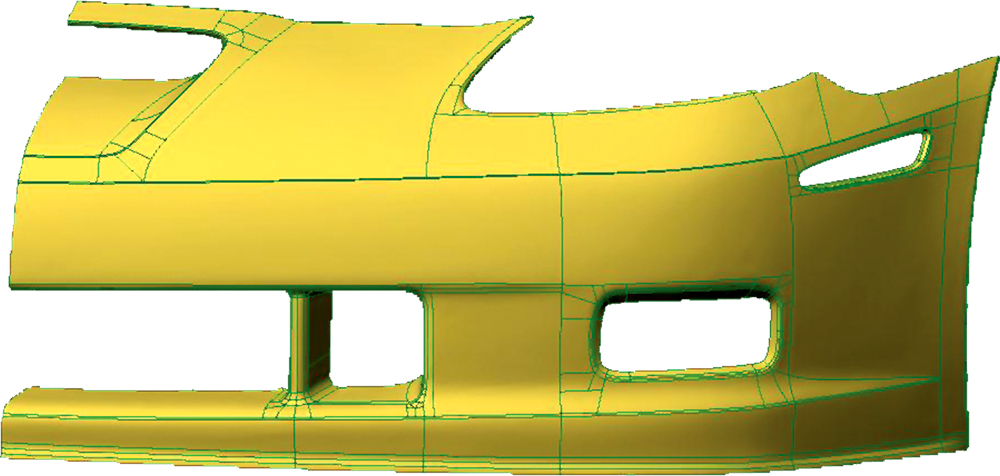 PolyWorks|Modeler is a comprehensive software program for creating accurate and smooth polygonal models and NURBS surfaces from high-density point cloud data.
One aspect of the PolyWorks|Modeler software is its full-featured alignment toolbox. "I'll use the IMAlign module again to create a best-fit alignment of the multiple scanning paths," Sonnen says. "Then, I export the aligned scan paths to the software's IMMerge module to create a polygonal mesh that graphically defines the shape of the scanned part."
At that point, he goes through an iterative process, combining models. The combined model is then imported to the IMEdit module to correct imperfectly digitized geometry using flat and curvature-based hole-filling procedures. From there, the model goes to curve network creation and automatic NURBS surface fitting. The rapid surfacing methodology delivers optimized and usable NURBS surfaces to the Pratt Miller Unigraphics CAD software.
The benefits
It's in the areas of polygonal modeling and rapid surfacing that PolyWorks software significantly reduces the time and cost of less-automated methods of creating models for analysis, according to Sonnen.
Using the CAD model, Pratt Miller engineers can subject the virtual part to a full complement of performance evaluations, including advanced CFD tools to analyze the aerodynamic impact and flow-field structures of vehicles as well as the company's proprietary Automated Dynamic Analysis of Mechanical Systems (ADAMS) model for virtual track simulations. Based on the evaluations, part design can be improved incrementally before production tooling is produced, resulting in significant savings in time and costs, and a dramatic improvement in vehicle performance.
It seems to be working. The Corvette racing team has scored successive championships in the American Le Mans Series as well as impressive finishes in the Rolex 24 at Daytona and the 24 Hours of Le Mans. In the process, Pratt Miller has created an engineering approach to performance design that has wide applications for original equipment manufacturers in the automotive, aerospace, and marine industries.
First published by InnovMetric Software.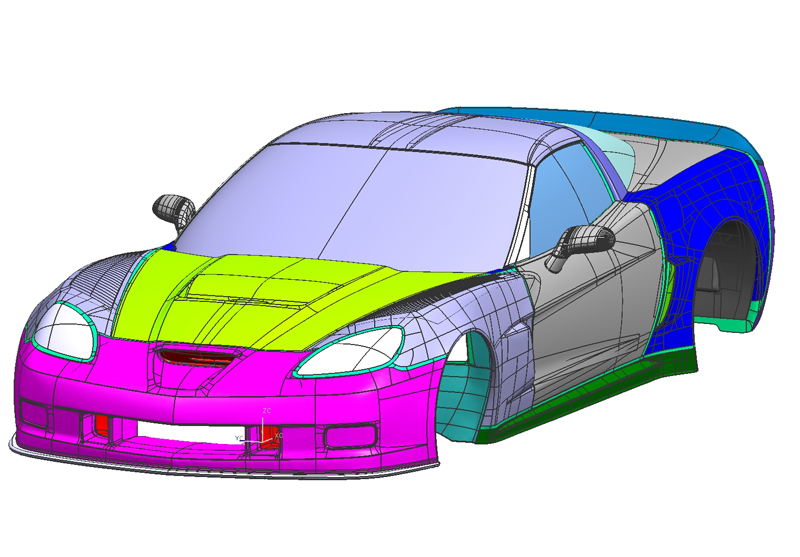 link