Duvenbeck goes low and electric for auto parts shipments | News
Low-deck trucks haul trailers with an interior loading height of 3 metres thanks to the low chassis height. According to Duvenbeck, the megatrailers are particularly efficient and suitable for moving automotive goods because they enable the space to be fully used in the best possible way.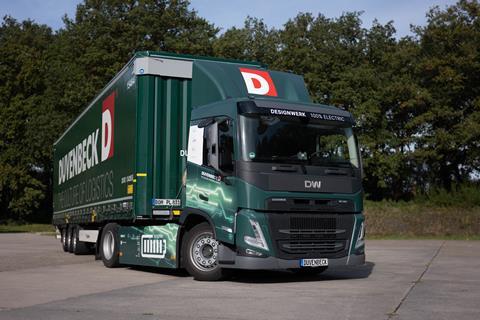 The low-deck tractor unit is based on Volvo Trucks' Mid Cab model in the FM range. It has been electrified by the Volvo subsidiary, Designwerk Technologies, which has previously worked with logistics firm Galliker Transport and trailer manufacturer Kässbohrer.
Duvenbeck is using the vehicle for shuttle services for selected automotive customers, including on routes between Herne in Germany and Ghent in Belgium. It is the first low-deck tractor unit that the logistics provider has used for long-distance services in Germany and, being battery electric, the truck is cutting emissions when delivering the automotive goods over that distance. 
"The new low-deck electric truck has already demonstrated its suitability for long-distance services during the last few weeks," said Robert Frehen, chief of staff at Duvenbeck. "If the battery is charged to a level of 340 kilowatt hours (kWh), the vehicle is able to travel up to 275km – even when fully loaded. When used in conjunction with the suitable charging infrastructure, this electric truck is making a market-ready and long-term contribution to reducing environmentally damaging emissions in our customers' transport networks."
Bernd Reining, fleet manager at Duvenbeck added: "We're taking another step towards electrifying our fleet by using the battery-powered electric tractor unit. In our role as a logistics partner for the automobile industry, we'll support our customers' transformation process towards e-mobility by providing even more electrical and eco-friendly transport services for goods in future."
Duvenbeck currently has a truck fleet numbering around 1,500.
The move by Duvenbeck to use cleaner forms of transport for shipments is the latest in a line of recent trials by logistics providers and vehicle makers. For example, Mercedes-Benz Trucks has a stated goal of making all delivery traffic to its largest truck plant in Wörth am Rhein 100% electric by the end of 2026.
Read more about the efforts being made to cut emissions across the transport modes
Steering toward more sustainable European automotive logistics was also a focus of discussions at this year's conference held by the Association of European Vehicle Logistics
link