Brought home a brand-new Renault Kiger: Detailed ownership review
The Hyundai Venue was a strong contender but its biggest drawback for us was the long waiting period.
BHPian abhisheksircar recently shared this with other enthusiasts.
It has the much-needed ground clearance. It looks absolutely amazing. It's fun to drive. It's not the best when it comes to interiors, but we still decided to go for it.
Presenting the Renault Kiger 2022 | RXZ 1.0 Turbo | CVT
What I like
Stunning Presence and Design from all angles
Fun Turbo Engine (~99 bhp) with elements like drive mode
Smooth CVT gearbox
Well tuned suspension learning from its elder brother, Duster
Very spacious even in the back seat
405 ltrs of boot space with 60:40 split foldable rear seats
Storage everywhere including a cooling glovebox
Cruise Control is bliss on the highway
Pretty decent ICE with ARKAMYS 8 speaker 3D sound setup
Wireless charging along with wireless Android Auto. It supports Apple CarPlay as well
Particulate Matter 2.5 filter. A welcome feature in these times
5 Years extended warranty and Easycare which allows 0 expense on service for 3+ years
What I do not like
The interior quality. Can live with it and that's more like it
Some weird ergonomics like the seat belt lock almost hidden
The dashboard is too animated for my taste but some loved it
Turbo lag at lower speeds as expected
Lack of some much-needed features like ESP, Hill descent control
Loading lip is high and takes some effort for heavy luggage
No sunroof. This is nitpicking
Index
Prelude
My wife has been driving a Celerio VXi AMT for the last 7 years. There have been no major issues in the car at all and the car was in pretty good shape. But she didn't like the AMT gearbox. It was not responsive and was jerky like every other AMT gearbox. We learnt to adapt and drive to match its behavior but that's the most we could do. What we also missed are safety features. This was a bare-bone skeleton. It had seat belts!
We were contemplating a change and in came the Baleno 2022. We are a family pampered by the Suzuki sales and service experience. We knew all the right people out there in the dealer team when needed to connect. Baleno 2022 ticked all the right boxes but for the unknown AMT again. We were told that it's much smoother but no cars to test it. We had to trust it was smooth enough. We booked the car prelaunch and saw the car on the day of launch and it was absolutely amazing. Loaded to the brim and of quite good quality. And then came the long wait.
We were told that the delivery will be within a month since we booked prelaunch. After 45 days, we get an email saying that it will take a month or two more from the earlier promised time. We could wait but we did a blunder by trusting the earlier commitment and sold off our Celerio. We got a reasonable resale value to a known person and we sold it off. I even ordered a TPH cover to make sure it's protected from Day 1. The email of further delay was a bummer.
We started looking around for other options which can be quicker to deliver. Just a few days back, I drove a friend's CVT Magnite and I quite liked the transmission and feel factor. Having the same platform, I considered the Kiger. I called up a dealer in JP Nagar as I had their number from the day I was looking for a new car 7 years back as I was interested in the Fluence. The dealer had a Blue Renault RXZ 1.0 Turbo CVT which was allocated to a customer but he wanted a month more since his house construction got delayed by a month. This means, the car is in Bangalore already, March 2022 Manufactured as per the VIN and ready to be registered and delivered in a week. Perfect!
We still asked for a test drive, more for my wife than me as it was for her. First look of it and she was quite intimidated by the size of it, coming from the humble Celerio. She immediately got into two minds, should I? She liked the looks of the car. She got in and drove it within the narrow roads around our vicinity. She loved the seat height and the smooth gearshifts. The suspension was handling the bad roads quite well. I was sitting in the back and was amused to see her driving at 60 km/hr and telling the salesman that one should not drive fast on these roads. I asked her to check the Speedo. She was shocked as she didn't even realize it. She immediately slowed down and the salesman suggested she try the more sedated Eco mode. She was comfortable with that. She ended the drive saying that this was it. Although it's bigger and more intimidating, it drives quite easy and comfortable. This was a real upgrade for her. What it ended up with was for us to spend another 2 lakhs but since we keep our cars for long, we thought it's worth it.
The car that came in for test was the Red 2021 CVT RXZ Turbo and hence we then drove to the showroom, where they had a blue 2022 RXZ CVT on display. We saw it and immediately booked it. This was it!
Cars Considered
So what were the options available?
My bible to see all that's available has usually been the Indian Car Sales report on Team Bhp. This time it was no different.
Car Sales – Feb 2022
Citroen : Nothing from this stable as it was beyond the budget.
Datsun : Nothing exciting here.
Honda : Jazz. This was one contender but the age-old design and with not much Focus on the Indian market, I decided to steer clear of the brand. Also, I do not like the snob behavior of the sales team.
Hyundai : We considered the Hyundai i20 or the Venue. We struck off the i20 cause we now had a taste of a crossover/compact-SUV and the Venue, till date remains a strong contender. It's just that we get better VFM with the Kiger and the biggest drawback was the wait time. If we had a ready available Venue, it would probably have been the Venue cause it's proven and will have a better resale value but then I was not aligned with how it looked.
Jeep : Nothing from this stable as it was beyond the budget.
Kia : Sonet. This again was a strong contender but for the deterrence of a long wait time. Else it was a close call between the Sonet and the Venue. The other factor was also the cost factor as we had already stretched our budget on the Kiger and these two options would have further stretched it.
Mahindra : XUV300 is the only option we could have considered but for AMT.
Maruti : Wait time of Baleno is similar to other products in the stable as well and hence this went off the list too.
MG : I somehow do not connect to this brand for the sheer reason of re-badging some Chinese Cars as MG. Baojun 530 = MG Hector and so on. I did not even look at the available options. My friends have it, they are okay with it. But that's me!
Nissan : Magnite was the obvious contender and this was the car I liked which made me consider the Kiger. Lookwise, I found Kiger to have sharper looks. That's subjective, of course. But Magnite has the advantages of hill descent and ESP. It lacks two curtain airbags though. And then again the wait time. I have friends who have been waiting for the Magnite for 8+ months.
Renault : Kiger it is but I would have LOVED to have considered the Duster too. No availability now. I presume the new one is on the card. It's one amazing vehicle. I have a friend who sold a Duster to buy another. This time, the AWD. I did not consider the Triber cause an MPV is not what we were looking for.
Skoda : Another brand I would prefer to stay away from, unless amazed by some option. Primarily because of the service issues and expensive spares. Not sure if things have changed now but that's my blocked mind.
Tata : Nexon would have been considered but for AMT. Altroz DCA had a long wait again. And again, no more hatchback after driving the Kiger.
Toyota : We could have considered the Glanza but this has a wait time of 1 month plus and again a hatch.
Volkswagen : Polo. This was another strong contender but we opted out due to the long wait period and again, a hatch!
It might not have been a Kiger if we had time. But since she had already sold her car, having a car soon was a strong criterion. Not at the cost of a collapse though and I definitely do not feel like we compromised on the Kiger as even if we had to wait, we could have still gone for the Kiger. The Sonet and the Venue were strong contenders, but for the further price difference and the wait.
Sales Experience
The sales experience began with my call to the Renault Dealer, JP Nagar branch. It was cordially attended by a saleswoman who in turn handed over the call to Nanda Kumar, who has been my SPoC for this whole purchase experience. He has always been available to attend to my queries. Renault works in a way that all the dealers in Bangalore is owned by one entity and hence if I reach out to him first, it's his deal, even if I go to any other outlet to close it. He kept asking me, did you call anyone else before, did anyone call you before etc. Reason, if they did, irrespective of who closes the deal, the one who initiated gets the credit. In my case, it's been just one SPoC. With this one dealer in one major town, the pricing is also quite controlled and it seems to be driven by Renault very closely. Dealers/outlets, do not pit against each other. Every accessory or freebee is accounted for.
As I mentioned elsewhere that Nanda drove down with a 2021 RXZ and once we were okay, he took us to the closest outlet which was in Sarjapur to complete the formalities of booking. We paid a booking amount which is mostly returned, in case of a cancellation which is usually the administration charge but if I heard it right, it was around 1000 INR. I did not bother paying much attention to it as we were going ahead with it. After paying the booking amount, we were given a docket which had the receipt for the booking amount, accessories list, Renault finance options, details about easyCare, extended warranty and contact details for Customer Care Manager.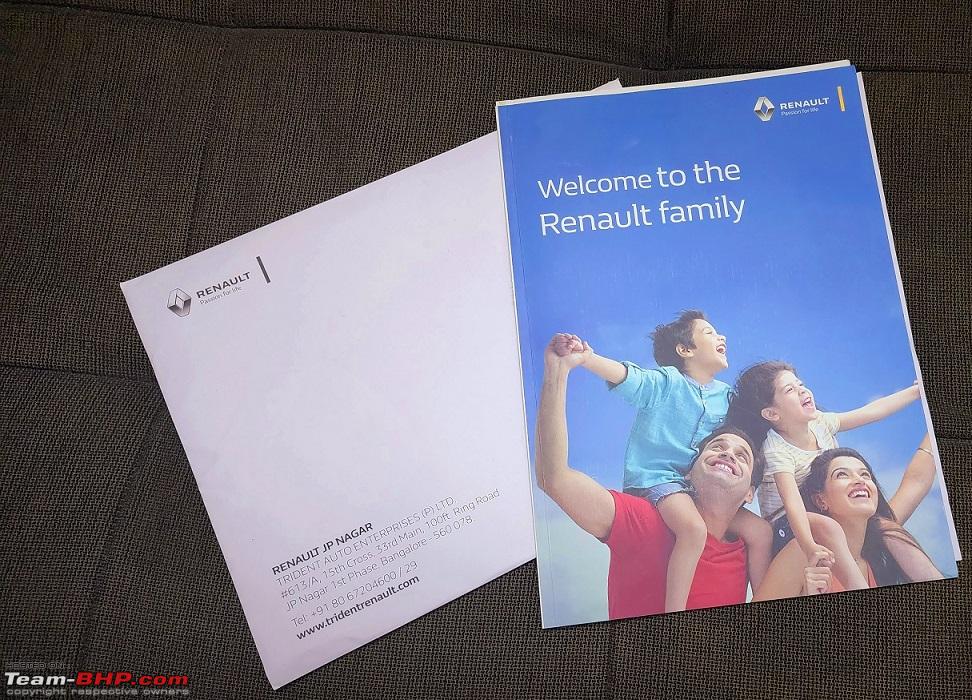 This car has got almost everything but there is always scope to accessorize and I was soon contacted by Vivek with the accessory details and I picked up very basic things. There is lots going out there. I was asked for 3M Paint Protection etc which I had denied cause I had other plans.
PDI
I had re-iterated multiple times to make sure that the registration process is not initiated before PDI is done. Once registration is done, there is not much that can be done. One way to control is to release the payment only after PDI is done. My Sales Rep said that it's not usual but he did not fuss a bit to arrange for it. The car was called into the Silkboard showroom as the trucks are not allowed till the Sarjapur center.
We went in there and there was the car, our first glance and connect with a new family member!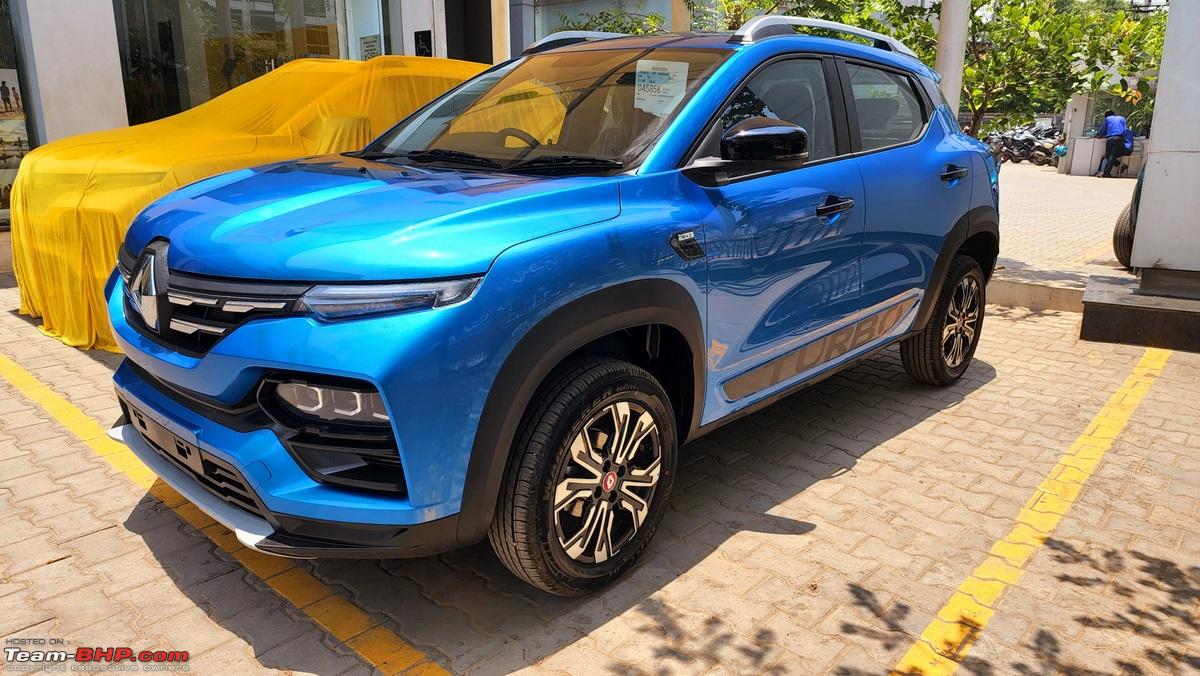 As always, the PDI list was kept handy, and so was the VIN decoder (ARTICLE: Find your car's date of manufacture (VIN)). As was shared earlier, this was indeed a March 2022 (N3) vehicle and there is not too much doubt on this one as this version was launched in Mar 2022 only. We looked all around, started her for the first time and she spoke! It was 14kms on the dash.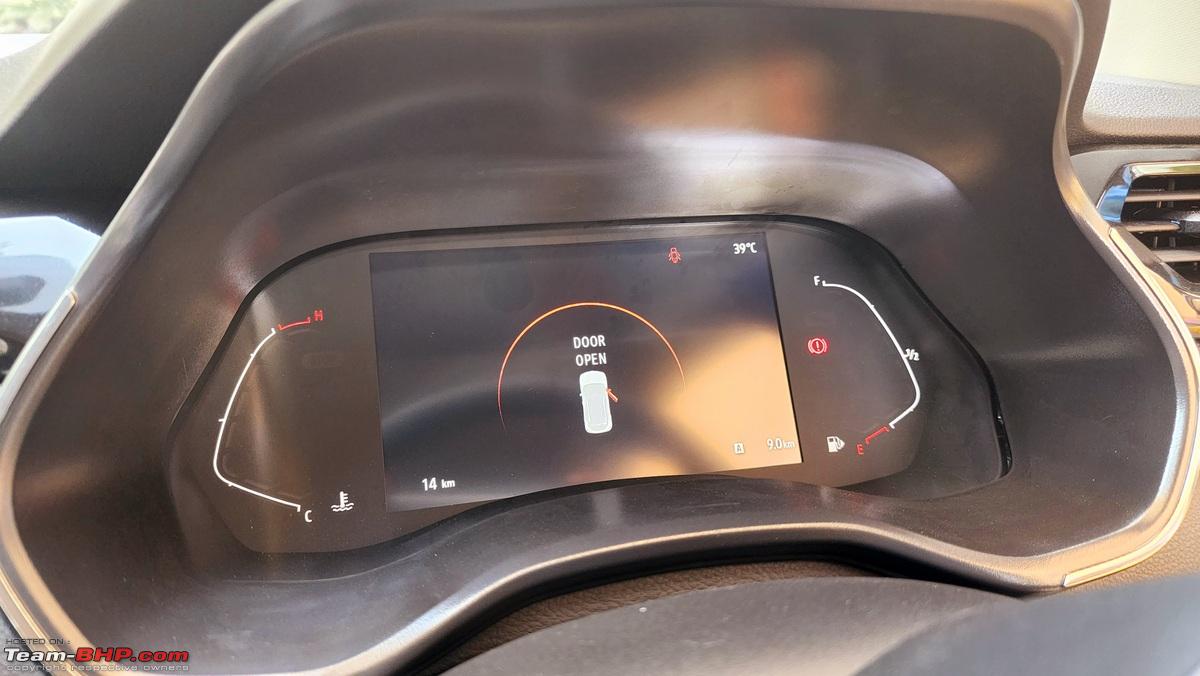 We also checked for the infamous mud from the tail light issue and its probable fix was in place and there it was. So in the 2022 version they now have a fixture to avoid that. Though I would have really liked a complete fender lining hiding the exposed parts.
What I find it difficult to notice is if a panel has been "fixed" and for that, I called in a friend and a detailer (Shrey). He came in and had a look too and we were good to go. The car was over waxed to make it all shiny and hence it was requested to wash all that off to keep it natural. There were some minor panel gaps noticed which were highlighted which they would look into it before delivery. My son was Critical when he was much younger and he was critical this time too. He loves this PDI experience.
A good PDI needs to end with a good lunch and it was Sushi this time.
The Delivery
The whole sales and delivery experience has been pretty good and I am quite happy. There was a day delay since most of the technicians were off after a long weekend holiday and hence the accessories were not installed but they have been profusely apologetic about it and I was absolutely okay with it as there was no rush to sabotage a festive occasion.
On the day of delivery, we had to get the car rolling within 1030 hrs to follow the preferred time. We got an automated SMS the previous day confirming the scheduled delivery time and location. In the morning, the sales representative, Nanda messaged us keeping us informed about the progress. We were on time and so were they.
We reached at a time when the team huddle was going on and it was quite elaborate. Pledge, Commitment song, National anthem followed by a motivational and functional speech by an internal trainer/employee. It was evident that the company was quite structured and organized. Soon after the huddle, they got busy with our delivery process. The car finally came in with all accessories in place and since they had to drive the last stretch as trucks were not allowed, it was 28 kms on the dashboard which is quite acceptable. A final check was done all around to ensure that things were kept as-is from the time the PDi was done to the delivery time. The accessories were checked and we were good to go. The car looked beautiful in the blue.
They did a Puja of the car within the showroom before the first drive after handover. It was done with love by an employee again. The whole team gathered around to support the occasion.
A series of exchanges were done, which included the dummy big key, a delighted customer board, chocolates from us and the final key of the car.
Finally, she took the key and started the car to move it a bit ahead as a closure of a car delivered.
And then there was the flag off. This was massive. I have never seen a delivery like this. The whole team came outside and formed two rows around the car and there was a flag off with everyone cheering the drive off from the showroom. It was quite overwhelming. This is from Trident Renault, Sarjapura although my sales representative was from the JP Nagar branch and he left his home before 0800 hrs in the morning to make everything ready on time.
The car is for later but the delivery sure felt like picking up more than a million rupee car!
Till now, the impression of Renault India has been wonderful or should I say, Trident Renault has been wonderful. I must make a mention of Cluster Head Dileep, who has been also quite supportive.
There is just one thing which I did not like and I confirmed with friends having cars from other manufacturer dealers and they all have the same issue. To push insurance of their choice which is expensive and need not be the best. I still went for it to have peace of mind.
The Blessings
I had to rush out after the delivery to a weekend engagement and hence we just parked the car for 3 days at home. In came Monday and the first thing we did was head to the temple for the blessings from Lord Ganesha. This one is in HSR layout and that's where all our vehicles end up for blessings.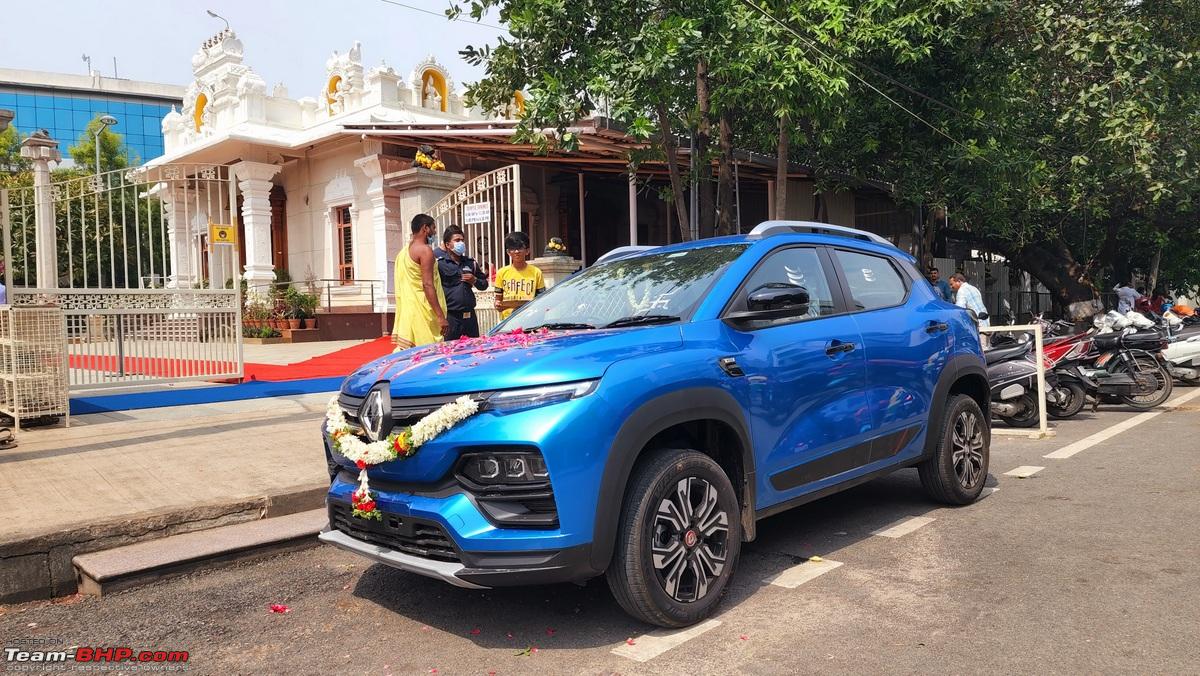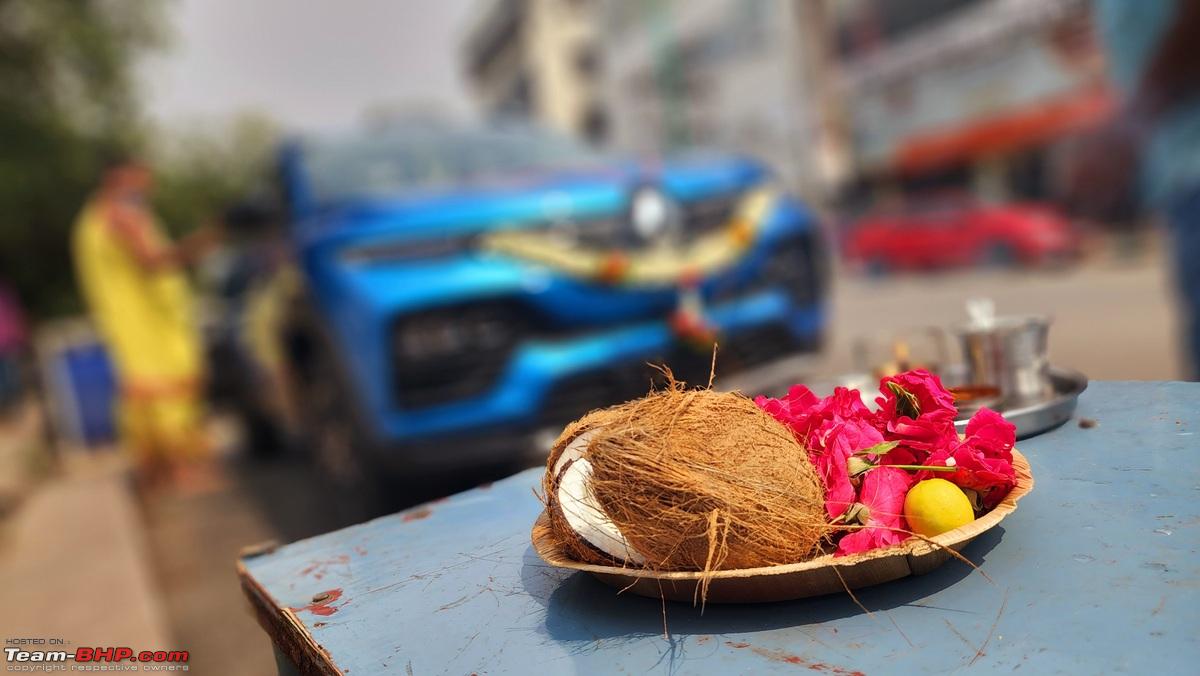 The pandit was jolly good and we had a quick ceremony for a complete blessing of the car to be part of the family and be safe and keep us safe for years to come.
Continue reading abhisheksircar's ownership experience for BHPian comments, insights and more information.

link