Best car accessories to keep your dog and other pets safe
Advice
Travel with your pet worry-free with our list of car accessories designed to keep your furry friend safe and secure in the car.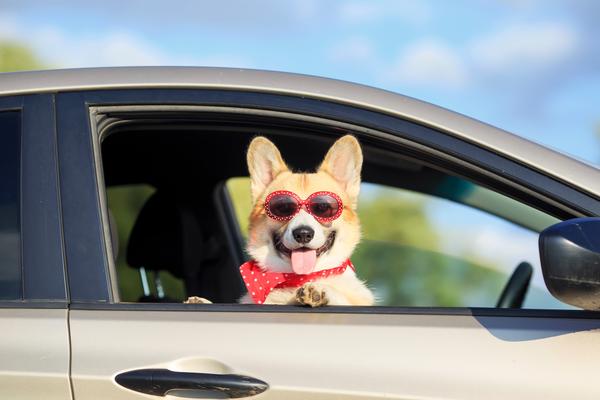 Whether you're taking your furry friend to the vet, or you're going to see family with them, sometimes it's necessary to take your pet along on a car journey.
But it can be stressful if your dog is feeling unsettled because they're feeling anxious or playful in the car. Thankfully, there are various car accessories you can invest in to keep your pet safe and secure, and to make your journey smoother.
Best accessories for dogs and pets in a car:
1. Dog car seats
Car seats for dogs, puppies and other furry friends help keep them secured in a place. Seating your pet next to the window may also help reduce the chances of them falling sick in the car by keeping them distracted with the outside view.
Dog seats can be useful because your dog is less likely to jump around and distract you once it feels safe and comfortable.
There are different types of seats available to choose from, suitable for different pets and your pet's preferences.
The first thing to consider is the style and size of the car seat. You can either choose a normal seat for your dog which attaches to the car's seat, or you can go for a dog booster seat which adds a little height to the seat's base.
The booster seat is useful for small size pets as they may not be able to see outside the window otherwise and the booster seat helps give them an elevated view of the road ahead.
If you have a bigger pet, you may need only a slight height to the base, otherwise, a normal pet seat may be a better choice.
The second thing to consider is how the seat's attached to your car. The most common options to attach a dog seat are:
• using straps that go around the back of the seat
• using the seat's adjustable headrest to strap the dog seat to, or
• using the car's seatbelt.
Some dog seats may have two or all three ways of securing your dog's seat for enhanced safety. You may want to consider where your dog will sit in the car when going through these options.
Lastly, you may want to think about which colour seat is best for your dog. If they tend to love rolling around in the mud, you might want a darker colour seat for easy cleaning.
2. Dog seat belts and car harnesses
Seat belts and harnesses for pets help secure them in one spot so that they don't move around and more importantly, don't jump on you or any car tech while you're driving. These pet accessories also prevent your furry companion from getting hurt in case you come to a sudden stop.
A dog seat belt works similar to a leash – the main differences are that the straps of the harness are shorter so that your dog is restricted to the seat, and the harness can be buckled into the seatbelt.
A harness is used to fit the dog seat belt in. Once the harness and the seat belt are fit together, the harness is fit around your dog.
When putting the harness around your pet, make sure the seat belt strap is long enough for your pet to sit down and stand in but short enough to restrict movement from their seat.
Remember: it is a legal requirement for you to restrain your pets when driving in a vehicle with them.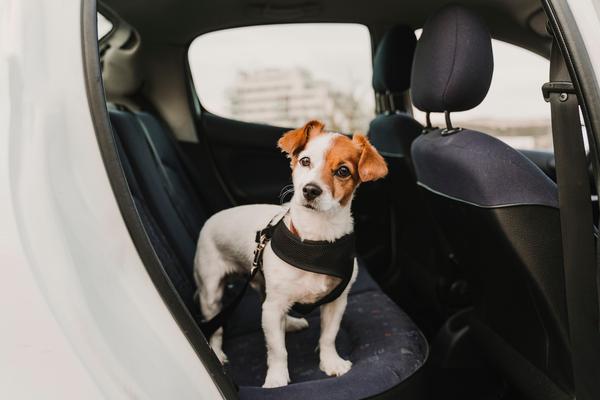 3. Dog beds for cars
Beds for dogs, cats and other paw-some companions can be used when you want to place your pet in the boot of your car. These bed liners usually have padding in between which gives your pooch a comfortable space to relax in. They also help in keeping the boot clean, and they're usually foldable which makes it easy to carry and clean.
Keeping your pet in the boot can be ideal if your pet is large or you have multiple pets.
Dog beds for cars are also good for long journeys as it gives your dog more space to stretch out or lie down.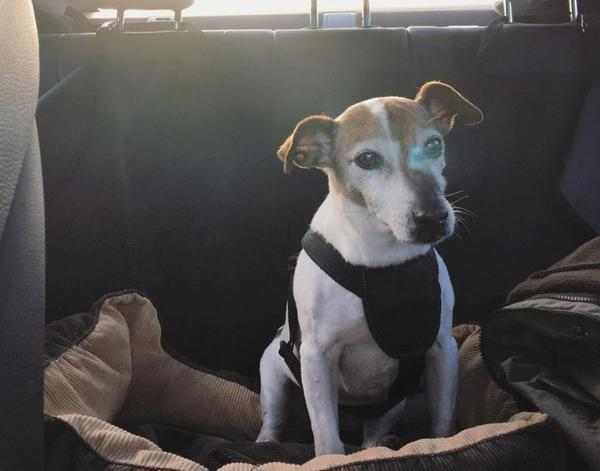 4. Dog crates for cars
Dog crates for cars can be great if your dog's crate-trained.
Dog crates provide easy handling and extra safety in the car, especially if your pet tends to jump around while travelling with you.
Different crates will have different designs and features – usually, the crate comes with a docking station that can be placed on the car seat and belts to tie around the headrest.
Remember: it is important to secure the crate to your car's seatbelt.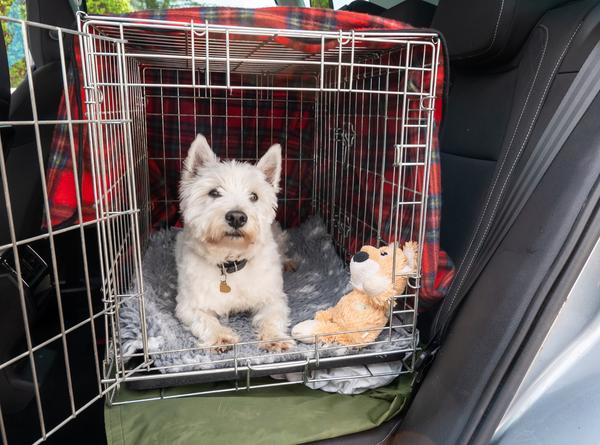 More tips to help reduce your pet's anxiety in a car
Besides using these accessories to keep your pet safe and calm, there are a few other things you can do for a smooth journey:
1. Before going on a car journey, play with your pet and get them exercising. This helps burn off excess energy and it may even get your pet to have a nap when on the road.
2. If this is your first time travelling with a furry companion, you should start with a short-distance drive. This will help them ease into the experience of being in a moving car.
3. When taking your pet on a long journey, make sure you stop for loo breaks. This will also give your pet the chance to stretch out.
3. Make sure you drive at a steady pace to avoid making your pet jerk.
4. Praise your pet and give them a treat once they've successfully sat through the entire journey for positive reinforcement.
Looking to buy a car that will be big enough for your furry friend? Check out our top picks for cars for dogs.
Love your dog? Find out the best dog breeds for car travel in our latest Canine Car Report.
link