Amazon Alexa To Allow Voice-initiated Electric Vehicle Charging
Amazon will partner with EVgo later this year to offer voice-enabled electric vehicle (EV) charging via its Amazon Alexa technology. EVgo is the first charging network to partner with Amazon to use Alexa for this purpose.
The news comes as more automakers are integrating Amazon Alexa technology into their new vehicles, connecting homes, vehicles and workplaces with voice-activated technology. The technology also works with Alexa-enabled automotive accessories like Echo Auto.
"From the Show to the Dot, Amazon's Alexa voice assist has brought ease into our daily routines at home. Now, automakers are quickly bringing this convenience to the cabins of vehicles. Voice recognition has been around for a few decades now and while it still isn't 100 percent proficient, the technology has really improved as of lately," Robby DeGraff, automotive industry analyst at AutoPacific told Newsweek.
"The EV charging experience is a lot more fragmented than for gas customers, who can pretty much stop at any location," said Anes Hodžić, vice president at Amazon's Smart Vehicles group.
Not all vehicles have integrated, dynamic mapping systems that include charging stops. Ford, Tesla, General Motors, Polestar, Volvo, Audi, Porsche and Volkswagen software plans routes with charging stops included. Hyundai Motor Group models (Genesis, Hyundai and Kia brands) do not.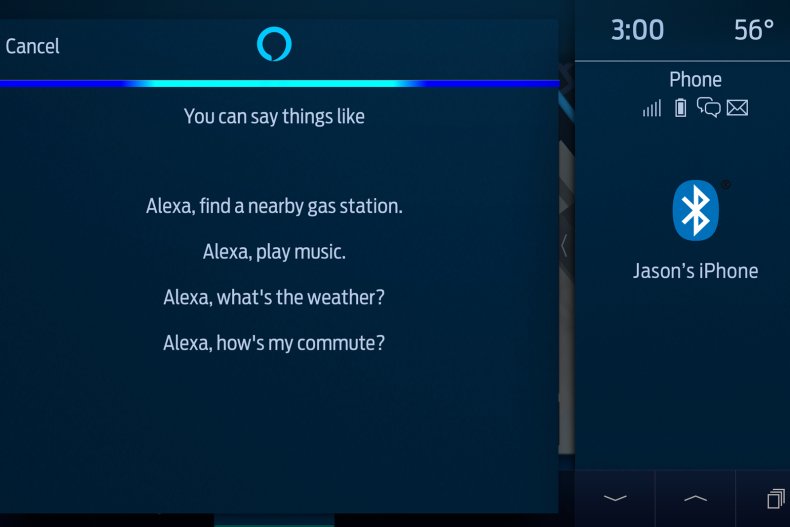 This Amazon Alexa skill complements in-vehicle navigation systems. When in an enabled vehicle (nearly all new models are sold with Amazon Alexa integration), users can say, ""Alexa, find an EV charging station near me."
Alexa will give users a list of nearby public charging locations, with availability by plug type, and the time and distance to arrival. Users are then able to tell Alexa which charging station they want to use and navigate to it.
Upon arrival at the charging location users can pay for their charge using the command, "Alexa, pay for my charge". They will still need to exit the vehicle to plug in to charge.
Amazon Alexa hasn't been widely adopted by drivers, but its use continues to grow, several companies pointed out during their CES trade show speeches this year.
"We've seen rising interest in this technology among new vehicle shoppers eager to become even more connected to their vehicle," DeGraff said. "For example, data from AutoPacific's 2022 Future Attribute Demand Study, which surveyed nationwide new vehicle intenders, revealed 17 percent want the ability to remotely control certain smart objects or appliances at home via the car's voice recognition system.
"There's demand going the opposite way too, as 23 percent want the ability to remotely control some vehicle functions (like remote start, locking and unlocking) via their smartphone or other smart home devices like an Amazon Echo with Alexa. This technology is much more popular and desired among younger consumers, too."
The Alexa EV charging command will allow for customers to use more than 150,000 public charging stations in the U.S., powered by EVgo and other operators.
"At EVgo, we're committed to making EV driving infrastructure convenient, reliable, and affordable for all types of drivers," said Cathy Zoi, EVgo's CEO. "Mass adoption of EVs is underway, and this collaboration between EVgo and Amazon will make charging seamless for even more EV drivers."
Amazon says that the technology will arrive "later in 2023".
link