2020 Hyundai Tucson diesel AT: 1.5 years & 30,000 km ownership update!
I have spent a total of around Rs 6.8 lakh since taking ownership. This includes accessories, service, fuel & Fastag costs among others.
BHPian QuadraticAmoeba recently shared this with other enthusiasts.
Hi all, 30,000 km up. Life has been busy for the last few months with work and some driving.
In December 2021, had some leaves. The family had planned for not one but two vacations, so ended up doing a lot of driving.
Bangalore to Chikmaglur, where we stayed in a very nice homestay (Bean Aroma homestay, thanks to @Arun_Josie for the recommendation). Great ambience, home-cooked food and hospitality courtesy of Mr Siddharth, the owner.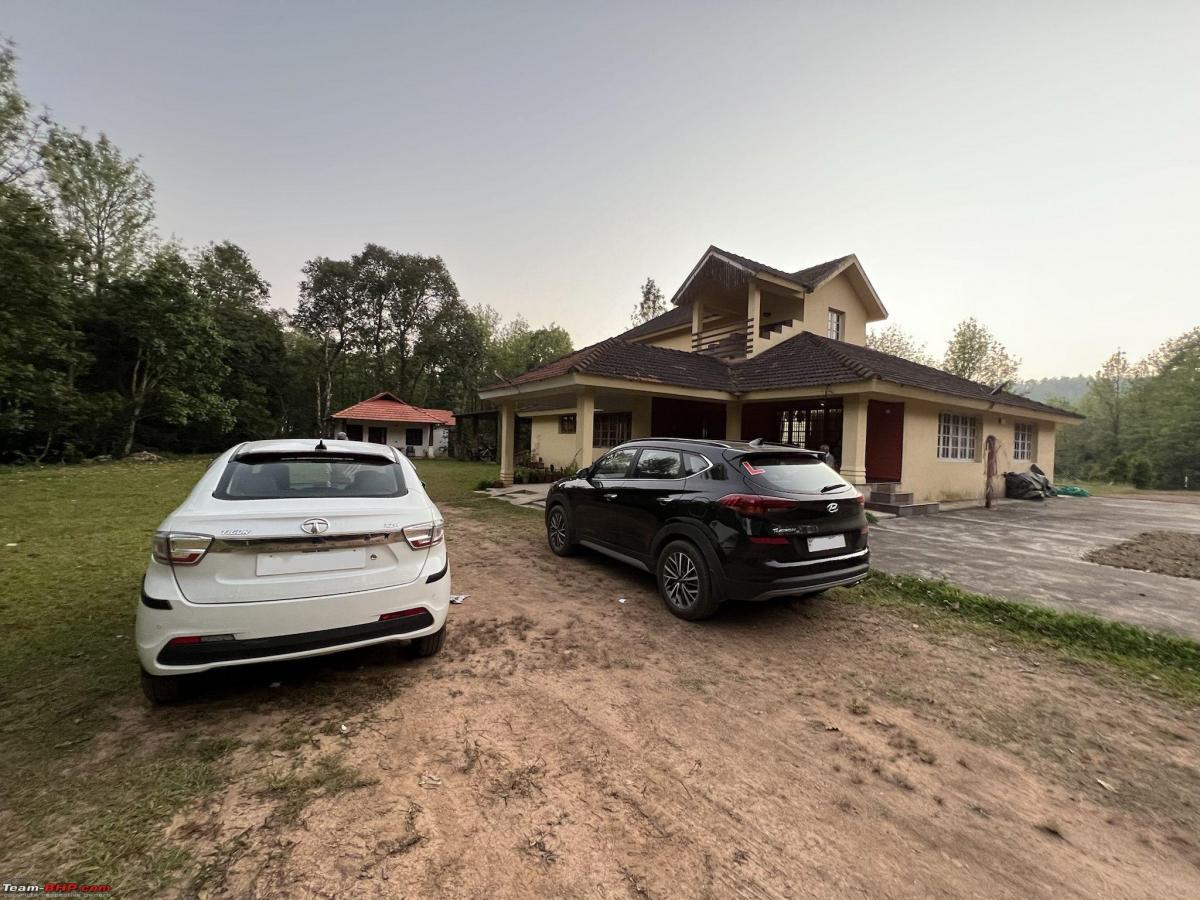 I got to drive my aunt's Tiago AMT during the trip. The car was fine, but still, I missed my quieter, way more powerful and smoother Tucson. Reinforced my belief that torque converters are any day better than AMTs.
From Chikmaglur, I wanted to "escape" the temple visits that the elders were planning on, so I "kidnapped" my Mom and we drove to Mangalore for.. ice cream! It was a long overdue visit to Pabbas and we really enjoyed it.
Back to Bangalore for a few days' rest.
Then we set off on a long east coast journey. First to Pondicherry, where we stayed in one of my wife's relative's houses. We visited the beach and had good food.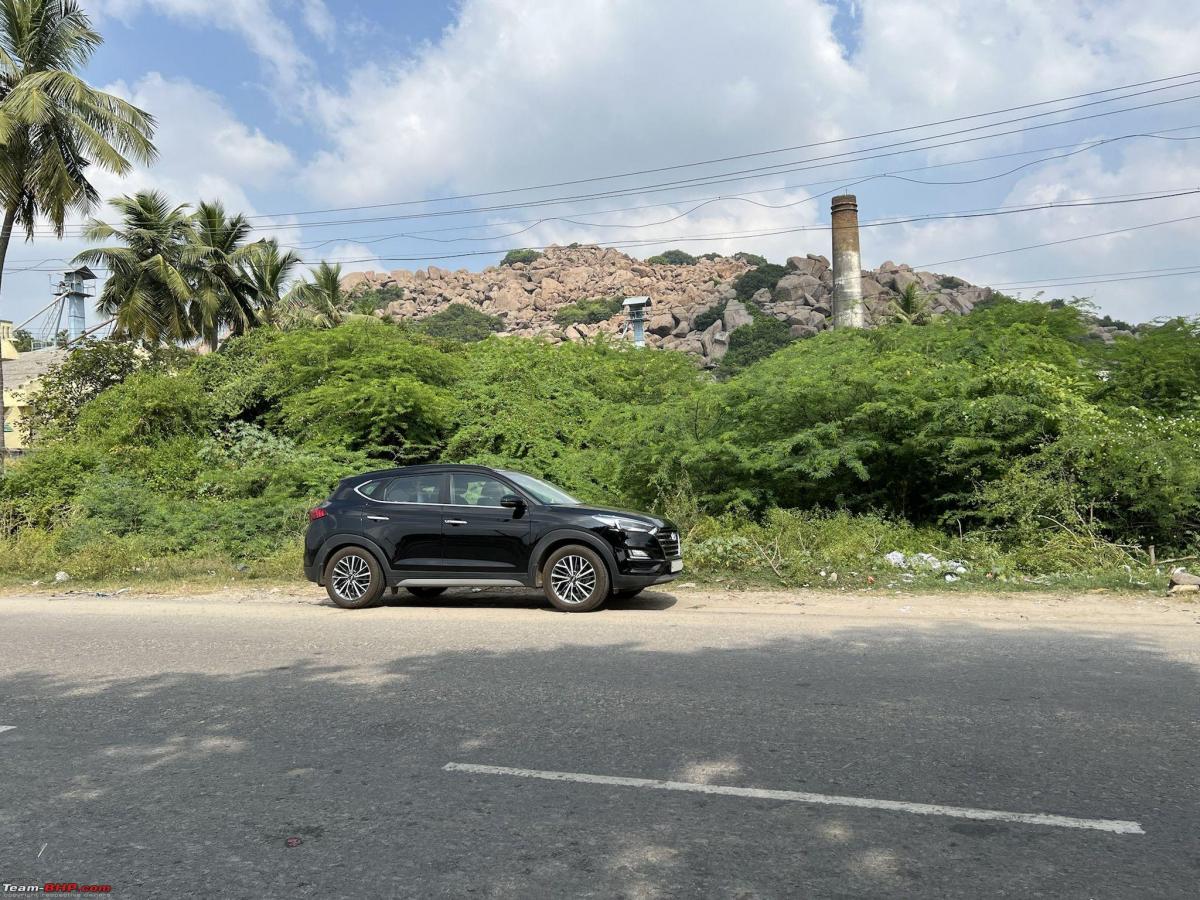 En-route to Pondicherry, the DEF-is-low warning light came on. Tried a couple of IOC bunks in Pondicherry, and one of them had the DEF fluid, though only in a 20L can. Having no other option, we bought the 20L can and filled up the DEF tank as much as possible. The rest of the can went to fertilize nearby plants, hopefully, they are blooming well now.
Visited a college in Pondicherry (Vivekananda Rural community college), this is a great place where they provide vocational training for juvenile delinquents and uncared-for members of society, giving them a proper life and stopping them from going down a road of crime.
From there, we decided to do an east coast drive to Rameshwaram. The drive was through interior roads, so slower but more fun than a highway. There was no sign of the coast though we were not far from it.
En-route, we went to this Ganesha temple, which is surrounded by the sea on three sides. The priest there said that apparently, Hanuman had stopped here on his visit to Sri Lanka. We had some hot sakkara pongal prasadam there.
Reached Rameshwaram in the evening and had a good rest. The next morning, we set off to see the sunrise at Dhanushkodi.
A beautiful pic of our car courtesy of my dear wife, who climbed up on some nearby rocks to get a good angle.
After some breakfast, we started our return journey. This time, I experienced something in my car for the first time. In more than a year and 20000+ km, I had never seen – the rear seat. That's right, I was either the driver or a front side passenger. This time, my dear wife wanted to drive. To protect my fragile heart from high blood pressure, I convinced my Dad to sit upfront with her and enjoyed the rear seat with my Mom. The experience was pretty good – the rear seat has a lot of space and is quiet and cool. No complaints about seating position after a day of sitting behind. The tinted sunroof does not let in a lot of heat even on a hot summer day. The music system sounds great even in the back (note I don't use high volumes and mostly listen to slow or mellow music). Tucson really lives up to its reputation as a comfortable family tourer.
Stopped over at Salem for the night and reached home the next day.
Driving vacations with visits to both coasts – really enjoyed this and have to do it again.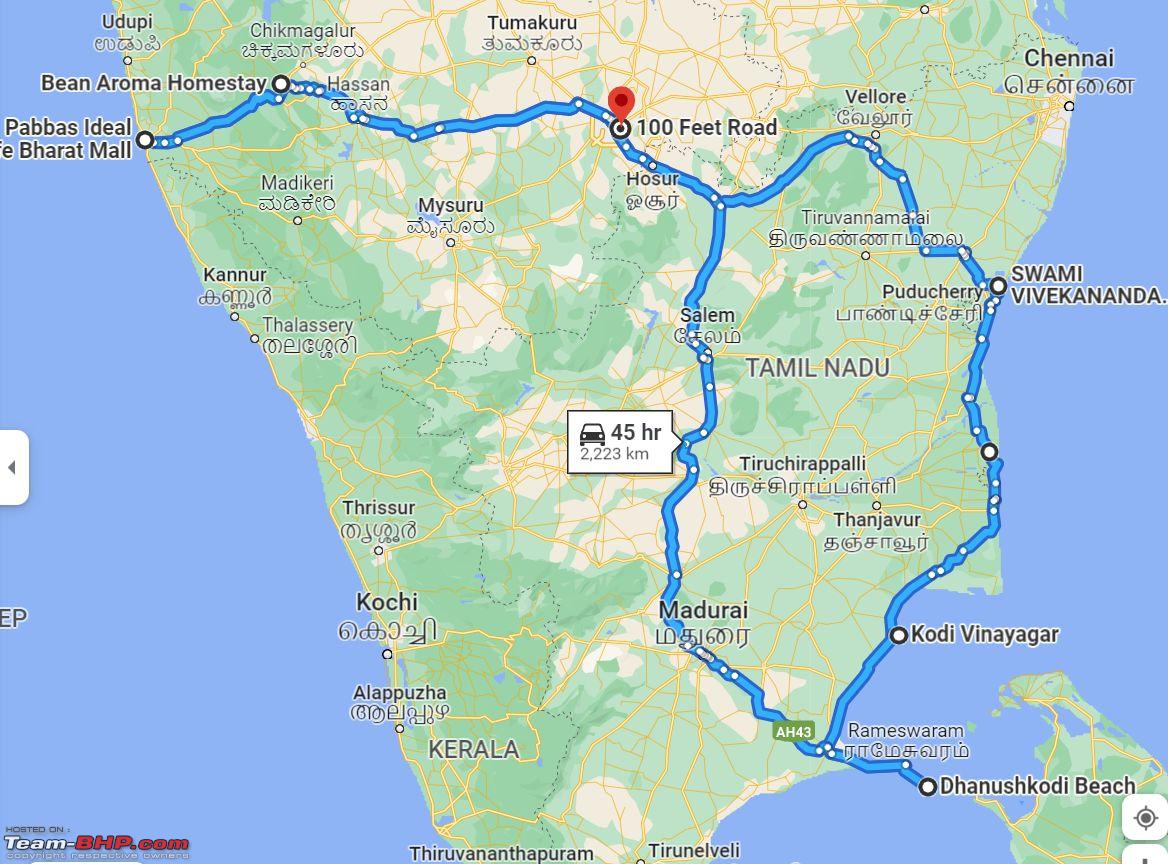 Did a few drives to Chennai and back. The most notable one was in the rain. Maintained safe speeds and paid a lot of attention to hydroplaning – giving one lane space when overtaking. The Pirelli tyres showed their best and gave me very good road grip.
Did some night driving, I had some work in Madurai, so had to go there twice
The first time was with the Mrs We set off from Bangalore at about 11 pm or so. Drove slowly and safely, with a couple of breaks. Reached Madurai at about 6 am. The return journey was during the day with the Mrs driving up to Salem, where we stopped for lunch. Then she said – too much traffic – and handed over the car to me to struggle through and promptly fell asleep. Sad face.
The second time was all by myself. I did both the onward and return journeys at night. It was a comfortable and smooth drive.
I have to say that Tamil Nadu roads are best driven at night – no two-wheelers, no local buses, less local traffic and fewer idiots on the road. You do have to watch out for the barriers which will magically pop up at random intersections.
The sound system is great, I had a nice time with some good Carnatic and Hindustani music.
Got the 4th (and last free) service done at about 29,000 km or so. It was a bit early since I had a long drive planned the day after. A big thanks to Mr Kiran and Mr Sharif at Trident Hyundai for arranging the service at short notice. I had asked them to replace all four filters and also clean and top up the AC (at my cost). The bill came to Rs 5725 and there were no extra charges. At my request, there was no washing or polishing done on the car.
I had asked them to check the brake pads – it seems they are still in good shape. Some credit surely goes to my driving style, which prefers engine braking and coasting rather than hard braking and aggressive driving. Note one "complaint" about the Tucson is that the engine braking is actually quite poor/hard. This is probably due to the very tall 8th gear ratio, which allows the car to coast along even at 100 km/h. Even after 13-14k km, the Pirelli tyres still look like new, with no noticeable change to the tread.
Did the usual dosa and tea drives, many many of them. They helped keep our sanity in the midst of this WFH stuff:
Preeti Canteen Birur a couple of times.
Davangere Benne dosa a few times, including last weekend when the odometer hit the 30000 mark.
Found a good late-night tea place in Devanahalli. Had tea there a few times with friends – even ORR does not seem that bad once you cross 9 – 9:30 pm. Perhaps this is the advantage of WFH, even metro-damaged ORR starts to seem fine if you drive mostly on weekends or late at night.
Here is a summary of ownership after about 1.5 years:
30,000 km done, no major problems
Spent about 6.8L on the car so far (Insurance 1.4L, accessories/upgrades 2.5L, Service and repair 74k, fuel 1.9L, Fastag Rs 26k)
Lots of dosas eaten
That's all for this update. Thanks for reading and keep safe.
Check out BHPian comments for more insights and information.

link